Regional Operations Hub for Europe and Central Asia (ECA)
Temporary Location of Ukraine Team
Austria-Financed Programs based in Vienna
Investment Climate Vienna Office
Financial Sector Advisory Services Center (FinSAC)
Center for Financial Reporting Reform (CFRR)
GovTech Global Partnership (GTGP)
ECA Cities and Climate Change Program
Green Recovery Program for the Western Balkans
International Finance Cooperation (IFC)
ABOUT
The World Bank Group's presence in Vienna dates back to 2007 when, with the support of the Austrian government, the Investment Climate Vienna Office was launched. Aiming to attract investors to the Western Balkans, Austria proved as a preferred location due to its particularly close relationship with the region rooted in a shared history. Other World Bank Group programs financed by the Austrian Government have followed suit over the years: The Centre for Financial Reporting Reform (CFRR) in 2007, the Financial Sector Advisory Centre (FinSAC) in 2011, the Danube Water Program (DWP) in 2013, the GovTech Global Partnership (GTGP) in 2019, the ECA Cities and Climate Change Program in 2022, as well as the Green Recovery Program for the Western Balkans in 2022. For more detailed information on the Vienna-based programs, read here.
The decentralization of the World Bank's Western Balkans Country Director and staff from Washington DC to Vienna in 2013 marked the next important milestone for the convening of a WBG presence in Vienna. The city's positioning at the cross-roads of Europe allows the World Bank to take full advantage of the proximity to the region, build stronger relationships, expand its programs and provide direct support for its clients. From the Vienna office, the Country Director for the Western Balkans leads the management of the World Bank's lending program and analytical work in Albania, Bosnia and Herzegovina, Kosovo, North Macedonia, Montenegro, and Serbia, to support their economic development and preparation for eventual European Union membership.
Following the evacuation of the World Bank Group Ukraine staff to Vienna in February 2022, meeting rooms in the Vienna office were converted into shared spaces to host the World Bank Group staff and managers from Ukraine. For more on the World Bank's support to Ukraine, click here.
In 2017, the International Finance Cooperation (IFC) opened a branch for the Europe region, hosting the Regional Director, Regional Heads of Industry and core teams from each IFC industry operating in the region. The Vienna hub oversees the implementation of IFC's program to support Ukraine in response to Russia's invasion of the country; initiatives in the field of climate-relevant urban development, green infrastructure and green finance; as well as the relationships with key Austrian clients and partners.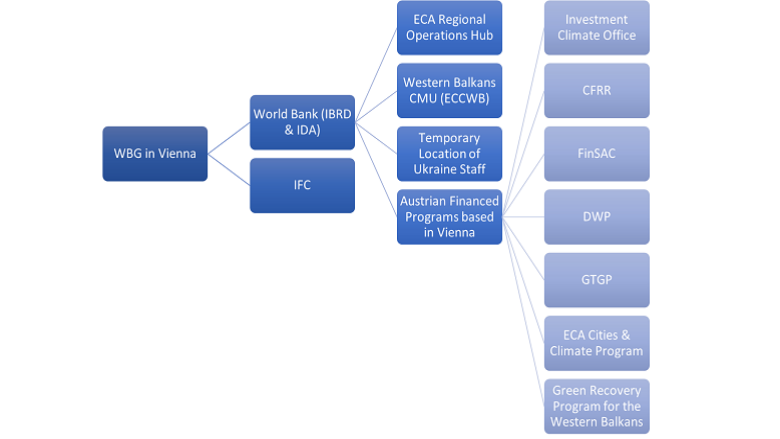 ---------------------------------
Contact Information:
The World Bank Group
Vienna Office
Praterstrasse 31 - 1st Floor
1020 Vienna
Austria
Phone: +43 (0)1 2170 797, Fax: +43 (0)1 2170 701
Website: www.worldbank.org/eca/vienna