Law, Justice and Development Week 2017 Discussed Law and Justice as Enabler for Gender Equality
Over the past two decades the world has witnessed significant progress in reducing the inequality between women and men, with constant expansion of international and national legal frameworks protecting women's rights. Exploring how law and justice can create an enabling environment for gender equality and women empowerment was the focus of The World Bank Group Law, Justice and Development Week 2017 held on November 6-9 at the World Bank Headquarters. The Week provided opportunities to hear from 185 experts and thought-leaders in over 60 sessions offered.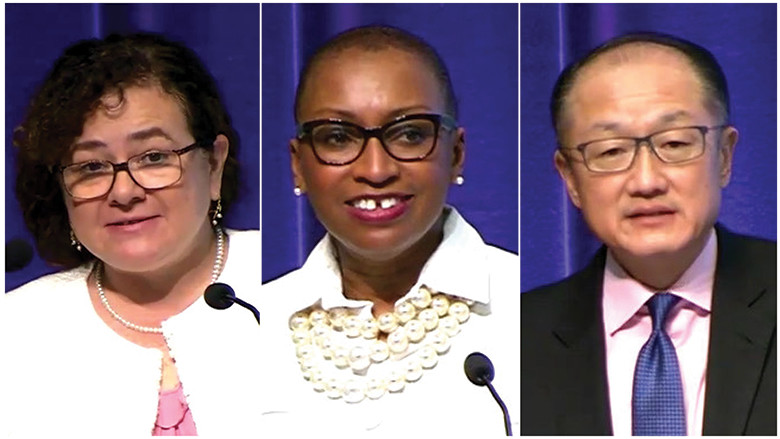 Claudia Paz y Paz, Sandie Okoro and Jim Yong Kim Opening Law, Justice and Development Week 2017.
Senior Vice President and World Bank Group General Counsel Sandie Okoro opened the plenary session and welcomed keynote speaker Claudia Paz y Paz, Secretary for Multidimensional Security Organization of American States. Claudia Paz y Paz was the first female Attorney General in Guatemala and a Nobel Peace Prize Nominee in 2013. Dr. Paz y Paz is a criminal law specialist, scholar, judge and litigator who has worked tirelessly to combat violence and to strengthen the justice systems in Guatemala. Dr. Paz y Paz talked about gender-based violence and shared some of the pending challenges:
Understand the critical path of violence affecting women for early and preventive action.
Reduce two gaps: the gap between law and women's real possibilities of living a life free of violence, and the gap between law and the discriminatory and excluding practices still dominant in our justice systems.
Transform the conditions of vulnerabilities under which millions of women currently live into opportunities. Women's life paths should not be determined by exclusion, discrimination and subjection.
Commit to change the mentality and cultural patterns of our societies through education, traditional and social media, and commercial advertising.
In his closing remarks, World Bank Group President Kim addressed Dr. Paz y Paz in Spanish, and stressed the importance and urgency of preventing gender-based violence, advancing equality, and making sure that law and justice permeate every aspect of the development efforts we support. (Link to video of Plenary.)
The plenary was followed by a full range of discussions, luncheon keynotes and digital media events that lasted 4 days. Highlights included:
Gender Days offered two days of sessions devoted to the legal and regulatory frameworks critical to gender equality and women empowerment in developing and developed economies; child marriage; women's access to justice; right to land and property; and female genital mutilation practice.
IFI Day featured sessions on jurisdictional immunities of international organizations; women financial inclusion; legal risks and drivers of corruption. A "Question Time" session provided a rare opportunity to listen to General Counsels discuss how the legal environment on gender equality has changed in the past 10 years to strengthen women's position/rights in the respective institutions. The General Counsels came from 18 major international and regional financial institutions and development banks around the world. (Link to video of Question time with General Counsels.)
World Bank Group Day was devoted to an in-depth focus of the Maximizing for Development (MFD) Approach with a workshop presenting practical cases and a close-up discussion with the three World Bank Group General Counsels on the role of the lawyers when implementing the MFD approach.
The Digital Media Zone offered an interactive media hub with interviews and Ted-style talks highlighting experiences and insights on gender and development. In a one-on-one interview, Caren Grown, Senior Director for Gender at the World Bank Group, explained why Gender Based Violence (GBV) is an important development issue for the World Bank and discussed the new initiatives undertaken by the World Bank to tackle GBV, such as the Development Marketplace, a competitive grant program that awards innovative projects to prevent GBV, and the Global Gender-Based Violence Task Force and its derived action plan for implementation that can be a model for other institutions (Link to video of interview, start at 9m58s).
The Week drew more than 1200 participants. Among them, senior officials from International Financial Institutions, international development practitioners, government officials, lawyers and judges, scholars and academics, representatives of civil society and World Bank Group staff. Even more inspiring was the Week's social media reach as it spread the word about #GenderEquality. The discussions have had 1.2 million views on livestream channels and have gained over 362 million impressions on Twitter around the globe. Nearly half of the audience was in the U.S. and the rest spanning the globe from India to Kenya, Colombia to Finland. The engagement continues with #GenderEquality #LJDWeek2017 through social media platforms. Gender equality connects and impacts us all.
The LJD Week 2017 is a yearly event organized by the legal functions of the World Bank Group. It is the largest event on Law, Justice and Development aiming to bring together the global community engaged in using law and legal tools to contribute to development.
Video Recordings of LJDWeek2017 and more information are available on LJDWeek2017 website.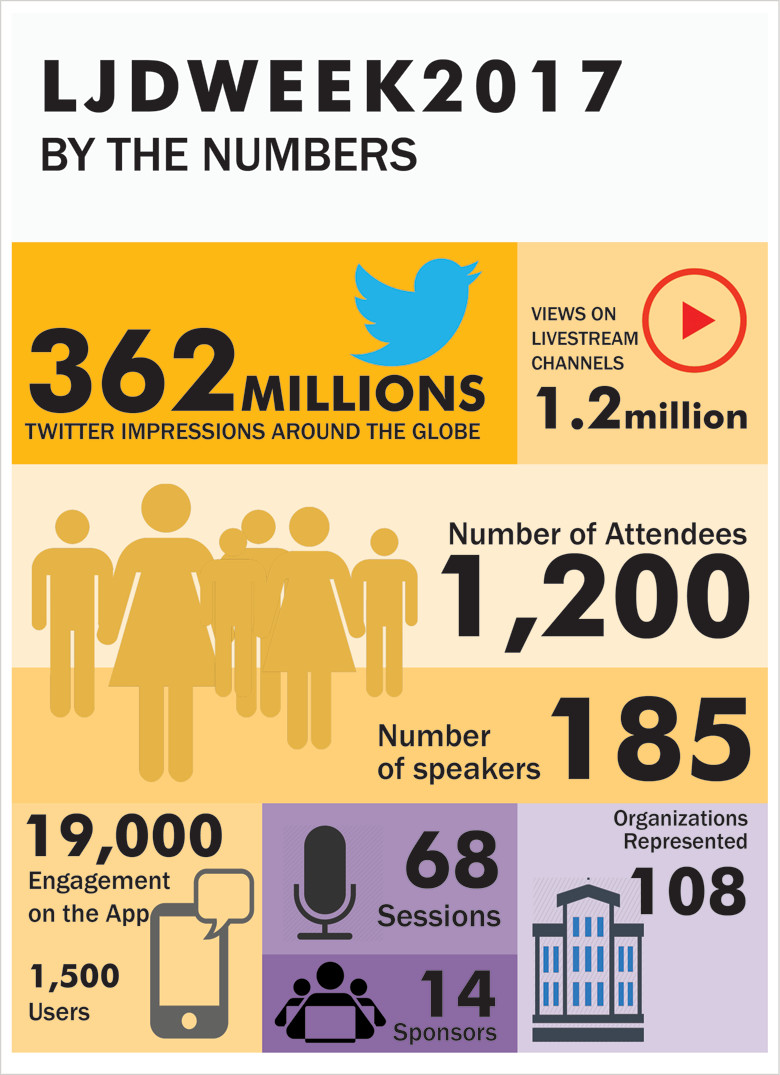 Photos and Infographic: © Dolie Schein/World Bank