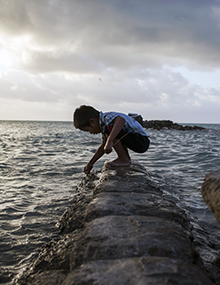 Today, the global poverty rate is at its lowest point ever—a testament to the success of development efforts by the international community to end extreme poverty and promote shared prosperity. But progress is slowing, with poverty remaining high or even increasing in some places, particularly in Sub-Saharan Africa. The impressive gains are also threatened by global challenges: tightening macroeconomic prospects, fiscal strains on governments, natural disasters, slow income growth for the poorest, record levels of displacement, and ongoing conflict and fragility. These challenges are further compounded by softening global growth and downside risks, including trade barriers, renewed financial stress, and slowdowns in major economies.
To protect countries' hard-earned gains and accelerate progress, the World Bank works closely with partners to support inclusive and sustainable economic growth, promote more and better investments in people, and build resilience. We do this by serving all clients, creating markets, mobilizing finance for development, and leading on global issues. These pillars are outlined in the Bank Group's overarching strategic framework and vision, the Forward Look, which lays out the pathway for supporting the 2030 development agenda and achieving the Sustainable Development Goals (SDGs).
Our unique strength in the development sphere comes from our global experience, our extensive knowledge in a broad range of sectors, and our ability to convene key stakeholders. We take a multisectoral view, helping maximize impact and provide more holistic solutions, whether in ensuring that women and girls have access to safe and reliable transport, building resilient infrastructure that can withstand climate impacts, or improving health systems in areas affected by fragility, conflict, and violence. Through work that spans regions and sectors, we are helping countries find sustainable solutions to their development challenges in an increasingly complex and interconnected world.