FEATURE STORY
World Bank Champions Equality for Women in Romania
April 2, 2014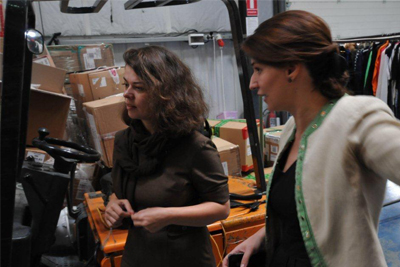 STORY HIGHLIGHTS
Romania has made significant progress in improving gender equity over the last fifty years, but serious challenges still remain.
Recent reports by the World Bank Group and IFC, the World Economic Forum, and the United Nations Development Programme highlight the specific areas where women face the greatest economic barriers in Romania.
The new strategy for World Bank Group operations in Romania incorporates key elements across three pillars to improve access to economic opportunities, increase endowments of education, and increase voice and agency for women.
Over the past 50 years, the legal status of women has improved in Romania, as it has the world over. Despite this progress, however, many challenges in addressing the vulnerabilities of women as a social group still persist. In response to this situation, the World Bank Group (WBG) has made gender equality one of the key challenges to tackle in Romania
According to the recent Women, Business and the Law 2014: Removing Restrictions to Enhance Gender Equality report, many laws still make it difficult for women to fully participate in economic life in Romania – including increased difficulty in getting a job or starting a business. The Report, a joint IFC-World Bank report that measures how laws, regulations and institutions differentiate between women and men in ways that may affect women's incentives or capacity to work or to set up and run a business, finds that discriminatory rules in the country bar women from certain jobs, restrict access to capital for women-owned firms and limit women's capacity to make legal decisions.
Facing the Challenge
Unfortunately, these challenges are not confined to the area of law alone. The barriers to linking women to economic opportunities highlighted by this report are similarly reflected in other areas of the country as well. Overall, Romania ranks just in the middle of the countries assessed for gender equality in the World Economic Forum's (WEF) Global Gender Gap Index and for the Gender Empowerment Measure by the United Nation Development Programme (UNDP). Both of these resources recognize the progress that Romania has made over the last several decades, while simultaneously highlighting the work that still needs to be done
In order to address these challenges, the World Bank Group in Romania has identified key areas of engagement that can cut across the three pillars of engagement in the forthcoming strategy for World Bank Group operations in Romania: creating a 21st century government, boosting growth and job creation, and increasing social inclusion. Within these pillars, the WBG will integrate gender through monitoring and evaluation frameworks, emphasize jobs that boost productivity and expand employment opportunities among women, and target gender analysis, actions, and monitoring that can improve social inclusion – especially among Roma women.

Many societies have made progress, gradually moving to dismantle ingrained forms of discrimination against women, yet a great deal remains to be done

Jim Yong Kim
World Bank Group President
Addressing the Gaps
This increased engagement with gender in the strategy will help improve economic activity in Romania across the board and will have particular impact on three key areas: endowments of education, access to economic opportunities, and voice and agency. While only a few gender gaps persist in endowments in Romania, these gaps are nonetheless pronounced. When combined with women's access to economic opportunities and voice and agency – two areas where gender gaps are particularly pronounced – these gaps constrain inclusive growth, limit poverty reduction, and restrict shared prosperity.
Access to economic opportunities
If Romania is going to achieve its goal of a 70% employment rate, it must increase employment for women. Gender differences exist in employment, wages, entrepreneurship, and pensions. Statistically, a gender gap of 15 percentage points exists between men and women in labor force participation rates - larger than in the European Union as a whole. The gender pay gap was also estimated to be 9.7% in 2012, reflecting occupational segregation and discrimination.
Furthermore, women in Romania account for less than one-third of business owners in the. To address this challenge, IFC, through its Banking-on-Women Program, has established a loan agreement with Garanti Bank to help the country's women run their own businesses.
Endowments of education
Gaps in education not only exist between men and women in Romania but also between different segments of women throughout the country. For example, Roma women, on average, attend school for just 5 years – half of the average for other groups of women in the country. Differences are also high between women from rural and urban areas, with nearly 68% of women in urban areas gaining secondary education, compared to only 42% from rural areas.
Voice and agency
Women have limited presence in public decision making, with only 12% of seats in the national parliament currently held by women. Just 19% of ministers are women. Domestic violence is another manifestation of women's lack of voice and agency in Romania. In the nearly 48,000 cases of domestic violence officially recorded during 2004-2008, most victims were adult women between the ages of 25 and 45. Empirical evidence linking gender-based violence and property ownership shows that domestic violence is reduced against women who own homes and other property. This ownership provides economic and physical security, boosts self-esteem, and provides women with exit options in an abusive relationship.
This agenda, while daunting, must be met in order to place women and men on more equal footing – both economically and socially. By rising to this challenge, the World Bank Group is helping to pave the way for a better future for women and men alike in Romania - allowing everyone to live up to her or his fullest potential.
IFC, through its Banking-on-Women Program, has established a loan agreement with Garanti Bank to help Romanian women run their own businesses.