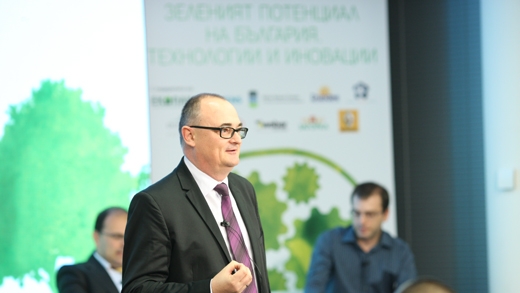 Photo by Julian Donov

Good morning, ladies and gentlemen. It is a pleasure to be here with you today to jointly explore Bulgaria's green potential.
I have a 7 year old son, and he has many questions about our world. For my presentation today, I have borrowed 3 questions from him: First, What do we know? Second, What do we see? Third, How do we act?
So, globally, what do we know about climate change?
Imagine, you are about to board a plane when you get a warning that the plane is most likely going to crash. Who of you would still board this plane? How many of you would take a high risk to crash with this plane?
This is what I expected. Individually, most of us would not take such a high risk. But collectively, we are taking a huge risk, a major climate change risk.
Recent scientific reports commissioned by the World Bank– Turn Down the Heat – take stock of what we know today about climate change. We know that it is almost certain that by the end of this century, average global temperatures will be 2 degrees higher. And we know that we take a high risk that temperature increase will even reach 4 degrees. We also know that a 4 degree world still can and must be avoided. We know that it is technically and economically feasible to hold global warming at 2 degrees, but we also know that the window for avoiding a 4 degree world is closing rapidly. We know that the time to act is now.
Concerning climate change, what do we see?
In 2009, we saw this. We saw the President of the Maldives, a small island state in the Indian Ocean, holding an underwater cabinet meeting to symbolically alert the world about the impact of rising sea levels on his country. A 4 degree warmer world would lead to a sea level rise of about 1 meter, wiping out most of the Maldives, and threatening hundreds of millions of people living in coastal agglomerations around the world – from New York City to Bangkok.
What else do we see?
We see an increasing number of severe weather events around the globe, we see an increasing number of heat waves and floods, including here in Bulgaria - think of last week's record high temperatures, think of last years' floods causing the Biser dam to burst, killing several people.
But let's be clear, what we see today is the impact of a 0.8 degree average temperature increase. What we will see tomorrow will be an unprecedented and much more dramatic increase in intensity and frequency of extreme weather events, including droughts and floods. And a 4 degree world would not simply be a linear extension of a 2 degree world; we would see much more drastic impacts caused by unpredictable tipping points. We even don't know if we can adapt at all to a 4 degree world.
So, we know that climate change is happening; we know that we are taking a huge climate risk, and we already see the impacts of climate change all over the world. We also know that tomorrow's impact of climate change will be much more severe than what we see today, and we know that its scale will depend on our today's actions.
But how do we act?
Globally, we act far too cautiously. Actually, we act irresponsibly given the high risks. But acting on climate change is not only needed to avoid future disastrous climate change impacts, climate action also creates substantial benefits today.
Which brings me to Bulgaria's green potential. Let me highlight three potentials, three areas where coherent and bold action would create significant benefits today AND tomorrow: agriculture, energy efficiency, and green manufacturing.