FEATURE STORY
Missing Voices: Gender Equality in the Arab World
March 14, 2013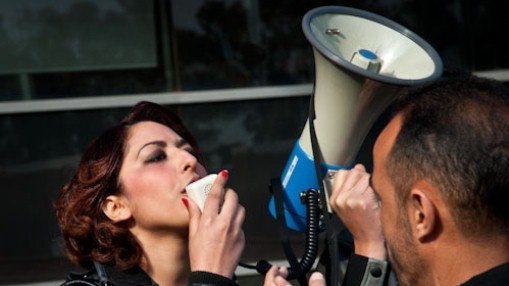 STORY HIGHLIGHTS
Women in the Middle East and North Africa region have achieved impressive gains in a number of social indices, but still have the world's lowest rates of labor force participation.
A new report details the combination of legal and social restrictions and the lack of employment opportunities that obstruct women's economic and political engagement.
Concerted action will be needed to change laws that limit female employment and to create an environment that allows women to balance work and households demands.

You probably haven't heard Rahma's story. She has been too busy overcoming long odds to tell it.
It's well worth a listen though.
There is a local saying in the part of Yemen where Rahma lives: "To educate a woman is wrong because she has no place but her husband's home."
Traditional beliefs about gender roles were like the mountains that surround Rahma's town, shaping and restricting a woman's life.
Even learning to read and write would have been an achievement, let alone acquiring the skills to break out of this trap.
But Rahma decided that she could and would do more.
She became the first woman in her town to finish high school. She took a paying job at a private medical clinic. Women certainly worked in her mountainside town, and worked hard, but their work was always unpaid.
Then Rahma left the region for the capital, Sana'a, where she enrolled in healthcare training.
She did look back, though. Like other women in her hometown, Rahma dreamed of marrying and raising a family. She just didn't think this dream was incompatible with her other talents and ambitions.
So Rahma has since come home and married. She now runs her own business, delivering babies from a special room added to her house. She is viewed with admiration and respect. Better still, many of the girls in her town are reconsidering their prospects and Rahma's own younger sister is studying at a nearby health institute.

Only one in four women in the Middle East and North Africa are employed or looking for work.

There are thousands of stories like Rahma's across the Middle East and North Africa (MENA) region, but not all of them have happy endings. A new World Bank report, Opening Doors: Gender Equality and Development in the Middle East and North Africa, identifies a whole set of economic, legal and cultural hurdles that have kept the region's women out of public life and out of the labor market. Reflecting something of a paradox, it also notes that over the last four decades women have made great strides in a number of areas. They are healthier, far better educated and now outnumber men at university level.
The report details the multiple challenges women face, but one of the main obstacles is the difficulty of balancing a career with raising a family. This is a challenge for women everywhere, but in MENA it is all too often a stark choice.
Only one in four women in MENA are employed or looking for work, which is half the global rate. For young women rates of unemployment are as high as 40 percent while the employment gap between men and women has almost doubled over the last 25 years. It is estimated that if current MENA employment rates stay as they are, and all those in the working age population look for work, there will be 50 million unemployed men by 2050, and a staggering 145 million unemployed women.
In 2010, the World Bank conducted a survey of women graduating from community colleges in Jordan. Among them 92 percent were planning to look for work while 76 percent were expecting to be working full time. A follow up survey one year later delivered some telling results: among the graduates who had married, only 7 percent were employed; of those who were engaged, 14 percent were employed; while 21 percent of single women were employed. They all expressed the same desire to work as before, regardless of their marital status.
And Rahma has shown that they are perfectly capable of doing both.
The report offers a set of proposals for changing the rules and creating the conditions for many more happy endings like Rahma's. Current laws designed to protect women, which limit where and when they can work, often simply exclude them by making them less attractive to employers.
Sitting on the sidelines waiting to be invited in is no longer an option though. Women played a prominent role in the 'Arab Spring,' and will no longer be silent. The sooner women have an equal opportunity to contribute, the sooner the region will benefit from this vast, untapped human potential.