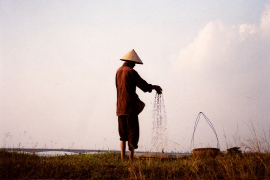 Annual World Bank Conference on Land and Poverty 2015: Linking Land Tenure and Use for Shared Prosperity
March 23-27, 2015
Washington, DC
The Annual World Bank Conference on Land and Poverty organized by the World Bank Development Economic Research Group (DECRG) is a key global event where representatives from governments, civil society, academia, the development community, and the private sector come together annually to discuss new developments and progress on land policy and implementation. The conference aims to foster dialogue and sharing of best practices on the diversity of reforms, approaches and experiences that are being implemented in land sectors around the world.
Land and Poverty Conference 2015
The 16th Annual World Bank Conference on Land and Poverty was held from March 23 – 27, 2015 at the World Bank Headquarters in Washington D.C. Over 1200 participants attended from 123 countries. The participants included leaders and professionals from across governments, civil society, academia, the private sector and partners to interact and discuss innovative approaches to improving land governance.
Under the theme 'Linking land tenure to land use' participants discussed land governance issues in more than 100 sessions, and roundtables. A day-long Innovations Fair on March 26 enabled participants to assess progress on issues like spatial data acquisition, mobile technology and other applications that help improve service delivery, transparency and analytical capacity. You can view the list of participating organizations to the Innovations Fair.
The Opening Keynote Speaker for the 2015 Conference was James Robinson, Harvard professor and author of 'Why Nations Fail.' He reminded participants during the that a narrow technocratic approach that fails to fully account for associated political economy issues may be ineffective even have negative consequences. You can view the recording of his keynote speech.
Another new feature to the 2015 Conference was a day of MasterClasses on March 27. Sponsors and Partners offered hands-on MasterClasses or clinics in a classroom setting to familiarize participants with cutting edge tools and techniques developed to help policy makers. Specific classes can be viewed on our online agenda.
A new feature introduced to the 2015 Conference is a full day focusing on solutions for land administration and management. Service providers and technology vendors have been invited to present solutions in a show-and-tell day. The scope of the Innovations Fair will cover land and geographic information systems, earth observation satellite imagery data acquisition and applications, aerial imagery, satellite positioning applications and location based services, online services and e-governance, land surveying, data conversion, data security, standards, systems interoperability, open systems, among other topics. The Innovations Fair will encourage hands-on interaction with conference participants looking for solutions to the land challenges of the post-2015 Development Agenda.
Session

Venue

Link

Monday, March 23, 2015

8:30–10:00

Building on LGAF to improve land governance and implement the VGGT
MC2-800
Watch

10:30 –12:00

Moving from assessment to performance monitoring: Process and results thus far
MC2-800
Watch

1:00 –2:00

Evaluating policies with repect to rural land: Land tenure regularization & LSLBI
MC2-800
Watch

2:00 –3:00

Using impact evaluation and administrative data to address (peri) urban land issues
MC2-800
Watch

3:00–4:00

Generating evidence to integrate land issues into country strategies & programs
MC2-800
Watch

5:00–6:30

Opening Keynote Plenary - Land, Power, and Policy
Preston Auditorium
Watch

Tuesday, March 24, 2015

8:30–10:00

Urban spaces, settlements, and communities
Preston Auditorium
Watch
Impact of private sector ESG commitments in the palm oil sector
MC13-121
Watch
Identifying and dealing with under-performing land investment projects
MC4-800
Watch

10:30–12:00

Private sector participation in regenerating urban land
Preston Auditorium
Watch
Turning land rights commitments into practice in the sugar sector
MC 13-121
Watch
Improving household and census data collection and use
MC2-800
Watch
Trends in land use policies and effect on tenure
MC 4-800
Watch
12:00–1:00

Land policies to improve equity and promote investment: an African perspective

Preston Auditorium
Watch

1:00–2:30

Land registry and business models: Diversity of contexts and systems
Preston Auditorium
Watch
Land indicators in the SDGs: Status and key next steps
MC 13-121
Watch
Raising awareness about women's land rights
MC 2-800
Watch
Legal empowerment: Approaches and impacts
MC 4-800
Watch

2:45–4:15

Establishing registries to prevent property fraud
Preston Auditorium
Watch
Land markets & regulations to improve housing supply & affordability
MC 13-121
Watch
Challenges of securing pastoralist land rights
MC 4-800
Watch

4:30–6:00

Using the "Doing Business Registering Property" index to promote innovation and policy reform: Key dimensions and next steps
Preston Auditorium
Watch
Applications of remote sensing for land use classification
MC13-121
Watch
Institutionalizing fit for purpose land administration in practice
MC 2-800
Watch
Land issues in Colombia: From dispossession to restitution
MC 4-800
Watch

Wednesday, March 25

8:00 AM
Using geospatial data to improve land use and tenure
MC C2-131
Watch

8:30–10:00

China's Land Management System Reform: issues, Progress and Prospect Part 1
Preston Auditorium
Watch
Methodologies to systematically monitor the impact of large farms
MC 13-121
Watch
Financing Transit-oriented Development with Land Values: Adapting Land Value Capture in Developing Countries
MC 2-800
Watch
Integrated business models
MC 4-800
Watch

10:30–12:00


China's Land Management System Reform: issues, Progress and Prospect Part 2
Preston Auditorium
Watch
Leveraging climate change policies to promote local forest rights
MC 13-121
Watch
Open data, voluntary geographic information and crowdsourcing for land rights
MC 4-800
Watch

Ensuring sustainability of land administration institutions

MC C2-131
Watch

1:00–2:30

Protecting women from losing out when land values increase
Preston Auditorium
Watch
Scaling up strategies to secure indigenous and community land rights
MC 13-121
Watch
Impact evaluations: Baseline data and analytical approaches
MC 4-800
Watch

2:45–4:15

Providing guidance and monitoring for VGGT implementation
Preston Auditorium
Watch
How investors safeguard existing rights and manage risks
MC13-121
Watch
Assessing economy-wide and employment effects of LSLBI
MC 4-800
Watch

4:30–6:00

Implementing Uganda's new land policy: Measuring progress over time
Preston Auditorium
Watch
Rights recognition and deforestation—lessons from meta-analyses
MC13-121
Watch
Land reforms and agricultural sector performance in Ukraine
MC 4-800
Watch

Thursday, March 26, 2015

8:30–10:00

Update on implementation of AU Declaration on Land: Results and Challenges
Preston Auditorium
Watch
Land policy processes in post-conflict Africa
MC 13-121
Watch
Impact of mining investments
MC 2-800
Watch
Spillover effects of large scale land-based investment
MC 4-800
Watch
Supporting real estate markets and land taxation
MC C2-131
Watch

10:30–12:00

Gender impacts of large-scale investments
Preston Auditorium
Watch
Land tenure reform in francophone West Africa
MC13-121
Watch
Roundtable: Grassroots strategies to enhancing women's land rights
MC 2-800
Watch
Securing community rights: Legal and technology options
MC 4-800
Watch

1:00–2:30

How can investors' home countries promote responsible agricultural investment?
Preston Auditorium
Watch
Using geospatial data for analysis
MC13-121
Watch
Improving governance of land tenure in UNECE region
MC 2-800
Watch
Urban land tenure and the poor: regularizing informal settlements

MC 4-800
Watch

New ways of collaboration and data sharing

MC C2-131
Watch

2:45–4:15

Acquiring valid spatial data in a participatory fashion
Preston Auditorium
Watch
How to deal with land rights in the context of mining investments?
MC13-121
Watch
Large landscape conservation for poverty reduction
MC 2-800
Watch
High quality household data to improve land governance
MC 4-800
Watch

4:30–5:15

Closing Plenary
Preston Auditorium
Watch
The 2015 Land and Poverty Conference would not have been possible without the support of our Sponsors and Partners below