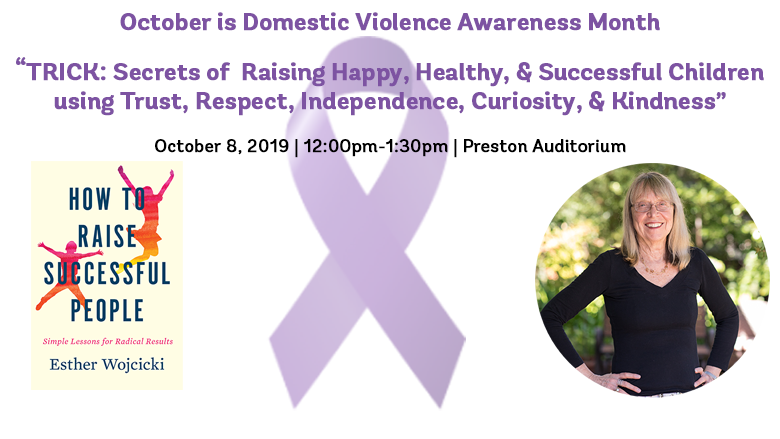 October is Domestic Violence Awareness Month
In recognition of Domestic Violence Awareness Month, the World Bank Group, International Monetary Fund, and Inter-American Development Bank invite you to our launch event with Esther Wojcicki, American Journalist, Educator & Author.
"TRICK: Secrets of Raising Happy, Healthy, & Successful Children using Trust, Respect, Independence, Curiosity & Kindness"
October 8, 2019 | 12:00pm-1:30pm | Preston Auditorium
Esther Wojcicki will address challenges for parents in today's world, global trends of anxiety and depression and impacts of Adverse Childhood Experiences (ACE) in high conflict families. Esther is an internationally known educator and founder of the largest scholastic media program in the U.S. at Palo Alto High. She is also the 2002 California Teacher of the Year; a 2009 MacArthur Foundation Research Fellow; former Chair of Creative Commons, Chair of PBS Learning Matters, and on the Board of the Freedom Forum, the Newseum and the Alliance for Excellent Education among others. She was awarded the 2011 Columbia University Charles O'Malley Award as well as numerous other awards. She advises multiple ed tech startups in Silicon Valley. She is also the founder of the Journalistic Learning Initiative at the University of Oregon, and the founder and CEO of GlobalMoonshots.org. She holds three honorary doctorates and is the author of Moonshots in Education (2014) and the bestselling book, "How to Raise Successful People" (2019). Her primary focus is to help parents and teachers be more effective at home and in the classroom.
Special Remarks: Stuart Fisher, Senior Psychologist, HSD Counseling Unit
Opening Remarks: Ousmane Diagana, World Bank Group Human Resources Vice President
Keynote Address: Esther Wojcicki, American Journalist, Educator & Author
Q&A: Moderator: Caren Grown, Senior Director, Global Themes Department - Gender
Open to: WBG, IMF, and IDB staff, spouses, domestic partners and family members.
Light lunch will be served. A limited number of Esther Wojcicki's recent book will be available on a first-come, first-served basis.
In Partnership with: WBG/IMF Health & Safety Directorate (HSD), Domestic Abuse Prevention Program (DAPP), World Bank Family Network, (WBFN), Global Themes Department - Gender Unit (HGNDR), Staff Association (WBGSA), and the Ethics and Business Conduct Department (EBC).
Click here for the event flyer | Click here for the video recording