Biodiversity: Sector Results Profile
April 9, 2013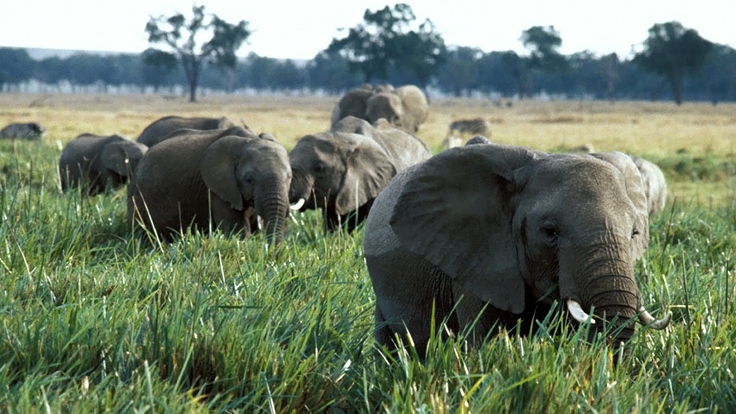 As a global institution whose mission is fostering "A World Free of Poverty," the World Bank Group has been drawing the connections between environment, development and poverty reduction for many decades. The Bank's abiding view is that all countries need to move to greener and more inclusive growth paths to sustain clean air, food, water, land and oceans for the generations to come. Biodiversity can be an engine of inclusive green growth to foster strong local economies and healthy communities. The World Bank is a key funder of biodiversity initiatives since 1988. The biodiversity portfolio represents over US$4 billion in biodiversity investments, complemented by almost an additional US$4 billion leveraged through co-financing. Though a substantial amount of this investment has been dedicated to protected areas, there has been an increasing focus on mainstreaming attention to biodiversity within the larger landscape and seascape.

25 million
hectares of Brazilian Amazon is under strict protection
Challenge
Developing country partners are increasingly aware that biodiversity and ecosystem services can be an engine for inclusive green growth and an important part of the solution to emerging global challenges, from climate change to food insecurity. It has also been learned—through long and often hard experience—that good nature conservation is possible. Conservation can also be affordable and cost-effective as well as beneficial to poor communities when it is done right. To do it right—especially in an era of diminishing public expenditures for biodiversity conservation—innovation, communication and effective partnerships are needed between governments, communities, financial institutions, companies and conservation organizations.
Three challenges have emerged from our decades of experience investing in biodiversity and ecosystem services: the need to end the boom and bust of project financing; the need to sustain results where they are achieved; and the need to marry investment flows to national priorities.
Solution
The World Bank Group Environment Strategy 2012-2022 aims at "Greening Development" by, among other things, leveraging biodiversity to reduce vulnerability and alleviate poverty at the rural frontier. The Bank is doing this through a renewed focus on creating the enabling conditions for long-term, sustained success, including:
Greening national income accounts: A Global Partnership on Wealth Accounting and Valuation of Ecosystem Services (WAVES) is stepping up its support to countries to factor natural capital into economic decision-making. Nature needs to be firmly on the agendas of finance ministers and reported on in board rooms. Strong public-private partnerships that are investing in natural wealth for the long-term are needed.
Partnering for success: The Bank is crossing sector boundaries and multilateral agreements to facilitate informed decision-making on resource use. The Bank is serving as a catalyst for bringing together a wide range of parties interested in biodiversity conservation—governments, scientific groups, businesses, non-governmental organizations, law enforcement, and other international organizations. For example, on oceans and critical coastal habitats, the Bank convened the Global Partnership for Oceans that will help stakeholders move at the scale and speed that is needed to restore the health of the world's oceans.
Mobilizing resources: The Bank is taking a partnership approach to establish the rules of the game for effective and efficient offsets that can mobilize resources that are in turn connected to national strategies, all the while cutting the costs of conservation. The International Finance Corporation's (IFC) Performance Standard 6 is one tool that has been designed in concert with private sector and civil society partners and is already affecting how biodiversity is being mainstreamed in international financial flows.
Strengthening law enforcement: The Bank is working with countries to scale up their law enforcement capacity so that the benefits from conservation investment do not end up flowing to organized crime or accrue to the few at the expense of the many. Ultimately this cuts the cost of conservation for the long term.
Results
Some of the results achieved with World Bank support, based on financing from the International Bank for Reconstruction and Development (IBRD) or the International Development Association (IDA), or through trust funds managed by the World Bank include:
Establishing and expanding protected area systems: The first phase of the Amazon Region Protected Areas program (ARPA) in Brazil helped double the area of the Brazilian Amazon under strict protection—from 12 million hectares at the start of the project to about 25 million hectares at the end of the project in 2008. An additional 10 million hectares were set aside in sustainable use areas to conserve biodiversity and provide improved livelihoods for traditional forest dwellers. The World Bank is now supporting a second phase with equally lofty ambition. Liberia is endowed with the major share (43 percent) of the remaining Upper Guinean Tropical Rainforest, a recognized hotspot for biodiversity that is considered a global priority for conservation. Liberia's forests house a range of important biodiversity, including some 240 tree species, 2,000 flowering plants, 125 mammal and 590 bird species, 74 reptiles and amphibians, and over 1,000 insect species. Here, the Bank has supported a series of projects to expand the national protected area system that have resulted in, among other accomplishments, the gazettement of the country's first multiple-use reserve at Lake Piso. In Gabon, in 2002 the government created a network of 13 national parks covering 2.8 million hectares, some 10.6 percent of the country's territory. An interministerial government committee was established to ensure effective management of the network, and the National Park Agency (ANPN) was created. The World Bank, through GEF financing, strengthened the ANPN through the US$10 million Strengthening Capacity for Managing National Parks and Biodiversity Project. After five years, the ANPN had put in place a strong team and robust management systems. The project also stimulated new forms of partnerships with nongovernmental organizations (NGOs), with a clearer distribution of roles and responsibilities.
Engaging communities in co-management: The Bank has long supported the involvement of communities in its conservation portfolio. In the Pakistan Protected Areas Management Project, Bank investments secured the establishment of co-management committees for several of the country's parks. The Kenya Wildlife Conservation Leasing Demonstration Project has been successful in helping to ensure the long-term ecological viability of Nairobi National Park by allowing wildlife to use areas adjacent to the park. A total of 388 households with some 22,000 hectares of land have signed up for the project. These families receive rent for not fencing off their land and allowing wildlife to roam it. Families use approximately 80 percent of the rental income for school fees, with the balance invested in human health and livestock production. The government is negotiating with the local Maasai community to designate permanently a 1,200-hectare parcel of land adjacent to the park for cattle and wildlife. Wildlife numbers have increased significantly over the project's four-year lifespan.
Securing sustainable land and ocean-scape management: The Yemen Agro-Biodiversity Project is promoting on-farm conservation and promotion of key local seed varieties to enhance food security. Between 2008 and 2010, the project collected 1,775 varieties of agro-biodiversity, of which farmers and local researchers identified 31 priority seed varieties that went through a purification/improvement process to improve their fit and adaptation to the local climate. Preliminary field results from the first improvement cycle have already shown yield improvement that varies between 25 percent and 32 percent. Namibia's coastline extends some 1,570 km. The ocean has one of the highest primary production rates in the world. Endemic dolphins, breeding Southern Right Whales, foraging sea turtles, and many globally threatened seabird species are common. Aware of the value of coastal natural resources for economic development, in 2005 the Government of Namibia received a US$4.9 million grant from the GEF and the Bank to establish a strong platform for governance of the broader coastal land and seascape and for development of a National Policy on Coastal Management. The National Policy was approved by the Cabinet on September 13, 2012.
Some of the key highlights of results achieved in IDA-supported projects include:
Zambia: Kafue National Park (KNP) is one of the largest national parks in the world; it encompasses some 2.3 million hectares, with another 4.2 million hectares in surrounding Game Management Areas (GMAs). Its proximity to Victoria Falls allows it to tap into a strong tourism market. By the late 1990s, however, wildlife had severely declined and infrastructure had deteriorated. Zambian Wildlife Authority (ZAWA) staff were insufficiently trained and had poor working conditions and inadequate transportation and equipment. Aware of the relationship between nature-based tourism and development, Zambia's government requested assistance from IDA, the GEF, and Norway to reverse biodiversity erosion in KNP and its surrounding areas and help diversify Zambia's sources of growth. Between 2004 and 2011, the Support for Economic Expansion and Diversification Project increased or stabilized the number of large mammals. Staff are now properly housed, most of the park is accessible year-round, and most of it is regularly patrolled. Investors responded to improved park management by increasing accommodations by a factor of 3.5 and increasing visits from 4,600 in 2004 to 7,300 in 2010. Park revenues rose tenfold during this period, and safari hunting proceeds in adjacent GMAs, which are split 50:50 with surrounding communities, increased from US$756,000 to US$1.3 million. Overall, ZAWA retained US$1.5 million in revenues from the greater KNP in 2011.
Burkina Faso: The Sahel Integrated Lowland Ecosystem Management Project(SILEM) focused on lowland areas in selected sub-watersheds in Burkina Faso to demonstrate how communities can improve productive capacity of rural resources through sustainable conservation of biological and agricultural diversity, as well as the rehabilitation of soil and water resources in target watersheds. SILEM allowed the introduction of a landscape dimension and the concept of Integrated Ecosystem Management in Burkina Faso. The project pioneered the concept of biodiversity in production landscape and has helped communities establish important livelihood assets that also generated environmental benefits, notably including 7,500 hectares of native forest designated for conservation.
Guinea-Bissau: The Coastal & Biodiversity Management Project, which closed in March 2011, financed the strengthening of the institutional framework and management capacity for biodiversity and protected areas by establishing a financially and administratively semi-autonomous entity, the Institute for Biodiversity and Protected Areas (IBAP), to manage the country's network of protected areas and endangered species. The project helped conserve 480,000 hectares of its coastal zone (13 percent of the territory), together with local communities. These protected areas are considered national assets and are intended to form the backbone of a future tourism industry. In four of the five protected areas established, the effectiveness of park management increased by at least 15 percent from 2005 to 2010, based on the GEF Protected Areas Management Effectiveness Tracking Tool.
Bank Group Contribution
The World Bank is a key funder of biodiversity initiatives since 1988. The biodiversity portfolio represents over US$4 billion in biodiversity investments from IBRD, IDA and trust fund resources. Of this funding, US$1.6 billion was from GEF investments, almost US$1.1 billion from IBRD and US$1.3 billion from IDA. An additional US$4 billion has been leveraged through co-financing.
World Bank projects directly support biodiversity conservation and sustainable use in a range of natural habitats, including coral reefs, mountains, tropical evergreen and monsoon forests, savannas, grasslands, unique drylands, limestone, marine, and freshwater ecosystems. Many are in centers of recognized global importance for biodiversity: mega-diversity hot spots, remaining wilderness areas, the Global 200 eco-regions described by the World Wide Fund for Nature (WWF), and the areas designated as Endemic Bird Areas and as Important Bird Areas. By promoting investments in these locations, the World Bank is helping client countries to meet the 2015-2020 Aichi Targets of the Convention on Biological Diversity and to prepare for the impacts of climate change.
Partners
Global and regional partnerships are playing an important role in promoting biodiversity conservation. Key partnerships include:
Moving Forward
The World Bank Group Environment Strategy provides an opportunity to promote creative approaches to conserve biodiversity for a sustainable future, by:
Working with the public sector to unpack the economic benefits of conservation through natural capital accounting and transform conservation into an engine of inclusive green growth.
Supporting the private sector to become part of the solution and raise the profile of nature conservation in their boardrooms as they recognize the value of nature to their bottom lines.
Working with civil society to help governments manage their natural wealth while ensuring transparency and holding them to account.
Inventing new ways to mobilize resources and cut the costs of conservation by bringing to scale financial instruments like green bonds, conservation banking, and subsidy reform.
Beneficiaries
Crossing boundaries for success: Supported by a CEPF investment, a consortium of investors from the United States and the Dominican Republic representing the private, public and nonprofit sectors, have joined forces to develop a sustainable business partnership to protect biodiversity and migratory bird habitat for the Bicknell's thrush (Catharus bicknelli) in the Cordillera Septentrional, the northern mountain range of the Dominican Republic. The new reserve, Reserva Privada Zorzal, expands the country's protected-area system by 404 hectares around the Loma Guaconejo and Loma Quita Espuela scientific reserves. By doing so, it will protect a vulnerable landscape that is a biological jewel and a critical source of fresh water for communities and businesses in the region.
One novel aspect of the project is that investors of the private reserve represent both ends of the migratory range of the project's flagship species—uniting two worlds to protect one bird. The Eddy Foundation from New York, where the bird breeds, and the Moreno family from the Dominican Republic, home of the bird's wintering habitat, are among the partners who have rallied to conserve this critical site. "The fact that we're bridging cultural and geographical differences to come together and invest in key habitat for a species we both call 'our own' is innovative and exciting," said Jamie Phillips, president of the Eddy Foundation.