FEATURE STORY
Egypt to continue expanding household connections to natural gas grid
July 24, 2014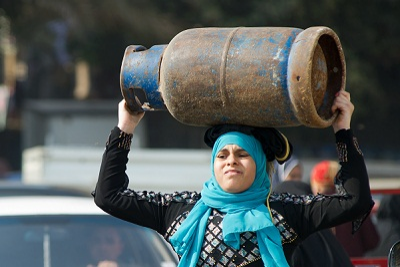 STORY HIGHLIGHTS
Currently, more than 75 percent of Egyptian households rely on gas cylinders
The Egyptian government aims to reduce this by connecting more than million more households to the grid
The government stands to save about US$200 in subsidies a year for every household connected
Ahmed is an elderly man with weather-beaten skin who spends long hours on an old bicycle selling gas cylinders from door-to-door in Cairo, alerting customers to his wares by tapping the cylinders with a piece of metal. With the official price of a gas cylinder is 8 Egyptian pounds, Ahmed makes his living by selling it for 20 pounds in return for carrying it into a customer's house. It is profitable but back-breaking work. "Often I carry it on my back up to high floors," Ahmed said.
Cylinders filled with Liquefied Petroleum Gas (LPG) are the main source of fuel for more than 75 percent of Egyptian households, with many going to a lot of trouble to buy them for cooking and heating water. Despite their cheap, subsidized price, however, they represent a costly item on household budgets.
From a consumer's point of view, they are often inconvenient. Abeer, a mother of three, has recently moved into an apartment where a natural gas connection is available, ending her use of cylinder gas. "Sometimes, it emptied while I was cooking, or when one of us was taking a shower."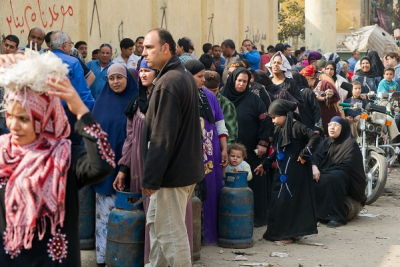 They are also a source of argument. As street vendors effectively control the price of cylinder gas, some take advantage of shortages by hiking it. When LPG cylinders rose to 50 pounds each, Abeer's mother went directly to an official outlet to buy hers. Dozens of men, women and children were queuing. She lost her temper when she noticed employees selling cylinders not just to consumers, but discreetly to street vendors as well.
As fuel subsidies have accounted for 18–20 percent of Egypt's recurrent expenditure in recent years—equal to 5–7 percent of GDP—the country is gradually replacing most LPG use with grid-connected gas. Switching households from highly-subsidized, mostly imported LPG, to locally-produced natural gas, will help lower the government's bill, with each household representing a saving of US$201 a year.
The World Bank has supported the expansion of the grid since 2008 with the Egypt Natural Gas Connection project, which has connected 355,000 consumers to the grid in the Greater Cairo area. It has approved a new US$500 million for the project, which now aims to connect about 1.5 million households in 11 governorates, including three in underdeveloped Upper Egypt, to the grid.
"Conversion to piped natural gas will help give households a safer, more reliable and cheaper supply of gas," said Hartwig Schafer, the Bank's Country Director for Egypt, Yemen, and Djibouti. "
The project will also support reforms in the gas sector with a financial management information system at the Egyptian Natural Gas Holding Company and its affiliates, as well as helping to establish and operate a new regulator," said Husam Mohamed Beides, a senior Bank energy specialist and the project's team leader.