FEATURE STORY
Sri Lanka Rural Roads Link Villages to Cities Improving Rural Economy
January 27, 2014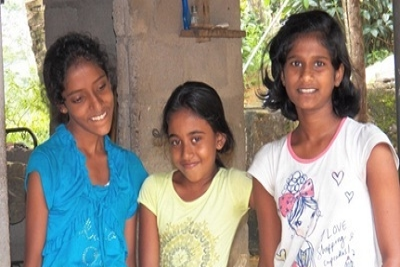 STORY HIGHLIGHTS
Sri Lanka boasts more road density than any country in South Asia. However, there has been a considerable backlog in maintenance of these roads through years of neglect that is now being addressed.
Rural roads are in a poor condition affecting people's lives. It has resulted in poor school attendance, difficulties in bringing the sick to hospitals and linking village produce to markets.
The rural roads pilot component under the World Bank supported Road Sector Assistance Project (RSAP) sought to address these challenges by providing access to deprived and isolated communities in Sri Lanka through the development of rural roads connecting isolated villages to nearby city centers.
Neluwa Pradeshiya Saba (PS), Galle - Nirupa, a 13-year old school girl from Neluwa recalls the difficulties she and her friends faced walking to school for miles. She also observes how people's lives changed since the new rural road was developed connecting her small village to markets outside the village. "Now we have a good quality road" she observes describing the progress in her village since the road was constructed.

Although Sri Lanka ranks high in many human development indicators compared to other countries in South Asia, pockets of poverty and deprivation still exist exacerbated by isolation. While new expressways and rehabilitation of national roads are contributing to the country's economic growth and development, improving feeder roads that connect lagging areas to more progressive urban areas will improve the lives of the poor in remote locations.
Most rural roads in Sri Lanka originated from footpaths or cart tracks. They play a critical role in connecting people to facilities and services. "Rural roads link hinterlands to economic centers and have a significant impact in reducing poverty" said Amali Rajapakse, Task Team Leader of Road Sector Assistance Project (RSAP). "The results from the pilot demonstrate that there has been a substantial reduction in travel time due to the rehabilitation which now provides the community quicker access to markets as well as employment. In most cases hardships encountered through getting the produce to markets have been resolved as these areas are now accessible through motorized transport" she said.
Rural Roads Pilot Initiative
The World Bank commenced it's engagement in supporting rural roads at a time the sector was starved of investment. The Rural Roads Pilot component of the Roads Sector Assistance Project:
As a first step has carried out the the selection of 9 of the poorest Pradeshiya Sabhas (PSs) from Southern, North-Central and Uva Provinces. These PSs were selected based on data from the most recent poverty map of Sri Lanka.
Next, an inventory of the existing rural road network was developed identifying the core network and prioritized based on providing access to social and economic services, number of families, percentage of Samurdhi recipients, inundation of roads due to floods and road condition among other criteria. The initiative followed a participatory approach in all stages of implementation by consulting the local community at all levels.
Thereafter the PS's have then been assisted in the creation of the investment plans which can be immediately taken up for accessing finance.
The preparatory work carried out helped address issues related to road maintenance, resource allocation and building capacity of local authorities and Government agencies. The creation of Rural Road Strategy is a successful outcome of this pilot initiative. Although the initial intention was to carry out the preparatory work only for the PS's under the pilot, based on the demand from the other PS's, it has now been completed for 220 PS's across country.
The rehabilitation of 157 km of rural roads within the 9 PS's in the pilot has now been completed.
All-Weather Roads in Neluwa Pradeshiya Sabha
Neluwa Pradeshiya Sabha (PS) (Local Authority) is a remote and isolated village in the Galle district. "Neluwa is one of the most remote villages in Galle district with close to 600 km of rural roads" said Mr. I.D. Sunil, Chairman of the Neluwa Pradeshiya Sabha. Neluwa PS is divided into 34 Grama Niladari or Village level administration divisions with approximately 31,000 families in total.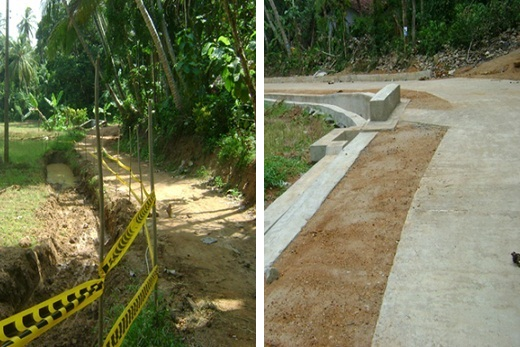 We still walk to school. But it's easier now since we have a road to get to the main road.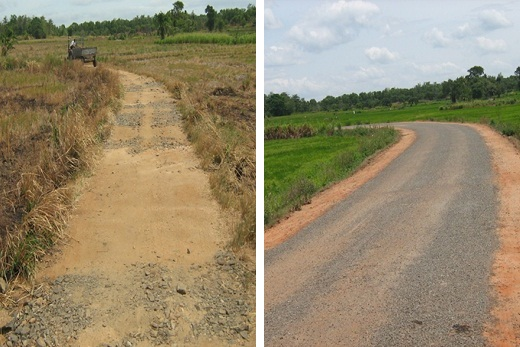 Support to Livelihoods
Most families are small tea estate holders with livelihoods based on incomes received from plucking tea leaves and transporting them to city centers to be processed and marketed by traders operating in city centers. 15 percent of villagers are recipients of Samurdhi, which is a program that targets low income groups in society.
"Many village lives changed after the roads were constructed and now people tell me that the village has gone to the city as it is very easy to transport produce from small tea estates in the village to city centers" remarked the Chairman.
Access to Public Services
"School children can travel to school without difficulties and families don't have to be afraid to take the sick to hospitals under emergency conditions" said the Chairman describing the process they followed to identify, prioritize and develop roads by consulting the people, identifying locations of service providers and prioritizing rural roads that would ease accessibility of services by poor families in the villages.
Many school children used to stay away from school most days when it rains. Children had to go over mud puddles and streams with their shoes in hands and wash their feet at a stream and wear the shoes before getting to school recalls the Chairman.
Nirupa says "We still walk to school. But it's easier now since we have a road to get to the main road". She described the remaining challenge of transportation for villages, especially school children whose parents find difficult to pay high rates charged by private school bus operators.
What's Next?
"The challenge remains to rehabilitate the balance of rural roads in Sri Lanka and develop a sustainable mechanism to maintain the existing rural road network" said Mr. Chandradasa, the Deputy Project Director of the rural roads pilot. He further observed that in areas where there was strong leadership from local authorities, the road works progressed quickly and efficiently and the technical capacity of the local authority has improved tremendously.
The Rural Road Strategyis now available with the Ministry of Local Government and Provincial Council who was in charge of coordinating activities under this pilot initiative. It provides a database that will support the process of allocating resources for rural road development, giving priority to deprived areas. In the future, children like Nirupa and her friends will hopefully not have to go over mud puddles to get to school. The poor and marginalized people will be linked to markets and other services enabling them to move out of poverty.