FEATURE STORY
Latin America: Facing off climate change with green innovation
September 25, 2013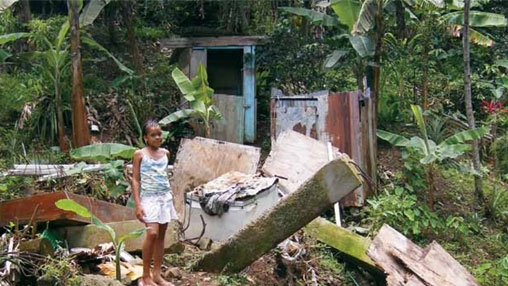 STORY HIGHLIGHTS
Climate change poses a significant threat for Latin America, with increased flooding, droughts and other natural disasters.
The region has transformed itself into a laboratory for 'green' innovation.
Reducing urban pollution will be key to protecting the region's highly urbanized population and rich biodiversity.
Latin America is likely to see more floods like those wreaking havoc in Mexico, as the effects of climate change make themselves felt. Already highly vulnerable to natural hazards, the region will be one of the most affected by increased flooding and droughts, reduced arable lands and the possible loss of low lying regions caused by climate change.
And since the vast majority – over 80% - of Latin Americans live in cities, everyone will be affected, although the region's poorest communities are likely to suffer the most.
"It's possible and necessary to create policies and programs which help to combat climate change in the most inclusive fashion," writes Ede Ijjasz-Vasquez, World Bank Director for Sustainable Development.
Reducing urban pollution– the source of much of the region's greenhouse gas emissions - is one such example. Moreover, it is an area where Latin America is already leading the way, helping to protect the region's citizens as well as Latin America and the Caribbean's unparalleled biodiversity.

It's possible and necessary to create policies and programs which help to combat climate change in the most inclusive fashion.

Ede Ijjasz-Vasquez
World Bank Director for Sustainable Development
'Greening' Latin America
For the past 20 years Latin America has been at the forefront of biodiversity protection. One fifth of the region's land has been set aside for conservation, a total which far surpasses the 13% averaged by other developing regions.
While electricity generation has more than doubled in Latin America in the past 20 years, an increase in the use of renewable sources, as well as natural gas, has helped the region reduce its dependence on oil and diesel. In fact, it's predicted that hydroelectricity will provide up to 50% of new capacity over the next 20 years.
With such potential, it is unsurprising, therefore, that sustainability and an environment-conscious growth model was on the table at the Caribbean Growth Forum in June.
"When we talk about ethics at a growth forum , on one hand we hold growth, and in the other we raise the flag for sustainability," explained Addys Then, CEO of Alianza ONG. "This will help us realize a sustainable growth plan which respects our environment, which is one of the region's greatest riches," she continued.
Notable examples of green growth within the region are:
Conquering urbanization: Today, over 80% of Latin Americans live in a city. At a global level, urban areas create 70% of the world's greenhouse gas emissions, making them fundamental to the fight against climate change. And with one of the highest motorization rates worldwide, innovations in public transport are a key part of this effort. Bus Rapid Transport systems have already been installed in key cities across the region. In Rio de Janeiro, a cable car connects favela residents to the city and in Buenos Aires, the bicycle-sharing scheme now makes around 5 000 journeys each day, up from a mere 100 a day in 2010.
Costa Rica: Having set itself the ambitious target of being carbon neutral by 2021, Costa Rica has long been a green growth pioneer. Most recently the country announced new measures to protect 340 000 hectares of forest in a move to become the first country to negotiate the sale of forestry carbon credits.
Argentina: National parks are in the ascendency in Argentina. Nearly 4 million hectares are now protected by one of the country's 36 parks - up 25% from 2003. What's more, over 3 million people visited one of these national parks in 2012 alone. Now, efforts are underway to improve services within the park to better conserve these areas for future generations.
Over the past 20 years Latin America has embraced the challenge green growth. And while obstacles remain, its successes pay testament to the region's commitment to a greener and more sustainable Latin America.