FEATURE STORY
World Bank Financing for Renewable Energy Hits Record High
October 16, 2012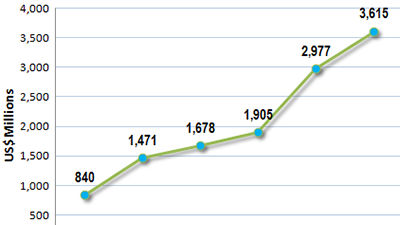 STORY HIGHLIGHTS
The World Bank Group approved a total of $3.6 billion in financing for renewable energy projects in fiscal year 2012, a record 44% share of its annual energy lending portfolio
Over the six-year period since 2007, the Bank Group has provided a total of $12.5 billion for renewable energy projects and programs, accounting for just over one-quarter of all energy financing over the same period
Looking only at power generation projects approved in 2012, renewables accounted for an even larger share — 84%
Over the six-year period since 2007, the Bank Group has provided a total of $12.5 billion for renewable energy projects and programs, accounting for just over one-quarter of all energy financing over the same period, which totaled $49.2 billion.
"The renewable energy lending figure for 2012 is a remarkable spike, but it is also part of a consistent trend of increases over several years," said Rachel Kyte, Vice President of Sustainable Development at the World Bank. "It shows the determination of many countries to seek lower-carbon energy solutions.
One example among the 2012 renewable energy projects is an off-grid household solar initiative in Bangladesh, for which the Bank's board approved a $172 million IDA grant to support installation of an additional 630,000 solar home systems and other renewable energy mini-grid schemes.
This financing for the ongoing Rural Electrification and Renewable Energy Development Project (RERED), followed the project's success in installing over 1.4 million solar systems in rural households not reached by the grid. The project, implemented by Bangladesh's Infrastructure Development Company Ltd., a government owned financial institution with partner NGOs, had received $130 million from the Bank in 2009.
"The solar home systems have already improved quality of life for millions of people in Bangladesh and provided opportunities for new village enterprises," said Ellen Goldstein, the World Bank's Country Director for Bangladesh.

The renewable energy lending figure for 2012 is a remarkable spike, but it is also part of a consistent trend of increases over several years. It shows the determination of many countries to seek lower-carbon energy solutions.


Rachel Kyte
Vice President, Sustainable Development Network, The World Bank
Another example of Bank Group clean energy financing approved in 2012 was a $175-million IBRD loan, accompanied by $125 million from the Clean Technology Fund, to support a subsidiary of Indonesia's state-owned company Pertamina in boosting the country's geothermal power generation capacity in fields in South Sumatra and North Sulawesi. When the project is completed in 2015, it will add 150 megawatts to the grid, displacing an equivalent capacity of coal-based power generation, thereby reducing local and global environmental pollution.
In South Africa, World Bank financing of $50 million and $200 million respectively was approved in 2012 for South Africa's first large-scale wind and concentrating solar power plants, to be implemented by Eskom. Also in Africa, the Bank approved a $132-million financing package for Cameroon's Lom Pangar hydroelectric project in 2012. This dam will increase the country's reliable all-season, industrial-scale hydropower generation by 40%, from about 1,750 MW to just over 3,000 MW.
Hydropower Leads
About $5.4 billion (43%) of the Bank Group's renewable energy lending since 2007 has been for hydropower, with $1.1 billion (8.5%) each for geothermal and solar PV, and $875 million (7%) for wind, and smaller amounts for biomass and solar thermal. Another $3 billion went to projects in which the specific clean energy technology supported was not identified beforehand; these include renewable energy funds, credit lines and community-driven development projects which typically support a mix of micro-hydro, solar and wind power.
Within the World Bank Group, the International Finance Corporation (IFC) was the largest sponsor of renewables at $4.5 billion (35%) over the six year period since 2007, followed by IBRD ($3.7 billion, or 30%), IDA ($2.4 billion, 19%) and MIGA ($533 million, 4%).
Climate financing instruments housed at the World Bank, including the Carbon Finance Unit, the Global Environment Facility, and the Climate Investment Funds accounted for $1.2 billion (10%) of the Bank Group's commitment to renewables. Other instruments such as IBRD/IDA guarantees, trust funds whose grants are implemented by the beneficiaries, and special financing tools made up the remainder.
South Asia led the way with $3.2 billion (26%) in renewable energy financing since 2007, followed by East Asia ($2.7 billion, 22%). Lending was $2.1 billion (17%) each for Sub-Saharan Africa and Europe-Central Asia, $1.7 billion (14%) for Latin America and the Caribbean, and $445 million (4%) in the Middle East and North Africa. About one percent of the total renewable energy financing went to multi-regional funds.
Finance for energy access was close to 20% of 2012 energy commitments, while coal power projects accounted for less than 10%.
This sustained increase in support for renewable energy lending reflects at once shifting demand from countries, as well as the World Bank Group's commitment to a sustainable energy agenda. This was underlined September 24, when Bank Group President Jim Yong Kim's announced at the United Nations that he will co-chair with UN Secretary General Ban Ki-moon an Advisory Board leading the Sustainable Energy for All initiative. Doubling the share of renewable energy in the global energy mix is a key goal for the SE4ALL initiative, along with achieving universal access to energy, including electricity and modern cooking and heating fuels, and doubling the energy efficiency improvement rate.