FEATURE STORY
Empowering Women in Bangladesh
March 8, 2012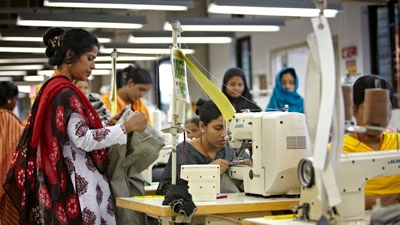 March 8, 2012: The World Bank in Bangladesh is helping young women from rural areas overcome the difficulties of migration by giving them an opportunity to successfully adapt to a new life.
For a young single woman, moving by herself from a poor rural village to a distant city with millions of people is daunting enough. But what if she lacked professional experience and skills? What if she has no place to stay, and was totally alone and vulnerable to exploitation, violence, and crime? This is the reality for millions of Bangladeshi women who leave their villages in search of a better life.
However, the decision to migrate and join the formal labor force is not taken lightly. Twenty-two year old Aneeqa recalled the difficulties of her migration. "Food, safety, and a place to live are all things we had to do without when we moved and it made the adjustment very difficult! We knew nothing of city life and had to find houses to share with other girls. It was so difficult."
To help young women overcome the difficulties of migrating and giving them a chance to successfully adapt to a new life, the World Bank approved a $40 million women's economic empowerment project in Bangladesh in October 2011.
The "Northern Areas Reduction-of-Poverty Initiative" or NARI (nari means women in Bengali) is the first project of its kind in South Asia. It provides assistance to women who come from the impoverished northern areas of Bangladesh that suffer from seasonal deprivation and famine-like conditions, a phenomenon known as monga. The project aims to link one of the poorest and vulnerable groups in the country to Bangladesh's rapidly expanding ready-made garment industry.
"Over 80 percent of the three million workers in the thriving garment sector are women. Yeti, they are often vulnerable: young, poor, sometimes illiterate and often single," said Ellen Goldstein, country director for Bangladesh. "The project will help vulnerable women from the poorest region overcome the difficulties of migration and give them a chance to successfully adapt to a new life."
The need for greater equity
In spite of substantial barriers for women to be employed, dire circumstances are driving more and more of them from rural Bangladesh to urban areas in search of greater opportunities ― particularly in the garment industry. The garment industry accounted for 80 percent of exports in 2009 and currently employs more than 3 million workers, mostly women. This industry has contributed significantly to women's empowerment in Bangladesh.

Accommodation and safety are the main issues stopping more girls from coming. The project will have a very good impact in encouraging women to come forward and work.

Tania
garment factory worker
According to project leader Bhuvan Bhatnagar, "Formal employment for women improves their control over income and their lives, providing a viable alternative to early marriage that in turn contributes to reductions in fertility and the avoidance of health-related problems. It enhances their status with significant symbolic and economic benefits, allowing women to gain greater independence, visibility and voice in public areas."
Fostering a new life in urban areas
NARI will offer a managed system of transition to employment opportunities in the garment industry for poor and vulnerable women, which ensures fairness, efficiency, and safety along the labor supply chain. The project will improve the odds for successful migration through an orientation course for young women before they migrate so they can make an informed decision about their migration. It will help them reach cities with demand for garment workers, and provide transitional housing and training in technical and life skills for the first six months after they arrive in the urban areas, giving them time to develop social networks and support systems. The women will receive counseling and job placement services, and will be assisted in finding permanent housing.
According to 19-year old Tania, who works at a garment factory, "Accommodation and safety are the main issues stopping more girls from coming. The project will have a very good impact in encouraging women to come forward and work. I would definitely recommend my sister to come if she gets these benefits that we never got."
NARI is a pilot project which aims to train and place around 10,800 women in factories inside three export processing zones that have better conditions and safeguards for workers. If the pilot project is successful, based on a rigorous impact assessment, the plan is to expand it to other parts of Bangladesh and other sectors.