BRUXELLES, 8 noiembrie 2018 – Prețurile nejustificat de ridicate ale locuințelor și chiriile foarte mari din orașele mari afectează perspectivele de angajare pentru lucrătorii tineri din Uniunea Europeană, concluzionează un nou raport al Băncii Mondiale.
Documentul "Trăind și plecând: Locuințe, mobilitate și bunăstare în Uniunea Europeană" (Living and Leaving: Housing, Mobility and Welfare in the European Union) analizează modul în care accesibilitatea locuințelor influenţează productivitatea, creșterea economică și oportunitățile pentru cetățenii din cele 28 de state membre ale UE. Locuitorii din 26 dintre cele 28 de capitale ale UE au declarat că găsirea unei locuințe bune la prețuri rezonabile nu a fost un demers facil.
"Locuințele în zonele metropolitane europene au devenit inaccesibile pentru mulți oameni pentru că ritmul de dezvoltare a noilor construcții nu ține pasul cu cererea", a declarat Gabriela Inchauste, Economist pentru Sărăcie și Egalitate în cadrul Băncii Mondiale și coautor al raportului. "Faptul că o mare parte a fondului locativ este deținută în proprietate de generațiile mai în vârstă ține la distanță generațiile mai tinere care nu își pot permite să locuiască în cele mai productive oraşe, unde se află cele mai multe oportunități de ocupare a unui loc de muncă de o calitate ridicată, cum ar fi capitalele."
Raportul evidențiază trei recomandări cheie pentru decidenții politici de la nivelul UE: alocarea terenuriloraflate în proprietate publică, dar neutilizate, pentru dezvoltarea de locuințe, accelerarea procesului de aprobare a autorizațiilor de construcție şi invesiții în dezvoltarea unor proiecte rezidenţiale situate în zone limitrofe, pe terenuri virane , cu conexiuni bune de transport dinspre suburbii, pentru a permite orașelor să își extindă reţeaua economică, și crearea de registre publice pentru îmbunătățirea transparenței prețurilor de vânzare ale locuințelor și, în consecință, pentru stimularea concurenței între zone.
Grecia, Bulgaria, Danemarca, Germania, România și Regatul Unit sunt țările unde familiile resimt cel mai puternic costul excesiv de împovărător al locuințelor, în timp ce locuitorii din Malta, Cipru, Finlanda, Irlanda, Estonia și Franța o duc cel mai bine în acest domeniu în UE.
Arup Banerji, Director Regional al Băncii Mondiale pentru Uniunea Europeană, a declarat: "În prezent, locuințele sunt considerate cea mai mare problemă la nivel național în multe state UE. Această problemă este în centrul diviziunii economice din ce în ce mai accentuate în Europa, iar oamenii își manifestă îngrijorarea. Dacă ar exista un cadru de politici publice potrivit, menit să asigure dezvoltarea construcțiilor rezidențiale atunci când prețurile locuințelor cresc, statele membre UE pot ajuta tinerii să aibă acces la locuințe accesibile, fapt care ar avea un efect de domino pozitiv și asupra mobilității sociale și productivității".
Pornind de la studiile anterioare, inclusiv "Growing United", raportul punctează inegalitatea pe care deficitul de locuințe noi o creează între generații. Acesta evidențiază faptul că politicile fiscale și privind cheltuielile publice din UE s-au axat în principal pe locuințele deținute în proprietate, cu beneficii mai mari pentru generațiile mai în vârstă. Prin contrast, doar foarte puține resurse au fost dedicate programelor menite să încurajeze dezvoltarea cartierelor rezidențiale și să reducă costul chiriilor, acțiuni ce ar ajuta tinerii.
Figura. Accesibilitatea locuințelor ridică cele mai mari probleme în orașele mari ale UE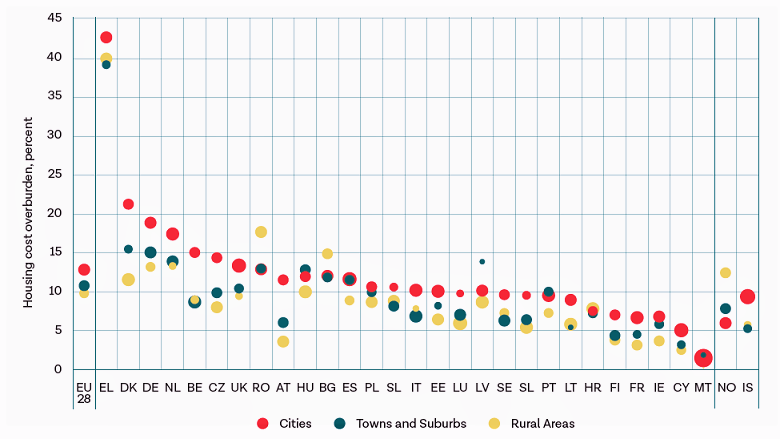 Sursa: Programul Habitat al CE și ONU 2016, pe baza datelor de la Eurostat. Notă: UE28 = toate cele 28 de state membre ale Uniunii Europene. Costul locuințelor este măsurat ca procent din gospodăriile care cheltuiesc mai mult de 40% din venitul disponibil pentru locuințe. Dimensiunea bulinei reprezintă cota parte din populația națională care locuiește în zonă.