BRUSSELS, November 8, 2018 – Inflated house prices and high rents in major cities are damaging the employment prospects for millions of young workers across the European Union, says a new World Bank report.
Living and Leaving: Housing, Mobility and Welfare in the European Union analyzes how the affordability of housing impacts labor productivity, growth and opportunities for citizens in the EU's 28-member states. Those living in 26 of the 28 EU capitals said that finding good housing at reasonable prices was not easy.
"Housing in European metropolitan areas has become unaffordable for many because new construction is not keeping up with demand," said Gabriela Inchauste, Lead Economist for Poverty and Equity at the World Bank and co-author of the report. "Since a large portion of the housing stock is owned by older generations, this shuts out younger generations, who cannot afford to live in the most productive locations with the highest employment opportunities, such as capital cities."
The report highlights three key recommendations for EU policymakers: earmark unused public land for housing development and speed up approval processes; invest in greenfield projects with improved transportation links from suburban areas, to ensure cities cast a wider economic net; and create public registries to improve transparency of house sale prices to help greater competition between areas.
Greece, Bulgaria, Denmark, Germany, Romania and the United Kingdom are the countries where families are the most overburdened by the cost of housing, while those in Malta, Cyprus, Finland, Ireland, Estonia and France were best off within the EU.
Arup Banerji, World Bank Regional Director for the European Union said: "Housing is now considered the most important national issue in many EU countries. It is at the heart of growing economic divides in Europe and people are getting anxious. With the right policy framework to ensure that residential construction increases when house prices rise, EU countries can help young people access affordable housing, which will have positive knock-on effects for social mobility and productivity."
Building on earlier works, including Growing United, the report identifies the intergenerational inequality created by the shortage of new housing. It highlights that tax and spend policies across the EU have focused primarily on home ownership, which has greater benefits for older generations. By contrast, few resources have been devoted to programs that would increase housing development and reduce the costs for tenants, which would help younger age groups.
Figure. Housing affordability is most problematic in EU cities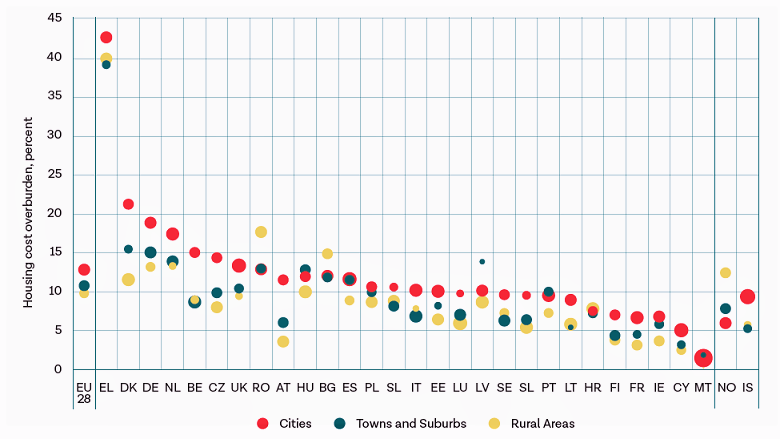 Source: EC and UN-Habitat 2016, based on Eurostat data. Note: EU28 = all 28 European Union member countries. Housing cost overburden is measured as the percentage of households spending more than 40 percent of their disposable income on housing. Bubble size is the share of national population living in the area.