VIENNA, Austria, October 25, 2017—A stable business environment, effective regulations, and political stability are among the key drivers of foreign direct investment (FDI) into developing countries, according to a new survey released today by the World Bank Group.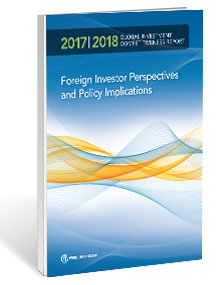 The survey of 750 executives of multinational corporations is part of the Global Investment Competitiveness Report 2017–2018, the first of a biennial series exploring the drivers of investment competitiveness in developing countries. The report finds that international investors prioritize political stability, security, macroeconomic conditions, and conducive regulatory environment when deciding where to make investments that can spur growth and create jobs.

"A business-friendly legal and regulatory environment—along with political stability, security, and macroeconomic conditions—are key factors for multinational companies making investment decisions in developing countries," said Anabel Gonzalez, Senior Director of the World Bank Group's Trade & Competitiveness Global Practice. "Combining a survey of global investors with analysis of investment policy issues makes this report a powerful contribution to our understanding of how developing countries—including fragile states—can de-risk their economies and unlock FDI."

The report explores how FDI creates growth opportunities for local firms, assesses the power of tax holidays and other fiscal incentives to attract FDI, analyzes characteristics of FDI originating in developing countries, and examines the experience of foreign investors in countries affected by conflict and fragility. Combining first-hand investor perspectives with extensive research and data analysis, the report highlights the importance of a conducive and low-risk investment climate for multinational as well as local companies. It recommends specific reforms that can help countries attract foreign investment and maximize its benefits for development.

"The Global Investment Competitiveness Report goes beyond an examination of broad trends in foreign investment. It explores key drivers of FDI in depth," said IFC Chief Economist Ted H. Chu. "It also offers practical and actionable recommendations to help developing countries ensure they get the most out of international investment."

The report was launched on October 25th at the Investment Competitiveness Forum. The Forum brought together corporate executives, donor partners, and academics, and senior policymakers of developing countries that have implemented significant investment policy reforms. The effort to increase FDI flows into developing countries reflects the importance of the private sector in meeting global development goals. The scale of private sector activity far surpasses public development funding worldwide, the report notes, and some of the most promising investment opportunities are centered in developing countries.

The report is produced jointly by the World Bank Group's International Finance Corporation (IFC) and Trade and Competitiveness Global Practice.