November 27, 2019
Bucharest, Romania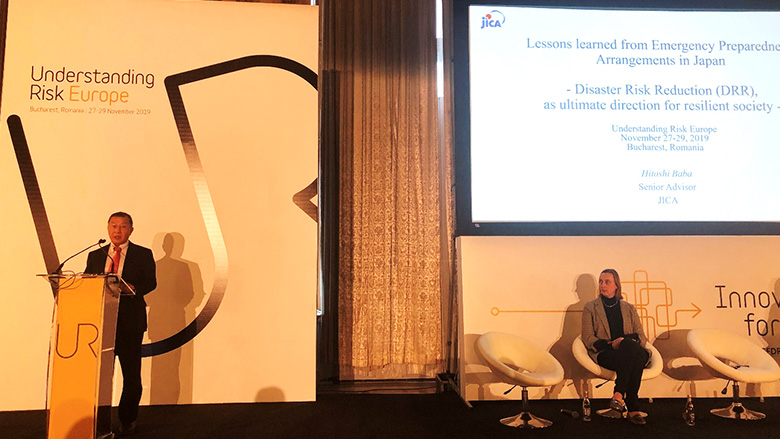 The World Bank Group and the Global Facility for Disaster Reduction and Recovery (GFDRR), in collaboration with the Government of Romania, organized "Understanding Risk Europe" conference, which took place in November 27-29, 2019 in Bucharest, Romania. Dr. Hitoshi Baba, Senior Advisor of Japan International Cooperation Agency (JICA), participated in the session on "Assessing and addressing the fiscal and economic impacts of natural disasters: recent experiences and innovations on country financial resilience". The session aimed to showcase experiences from various countries on the development and subsequent adoption of pre-arranged financial instruments to provide finance when its needed urgently most, which is immediately after a disaster hit.
Japan, with its continuous efforts in building back better from numerous natural disasters, have developed various tools and approaches to strengthen its financial resilience, including pre-arranged agreements to enable quick reconstruction of critical infrastructure after disasters, as well as incentivizing investment towards disaster risk reduction through financial instruments. Dr. Baba presented various examples from Japan including the pre-arranged financial, policy, and technical arrangements that enabled the restoration of the collapsed highway in 6 days after the Great East Japan Earthquake in 2011 thanks to the cooperation arrangements that existed between the public and private sectors. He also stressed the importance of disaster risk reduction, highlighting that ex-ante arrangements for contingency actions including pre-arranged financing are critical in ensuring "Building Back Better."
Financial and technical support for this engagement was facilitated by the Tokyo DRM Hub in partnership with the World Bank Crisis and Disaster Risk Finance team.