The population of Lusaka, Zambia's capital city, has grown tremendously from one million people in 2000 to an estimated 2.3 million in 2016. Much of this growth is attributed to the influx of large numbers of young people, who have fled the rural life of farming and poverty. In search of economic opportunities, Jonas Phiri, 24, travelled 300 km from Katete to Lusaka, to look for a job. Unfortunately for him and many others in his shoes, it has been challenging to find a good job. For two years now, Phiri has resigned himself to selling cellphone air time on the streets of Lusaka, while he boards with a relative who lives in one of Lusaka's over crowded peri-urban areas.
"The competition with others to sell talk time on this street has intensified. There are too many of us. Income is also irregular. But I would rather be here, than go back to the village where poverty is worse, and the order of the day," says Phiri as he waves a wad of air time vouchers, to attract customers.
Phiri is optimistic that he will find a job with good wages in Lusaka. Such jobs however, are inaccessible to large groups of rural Zambians, especially Phiri's age group and women. Many young Zambians and women share Phiri's story, particularly those with little or no education.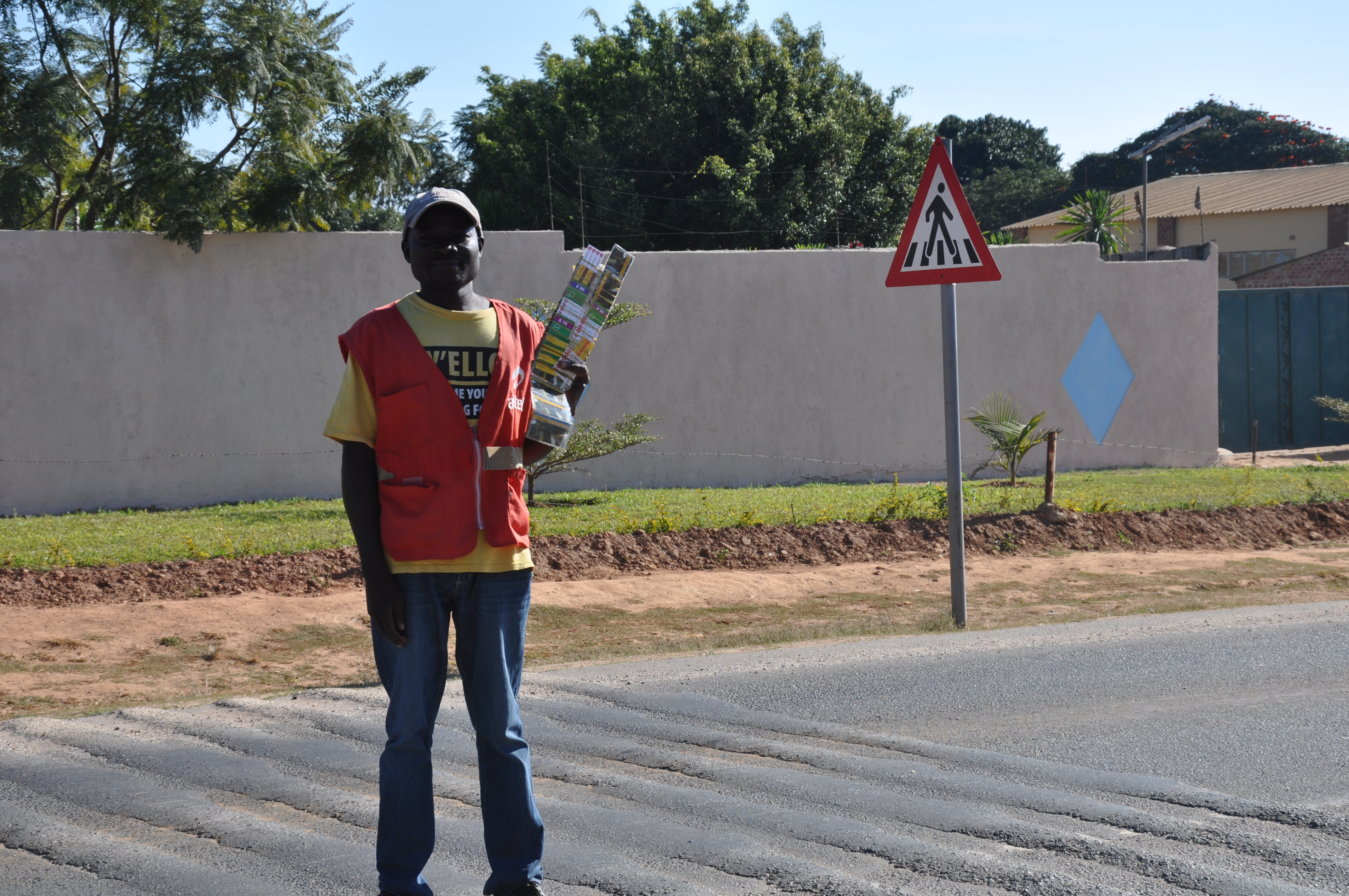 Jonas Phiri, 24, travelled 300 km from Katete to Lusaka, to look for a job. Unfortunately for him, it has been challenging to find a good job. Many young Zambians and women share Phiri's story. (Photo: Sudha Bala Krishnan)
Despite economic growth, the number and distribution of jobs did not improve
Zambia experienced rapid economic growth between 2000 and 2014. The economy grew by an annual average of 7.3 percent between 2000 and 2014, and per capita GDP grew by 4.3 percent. But at the same time, employment grew by only 2.81 percent per year. The problem is mineral-driven growth brought about by the copper-driven boom was not labor intensive enough. Wage employment has not kept up with Zambia's fast growing workforce, productivity and hours worked for people like Jonas Phiri in the urban informal sector has not improved substantially, and smallholder farmers aren't better off. Zambia's growth was not shared.

New poverty analysis by the World Bank in fact shows that per capita consumption only rose for the top 3 deciles of income earners in Zambia between 2010 and 2015. The bottom 6 deciles of income earners actually got worse off in real per capita consumption. In particular, rural workers, youth and women are struggling to find the improved farm productivity and off farm jobs they need to escape poverty.
In the new National Development Plan and under the National Strategy for Industrialization and Job Creation, Government of Zambia wants to create one million jobs in 5 years, through economic diversification. Government aims to create waged jobs in non-mining sectors, including agriculture, manufacturing, and tourism. It will be a tall order to dramatically increase the number of good jobs in Zambia compared with what has been achieved during a decade of rapid growth. It will require careful prioritization of policy reforms, and strong implementation of investments under a focused jobs strategy. But the reality is, it has to be done for Zambia to maintain prosperity and stability, because over 300,000 young people like Jonas Phiri are set to join the workforce every year in the next generation.
Growth potential in sectors
On June 13, 2017, in Lusaka, the World Bank published a comprehensive study of jobs in Zambia. The study contains three reports: the Zambia Jobs Diagnostic, a policy Action Plan, and the Zambia Jobs in Value Chains. The reports stress the need for Zambia to take comprehensive action at a macro level, through institutions and labor markets, and through targeted interventions to create more demand for good jobs. The studies explicitly highlight the potential of growth in agribusiness and agro-processing to connect more Zambians, especially those that are young, rural and poor, to jobs through value chains. Policies and programs on jobs must support linking the poor working as self-employed in agriculture or unpaid family work to where the jobs are: along the central corridor from Copperbelt to Livingstone.