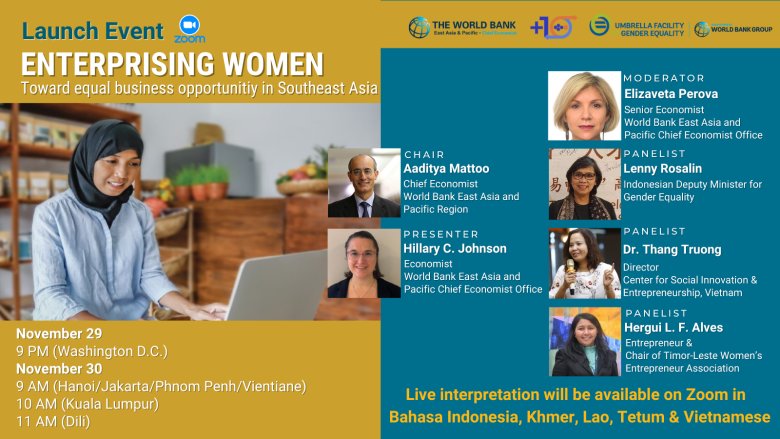 This report explores gender differences in entrepreneurship for micro, small, and medium enterprises in Cambodia, Indonesia, Lao People's Democratic Republic, Timor-Leste, and Vietnam. The event features a presentation of the report and a panel discussion with local government, academic and society representatives on the current situation for female entrepreneurs and the necessary policy actions.
The event will be live on Zoom (with simultaneous interpretation into Bahasa Indonesia, Khmer, Lao, Tetum & Vietnamese).
Register to receive the Zoom link.
*This event is part of the World Bank Group's yearlong Gender Equality and Development +10: Accelerate Equality initiative.
Opening Remarks
Aaditya Mattoo - Chief Economist, East Asia Pacific Region
Presentation of the report
Hillary C. Johnson - Economist EAPGIL
Panel discussion
Moderator:
Elizaveta Perova - Senior Economist EAPGIL
Panelists:
Lenny N. Rosalin - Deputy Minister for Gender Equality, Republic of Indonesia
Prof. Dr. Thang Truong - Director Center for Social Innovation & Entrepreneurship, Vietnam
Hergui L.F. Alves - Chair of Women's Entrepreneur Association, Timor-Leste
Closing Remarks
Aaditya Mattoo - Chief Economist, East Asia Pacific Region