The Environmental and Social Framework (ESF) Dialogue Series provides an opportunity to explore the most pertinent ESF-related issues and challenges, while strengthening collaboration and partnerships with diverse stakeholders from across the world. The series provides an opportunity for technical experts to share information and obtain feedback from stakeholders on the opportunities and challenges in their work. It also enables peers to share insights on solutions that could be adapted across countries.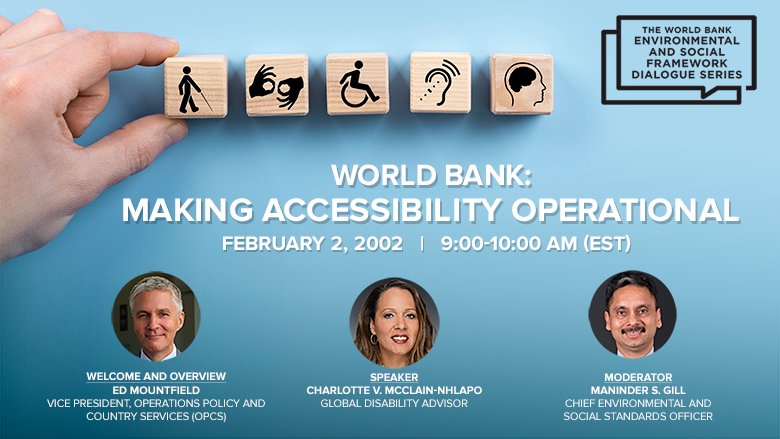 Making Accessibility Operational
This is an overview of the World Bank's work on disability inclusion with concrete examples of how it has made a difference in the lives of persons with disabilities, and the importance of inculcating disability inclusion in conversations with clients with the aim of not only building awareness to disability inclusive development and ensuring that no one is left behind. The engagement highlighted various mechanisms and tools available to operationalize disability inclusion and accessibility in World Bank projects.
Watch the recording and access materials here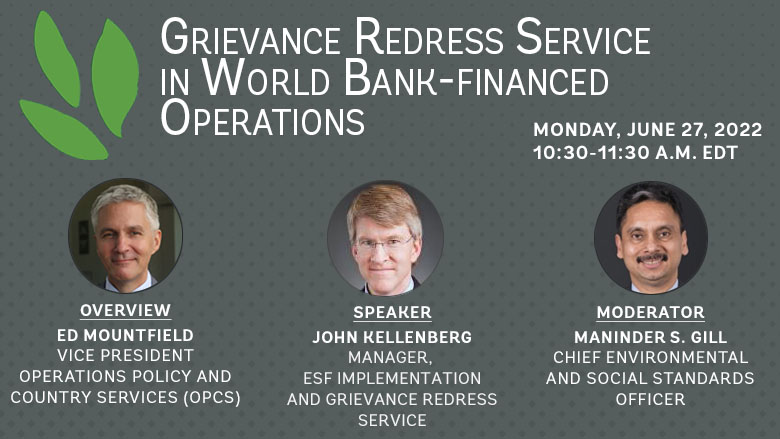 Grievance Redess Service in World Bank-financed Operations
This is the second session of the ESF Dialogue Series, with a focus on the World Bank's Grievance Redress Service (GRS). The 60-minute virtual event provided civil society organizations (CSOs) with an opportunity to learn more about the GRS and its role and scope in the Bank's overall accountability framework. Through this dialogue, CSOs could also share their views on the current functioning of the GRS and discuss how they can participate in raising awareness of the GRS among project-affected communities.