Creating an innovation ecosystem to connect a million Kenyan farmers to disruptive agricultural technologies
The World Bank Group and the Korea-World Bank Partnership Facility organized a knowledge and innovation challenge conference on scaling up disruptive digital technologies in the agricultural sector in Kenya.
The Disruptive Agricultural Technology (DAT) Challenge and Conference provided a forum to discuss the opportunities offered by disruptive digital technologies to increase productivity, and access to services and markets in the agricultural sector. Several promising digital technology innovators in agriculture shared their innovation and business plans. Leaders of public and private institutions, technology companies, incubators, researchers, the business community, policymakers, financial institutions, and the donor community gathered together to learn from and network with each other.
The challenge was organized around themes and challenges faced in Kenyan agriculture. Key presentations and Media reports are available here.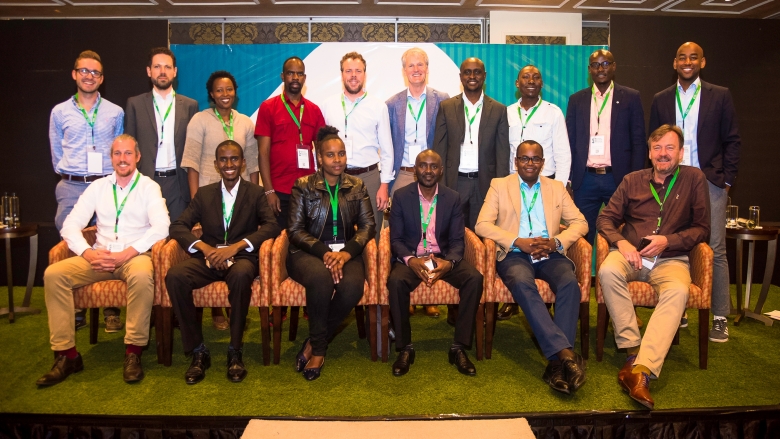 Themes:
Advisory and Information for Agricultural Productivity: This theme covers extension services and Climate Smart Agriculture advisory, as well as the delivery of credible and actionable information in real-time directly to Kenyan farmers to increase productivity. This will help them transition from time, labor, input and resource-intensive practices to more efficient and sustainable planning, production, and management systems.
Market Linkages: Looks at tools to help Kenyan farmers produce high quality, high yield crops as well as help link them to markets, including digital platforms to sell farm produce.
Farmer Financial Inclusion: It focuses on innovators, organizations and businesses that link Kenyan farmers to credit and savings products, insurance, and other innovative financial services, enabling them to invest in their farms.
Data Analytics and Agricultural Intelligence: This challenge is open to solutions that have leveraged data infrastructure, remote sensing and mapping technologies, precision agriculture tools, and computing power to enable data-driven decision-making by policymakers, public agencies, and private service providers in the agriculture sector.