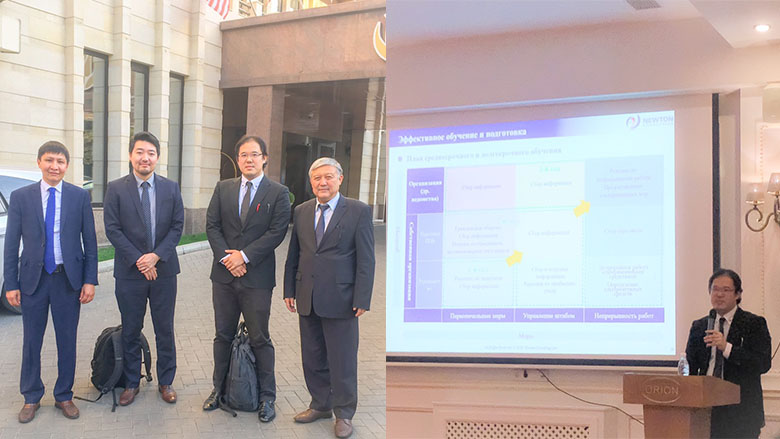 On October 5, 2018, 10 years after the powerful earthquake that struck the mountains of central Asia and took the lives of many, the Kyrgyz Republic commemorated its very first National Disaster Risk Reduction (DRR) Day to remind citizens about dormant disaster risks and to showcase its strong commitment to stand ready for future disaster risks.
As part of the Republic's first National DRR Day program, a conference on "New approaches in the field of disaster risk reduction" was held. The conference was organized by the Ministry of Emergency Situations of the Kyrgyz Republic in cooperation with the World Bank, World Health Organization, National Red Crescent Society, and UNICEF. The Ministry of Emergency Situations of the Kyrgyz Republic opened the session to share the significant progress made on disaster risk reduction at the national level. This was followed by a series of presentations, including a session by Mr. Masashi Yamada and Mr. Yuta Funatsu from Newton Consulting Ltd. in Japan, deployed to the conference through the Tokyo Disaster Risk Management Hub, to present Japanese experiences in strengthening disaster resilience through business continuity planning (BCP) for information communication technology (ICT) systems to catalyze discussions on the future directions of further enhancing DRR in the Kyrgyz Republic.
The speakers from Newton Consulting Ltd. shared lessons learned from their efforts to support Japanese national and municipal governments, including Cabinet Secretariat, Cabinet Office, and Fire and Disaster Management Agency, in formulating contingency plans in case of an emergency. Based on the experiences in Japan, the speakers explained the policy context and historical development of ICT-BCP in Japan, introduced key features of ICT-BCP at national and subnational levels, and elaborated on the process required for effective and sustainable implementation of ICT-BCP. As key lessons learned and takeaways for the Kyrgyz Republic, the speakers from Newton Consulting Ltd. emphasized that: 1) Strategic selection and concentration is the key for developing effective BCP – in other words, deciding "what not to do" is equally important as deciding "what to do" in designing BCPs; 2) BCP needs to be developed addressing both BCP for ICT and ICT for BCP; and 3) Ensuring the implementation and sustainability of BCP through awareness raising, learning, and drills is important. Monitoring and updating the process are also critical.
The conference provided an opportunity to highlight the importance of disaster preparedness and risk reduction for decision-makers and other stakeholders, and the collaboration catalyzed through the conference sparked further interest for collaboration between the Kyrgyz Republic and Japan.