Economy, Jobs and Workforce
Tajikistan's economy is not creating sufficient jobs for its rapidly growing workforce, so its most valuable asset – human capital – is largely underutilized. There is an urgent need to alter the existing growth model to ensure faster job creation and improved job quality.
Between 2003 and 2013, Tajikistan's GDP grew by an average of 7.2 percent per year, while employment expanded at only 2.1 percent annually. At the same time, the working-age population, defined as 15–64 year olds, rose from 3.31 million in 2000 to 5.23 million in 2015. Only 43 percent of Tajikistan's total working age population are in the labor force. The majority of those working are in low quality jobs in the informal sector. Moreover, too many jobs in Tajikistan are seasonal or temporary, and their share has increased over time.
Women and youth are the least represented in the labor force. Inactive youth, i.e. those who are neither employed nor in school, represent 40 percent of the total youth population, which is high by international standards. While youth are more likely than adults to work in private sector wage jobs, almost one third of employed young people are in unpaid (informal) jobs, compared to 15 percent of adults.
Women are at a disadvantage in employment, and the trends are not encouraging. In 2013, the female labor force participation rate was just 27 percent compared to 63 percent among males. Employed women are more likely to work in the public sector, but almost a quarter of women are involved in unpaid employment in family businesses compared to 13 percent of men.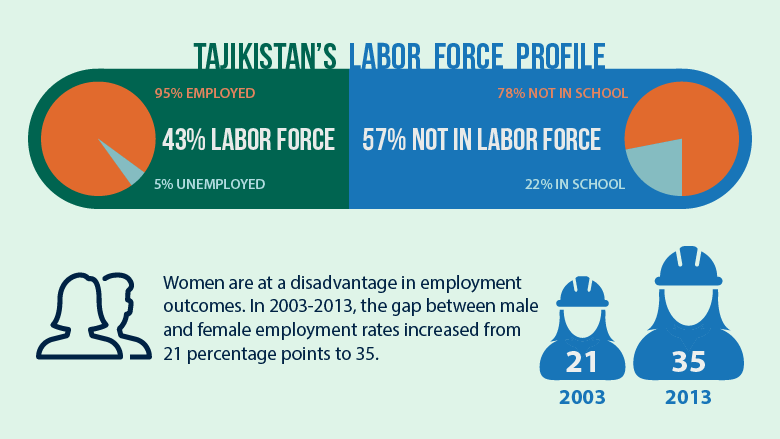 Skills and education are important determinants of jobs outcomes, yet completion rates for secondary education might be falling. Adults who have attained post-secondary education earn 57 percent more than those with less than primary school education. While approximately 80 percent of adults (25 years and older) have achieved at least secondary education, some concerning trends have emerged. For example, a higher percentage of younger cohorts of women are not completing secondary school or secondary special/technical education.
Labor Demand in the Formal Private Sector
The formal private sector, squeezed by large public and informal sectors, is underdeveloped in Tajikistan. Formal wage employment in the private sector represents just 13 percent of total employment, while the share of potential entrepreneurs who try to start a business is very low at 11.8 percent, pointing to significant barriers to starting, and running, a business. The majority of the existing formal private sector firms are small and young, and they appear to face constraints or disincentives to growth.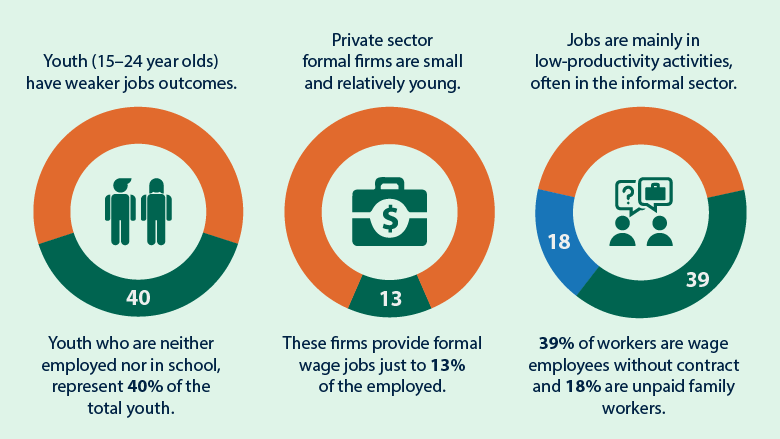 Strategic Framework for Jobs
The Tajikistan Jobs Diagnostic: Strategic Framework for Jobs recommends that the Government of Tajikistan rethink the role of jobs in achieving its development objectives, including those set out in the new National Development Strategy to 2030. The Government's job strategy should aim to i) facilitate the creation of more jobs, particularly in the private formal sector; ii) improve the quality of existing jobs, especially in the informal sector; and iii) facilitate better access to jobs, including transitions from inactivity to employment and from low to higher quality jobs, with a focus on vulnerable workers. In this context, the report makes policy recommendations around three pillars:
Promoting private sector growth: Sustainable job creation relies upon the growth of a competitive private sector. Accordingly, this pillar focuses on the reforms needed to ensure an effective enabling environment that will help entrepreneurs to create new businesses, and current firms to invest, expand, and hire workers.
Improving productivity and earnings, and access to formal jobs: This pillar focuses on strengthening local value chains and connecting small producers and rural SMEs in order to improve their productivity and earnings. It also involves policies to improve incentives for formal jobs.
Connecting people to jobs: This pillar focuses on connecting potential workers to jobs through a set of supply side policies and programs aimed at increasing labor force participation through enabling policies, improving access to jobs through labor market programs, and better leveraging the benefits of migration.
DOWNLOAD THE REPORT (PDF, 8.9 MB)