The 9th Edition of the World Bank's Mozambique Economic Update (MEU): Shaping the Future – Why Services Matter for Growth and Jobs highlights the role of services in accelerating economic growth and job creation. The report emphasizes the need to reduce dependence on low-productivity agriculture and extractives and focuses on a development model based on diversified sources of growth, productivity, and jobs, such as the services sector.
SECTORAL CONTRIBUTION TO GDP GROWTH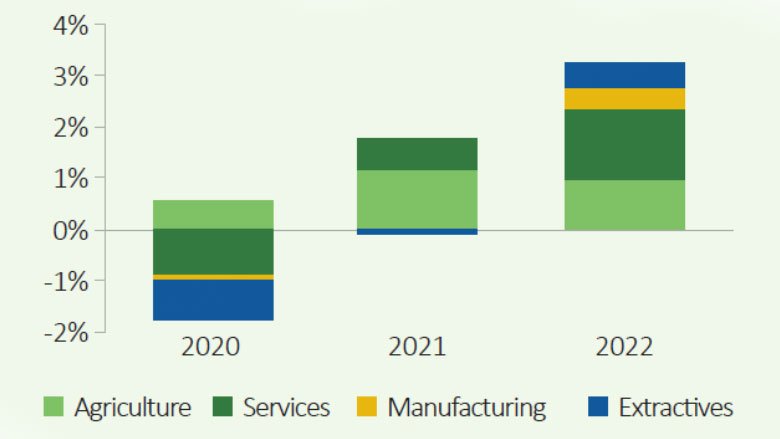 Services could be an avenue toward inclusive growth and accelerated job creation. Currently, although the services sector is the largest (in terms of output share) and relatively the most productive, it is oriented towards less complex activities such as retail. Mozambique's commercial services exports are dominated by traditional services (travel and transport). Services need to upgrade into more complex and tradable activities—such as ICT, finance, and professional and business services—to become an engine of inclusive growth and employment creation.
With economic growth reaching 4.1% in 2022, Mozambique's economy is gaining momentum amid a challenging global context. Services and agriculture saw a good performance, thanks to the full resumption of mobility and higher agricultural productivity. Increased external demand and prices for Mozambique's key export commodities―notably coal and aluminum―have supported the recovery further. The medium-term outlook is positive but subject to substantial downside risks. Growth is expected to accelerate in the medium term, reaching 6 percent over 2023-2025, driven by continued recovery in services, increased liquefied natural gas production, and high commodity prices. However, downside risks linked to climate shocks, security risks, and food and fuel price pressures could lower medium-term GDP growth to 4.5%.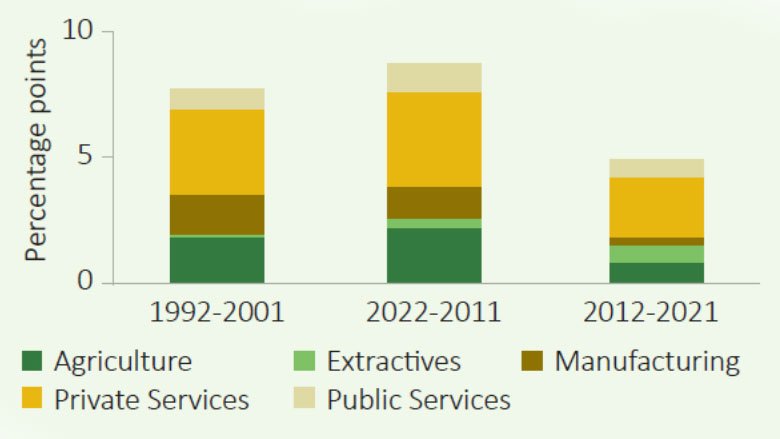 In 2022, the Government of Mozambique approved a package of economic acceleration measures to boost the private sector. The report calls for accelerating these efforts and outlines reforms aimed at reducing the cost of doing business and strengthening the role of the services sector as a backbone of the economy.
The report offers the following policy options and recommendations:
Specialized expertise is required when upgrading the service sectors to high-value complex services. In order to mitigate the shortage of skilled local labor, consider replacing the domestic labor quota system with knowledge transfer schemes.
Provide credit guarantees to small enterprises and lower the cost of bank credit to promote the formalization of informal enterprises. Reducing government reliance on domestic debt markets will be one of the requirements for the latter.
Examine the current regulations that require service providers to be established locally. In the digital age, these requirements are incompatible with global service expansion.
Review the rationale for state participation in the economy. This could be achieved by revising the Law on Public Enterprises and separating commercial and non-commercial activities of state-owned enterprises (SOEs). A high degree of overlap between the ownership, management, and regulation of SOEs, including in the transport and telecom sectors, undermines market contestability and services growth.
Further facilitate business operations, including foreign companies, by providing flexibility on the use of urban land in rural areas and extending lease terms.
Promote innovation by improving education standards and investing in skills (including management skills) to increase productivity and competitiveness in the services sector.