Banking on Women: Extending Their Access to Financial Services
The World Bank Promotes Financial Inclusion for Women and Women Entrepreneurs
April 1, 2013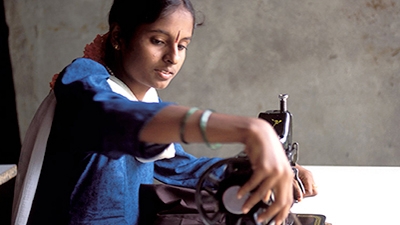 Financial inclusion, which promotes access and use of high-quality financial services globally, particularly among poor people, is crucial to achieving inclusive growth. Women disproportionately face financial access barriers, which prevent them from participating in the economy and improving their lives. Reaching 24.5 million MSME clients in 2012, the World Bank is working to promote financial inclusion for women to help achieve gender equity and poverty reduction objectives.

24.5 million
MSME clients benefited from WBG financial inclusion work
Challenge
More than one-third of small and medium-sized enterprises (SMEs) in the developing world are owned or partly owned by women, and 40% of the global workforce is female. Access to capital can open up economic opportunities for women, and bank accounts can be a gateway to the use of additional financial services. However, women entrepreneurs and employers face significantly greater challenges than men in gaining access to financial services.
The Global Findex, a comprehensive database measuring how people save, borrow, and manage risk in 148 countries, found that women are less likely than men to have a formal bank account; in fact, a gender gap of between 6 and 9 percentage points persists across income groups in developing economies. Even if they can gain access to a loan, women often lack access to other financial services, such as savings, payments, and insurance. Restrictions on opening a bank account, such as needing a male family member's permission, can inadvertently restrict women's access to accounts. Lack of financial education can also limit women from accessing and benefitting from financial services. In addition, many women may have access to financial services in name only: A study in Pakistan showed that, although accounts might be opened in the name of a woman, the decision-making authority around the use of those funds often lies with a male relative.

Investing in women entrepreneurs is smart economics.
Caroline Anstey
Managing Director, The World Bank
Solution
Through technical assistance and lending support, the World Bank Group works to ensure the full potential benefits of financial inclusion for women are secured:

Increasing access to finance and markets by partnering with developing countries and financial institutions within those countries;
Reducing gender-based barriers in the business environment;
Creating business opportunities for institutions to improve working conditions for female employees, market segmentation, and inclusion of women in community relationships;
Supporting business skills and financial capability trainings for women; and
Building the business case for creating opportunities for women.
For example, IFC (a member of the World Bank Group) works with financial institutions to reach out to women, aiming to ensure that 25 percent of the IFC loans provided to SMEs through financial intermediaries will go to women-owned businesses.
A "Financial Inclusion Support Framework" is being structured by the World Bank (through FPD's Financial Inclusion Global Practice) to scale up support to this wave of country commitments. The Framework supports policy, regulatory and institutional reforms to catalyze an expansion of financial services to the unbanked and under-banked, and has to potential to help under-served women.
The IFC is implementing a Global SME Finance Forum to enhance SME access to finance through investment, advisory services and financial infrastructure. Under the SME Finance Forum, a new Women's Finance Hub will be launched in Spring 2013 to further advance women's access to finance and support women entrepreneurs.

Results
In 2012, the World Bank reached 24.5 million MSME clients with an active loan portfolio of over $3 billion and lending and technical assistance projects in more than 70 countries through with approximately $1.4 billion in IBRD and $600 million in IDA funding. IFC's Investment and Advisory joint work has reached over 1,000 financial institutions in nearly 100 countries and helped facilitate 19.7 million micro loans and 3.3 million SME loans.
Through its technical and financing partnerships, the World Bank Group has helped developing countries secure expanded benefits of financial inclusion for women. For example:
Starting in 2010, the World Bank has helped Indonesia develop its new Financial Inclusion Strategy, which includes empowering women as a priority focus. One of the programs that the Bank provides financial literacy training for Indonesia's estimated 4.3 million migrant workers abroad, the majority of whom are women from lower-income rural households. The program helps migrants and their families use financial services – such as bank accounts, savings accounts and micro-insurance – to improve their livelihoods and to help protect them from vulnerability to mistreatment. So far, over 5,000 migrants have directly benefitted from trainings, and the Bank is working with the government of Indonesia to scale up financial literacy efforts.
IFC's Banking on Women program focuses on regions and countries that have good conditions for SMEs and the potential to reach large numbers of women entrepreneurs. Since the launch of the program in late 2010, IFC has invested a total of US$50 million for lending to women-owned SMEs in Romania and Turkey. The program also made investments worth US$100 million in banks in Indonesia and Vietnam, $30 million of which is for lending to women-owned SMEs.
For the first time, policymakers worldwide have a detailed picture of women's access to finance, provided by the Global Findex, Women, Business and the Law, and Financial Capability surveys supported by the World Bank. Bank experts are currently working with national policymakers and regulators in more than 20 countries to design and implement reforms that meet the constraints identified by these surveys.
As an example of how useful data can be in unlocking women's access to finance, groundbreaking research supported by the World Bank in Pakistan found that more than two-thirds of women microfinance borrowers required a male relative's permission in order to qualify for any kind of loan. Changes in loan selection procedures and requirements, spurred by this information, could help open up access for women and enable them to manage their finances in a way that meets their own priorities.
Bank Group Contribution
The World Bank Group has an extensive financial inclusion portfolio with a growing focus on opportunities for women. The Bank has an active portfolio of more than $3 billion for financial inclusion, including $1.4 billion in IBRD and $600 million in IDA lending: That portfolio reached 24.5 million micro-, small- and medium-sized enterprise (MSME) clients in 2012. The World Bank has active technical assistance and lending projects supporting financial inclusion in more than 70 countries. The IFC has a $2 billion microfinance investment portfolio with an additional a $181.3 billion outstanding portfolio for SME finance. The IFC is one of the leading multilateral investors in terms of reach to microfinance institutions, working with 150 institutions in more than 60 countries.

While Bank financial-sector projects have not been tracked on the basis of gender, new financial inclusion indicators are being introduced to better track the impact of Bank projects on women.

Partners
The World Bank Group frequently partners with a variety of organizations to advance financial inclusion for Women, including the Alliance for Financial Inclusion (AFI), the G20, financial sector development trusts, UNCDF, the OECD, GIZ, USAID, AusAid, SECO, the Bill and Melinda Gates Foundation, and regional development banks.
The World Bank Group is represented on the International Council of Women's Business Leadership, led by the U.S. State Department, where Financial Inclusion for women has been made a priority.
Moving Forward
Key challenges faced by countries in achieving financial inclusion for women include a lack of data and a lack of capacity. Availability of gender-disaggregated data is still limited, despite such important new surveys as the World Bank's Global Findex and Women, Business and the Law. Improved gender-disaggregated data, with both stronger quantity and stronger quality, will strengthen the business and policy case for financial inclusion for women entrepreneurs.
Supporting women entrepreneurs remains a vital issue. Once IFC's Women's Finance Hub is launched, the World Bank Group will have a powerful new champion for women entrepreneurs, working to build connections with other partners to better serve women.
Furthermore, to ensure that countries have access to comprehensive technical assistance, capacity-building support and knowledge for meeting their national financial inclusion commitments and targets, the Bank is creating a Financial Inclusion Support Framework, to include areas such as MSME Finance, Financial Infrastructure, Financial Capability and Consumer Protection, Mobile and Government Payments , Remittances, and Agricultural Finance. The Framework will support up to 15 countries over five years with a projected US$70 million in technical assistance and capacity-building, to be complemented by a potential US$700 million in additional World Bank Group financing and investment. Women's inclusion could be targeted as a priority under this framework.

Beneficiaries
Kamila Ismatova's life as an entrepreneur began abruptly, when she learned that her husband was seriously ill and she had to provide for her two children. She used rainy-day money to buy 10 kilos of flour, and she baked and sold 30 flatbreads. "We were saving on everything,'' she recalls. "My son and daughter used to get up with me very early in the morning to chop wood and fire the tandyr (oven). My son carried the flatbread by bicycle and sold it at a hospital to regular customers."
As Ismatova's business grew, she needed financing to buy larger amounts of flour and to convert a room in her house into a bakery. In June 2008, she obtained a loan for US$500 from Arvand, one of the lenders participating in an IFC effort to increase access to finance for micro entrepreneurs in Central Asia.

Ismatova's loan from Arvand boosted her output to 120 flatbreads a day, and her revenues rose. She used the proceeds to lease two hectares of land to grow grapes. Four years later, with the help of additional loans, her flatbread production has increased to 300 to 400 loaves a day, and she and her children harvest grapes and sell them to large stores. Her assets have increased more than sevenfold and her revenues have increased more than fourfold.
Ismatova has used her income to renovate her house and to buy a taxi van for her son, who works as a driver. Meanwhile, the businesswoman plans to establish an outlet for her products in the local market. She notes: "I am no longer scared of the future and look far ahead by baking bread."

These results support the following Millennium Development Goals:

Eradicate extreme poverty and hunger
Promote gender equality and empower women
Develop a global partnership for development

Additional Videos
Empowering Women Through Microfinance in Tajikistan
Microfinance for Women in Mauritania