FEATURE STORY
Marketable Skills Set Young Women on Path to Prosperity in Nepal
June 9, 2014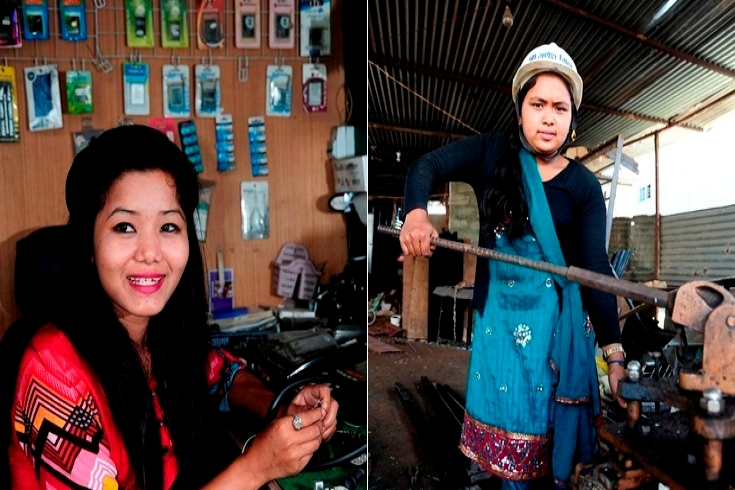 STORY HIGHLIGHTS
Vocational training programs for young women, 16-24, in Nepal are giving them gainful employment, economic independence and bringing trust in their ability to create their own paths in life.
Through the programs, women have found jobs in lucrative, non-traditional fields for women such as gadget repair and aluminum working, earning more than a typical Bachelor's graduate in Nepal.
The success of these programs has resulted in a new initiative implemented by the Government of Nepal, with support from the World Bank - the Enhanced Vocational Education and Training Project.
Twenty three-year-old Ek Maya Rai is busy working at a mobile repair shop in Mahendra Pul, a busy area in Pokhara, Western Nepal. Ek Maya's formal education ended at fifth grade, when her parents lost interest in sending her to school. After that, she stayed at home and helped her family with housework, with no prospects of a future to look forward to.
A year ago, she heard about a three-month long training on repairing mobile phones at the nearby Panchakanya Technical Institute. In this course, she saw potential for her to do something productive with her life, and enrolled. The training is part of the World Bank's Adolescent Girls' Employment Initiative (AGEI), which equips young girls aged 16-24 with the skills required to find employment and become independent adults.
"It was very difficult at first, because I had to take notes, but I hadn't read or written anything for 10 years," says Ek Maya. "Other trainees in the program helped me overcome this hurdle."
Immediately after the training, Ek Maya's job in a mobile repair shop was secured through the job placement program.
For women working in traditionally male fields like gadget repair, or aluminum work, gender stereotypes can get in the way of job placement. The program works with private sector partners to help graduates secure employment.
"Mobile repair shops don't think women can repair mobiles, many times we have to vouch for their ability ourselves," says Madan Ranjit, who runs the mobile repair training at Panchakanya.
Today, Ek Maya earns Rs. 7,000 per month, a higher entry-level salary than is received by most Bachelors' graduates in Nepal.
Ek Maya's success is not atypical. In a nearby workshop in Pokhara, 20-year-old Babita Nepali is cutting sections out of aluminum blocks to construct window frames.
A school dropout like Ek Maya, Babita could not see any avenues open to her either, until she heard of the AGEI. After her training in aluminum work, she was placed in her job which pays her Rs. 8,000 per month.
Graduates of AGEI also have to go through skills testing. The rigorous process ends in a certificate issued through the government's vocational certification program, CTEVT, which qualify graduates for employment anywhere in the world.
While the young girls trained as part of the AGEI formed a pilot group, the success of these vocational training programs have resulted in a new initiative implemented by the Government of Nepal, with support from the World Bank.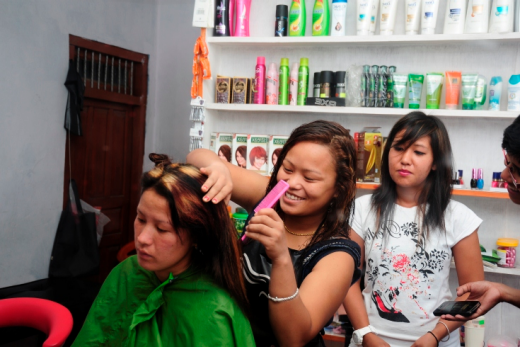 The Enhanced Vocational Education and Training Project (EVENT) offers training in skills that are highly demanded in the market, and women as well as men are eligible to receive training, with an emphasis on reaching the poorest and rural areas.
In addition to mobile phone repair, aluminum work, and arc welding, training programs offered include carpentry, electrical wiring, and radio and TV repair. Graduates of these programs are not only ensured higher paying jobs in the country, but will be able to earn more even if they leave to work abroad.
As for AGEI, the program in Nepal started outreach initiatives to attract more women to these non-typical, lucrative fields. The scaled-up program has also benefitted from outreach to women carried out under AGEI. Even without targeting women, EVENT has seen a 30% enrollment of women in the program, encouraging by all standards.
Some of the young girls who were part of AGEI were also enrolled in traditional fields that have potential for job opportunities. Through Janahit Training Center in Pokhara, young girls have received beautician training, hand embroidery, and tailoring, all skills that are highly demanded in the market.
Twenty four-year-old Bishnu Gurung and 19-year-old Amrita Thapa are both graduates in beautician training from the Janahit Training Center. After their training, the duo partnered to open a beauty parlor. Three months since opening, word of their business is already spreading, and they are looking forward to growing it into a successful enterprise.
In Nepal, AGEI works through private sector training providers that are incentivized to impart market-relevant skills to their trainees, and place them in jobs. The curriculum is based on a skills-plus model. In addition to technical skills, the girls are also provided life skills training which helps them become more confident young women, fully in charge of their lives.
Through training and job placement support, AGEI has positively impacted the lives of 4,375 young women throughout Nepal. Young girls without much to look forward to in their lives are now gainfully employed, making them economically independent, and bringing a trust in their ability to create their own paths in life.
"When a young woman gets an opportunity, you see amazing results," says Jasmine Rajbhandary of the World Bank. "They have skills that will last a lifetime, together with more confidence in themselves, and higher satisfaction in their lives."
As a school dropout, Ek Maya could not chart out her own future. Now with gainful employment, and a taste of financial independence, she is a proud and active member of her family and society.
"I don't have to ask anyone for money. In fact, I can even help my family out with expenses," says a proud Ek Maya.
She is also making plans for a brighter future.
"I want to open my own mobile phone repair shop. One day," she says.