FEATURE STORY
TV Set Fever over Football World Cup Threatens Brazilians' Health
May 1, 2014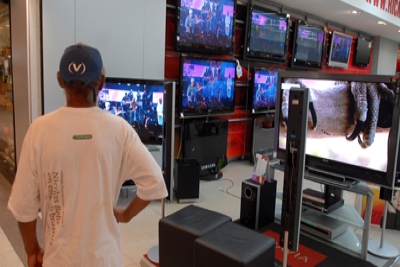 STORY HIGHLIGHTS
Fans will purchase more than 10 million TV sets by June, but the country still doesn't have a plan to dispose of old sets
"Have you purchased a TV to see the World Cup?" — vendors in the Brazilian capital's appliance stores ask enthusiastically. Less than two months before the opening whistle, ever larger TV sets accumulate in store windows, leading to looks of astonishment among consumers and whetting the appetite of the appliance industry.
18 to 20 million TVs will be produced this year — 30% more than last year — and it is hoped that most of these sales (some 60%) will take place in the first half of the year, just in time for the FIFA championship, according to data from the National Association of Electric and Electronic Product Manufacturers (Eletros, in Portuguese).
But this pre-World Cup TV fever could end up being detrimental to the environment and the population. Brazil currently produces 6.5 kg of electronic waste per inhabitant per year, and this number is expected to increase to 8 kg by late 2015, meaning 1.6 billion kg of electronic waste. And the country is still to adopt measures to process them adequately.
The situation is aggravated by the fact that 2014 will be the last year in which Brazil will be producing cathode-ray tube (CRT) TV sets. Starting in 2015, factories will only be churning out plasma and LCD screens.
Although these gadgets last much longer that an intelligent phone or a tablet, the question of their disposal troubles experts.
"A substantial part of the growth in LCD screen sales in 2010 can be attributed to the World Cup in South Africa. Then, the production of CRT sets fell by 30%; this preference will undoubtedly influence the amount of electronic waste, given that consumers will replace their CRT sets for LCD ones in the coming years," a World Bank report maintains.
According to its author, Vanda Scartezini, Brazilians tend to donate their old TV sets. However, "following the increase of the Brazilian middle class and of consumption levels in recent years, fewer and fewer people are willing to accept a small or obsolete TV set," she says.
Because of this, in the coming years these appliances will likely be disposed of in random ways all over the place. This may be detrimental for the environment and informal recyclers.

Following the increase of the Brazilian middle class and of consumption levels in recent years, fewer and fewer people are willing to accept a small or obsolete TV set

Vanda Scartezini
Author of "Wasting No Opportunity: The case for managing Brazil's electronic waste"
Proper Recycling
Old CRT sets contain lead, cadmium, barium, phosphorus and other toxic elements that can cause neurological harm and other health problems. New models also include lead and plastic, although in lower concentrations.
When disposal and recycling is performed properly chemical elements — which have a higher commercial value — can be extracted at no risk, along with glass and metal, which can be reused by industry. This work could also generate thousands of sustainable jobs, according to the World Bank report.
The problem is that little has changed in Brazil since the signing of the National Solid Waste Policy in 2010. Enforcement of this law depends on a decision — which is yet to be taken — by the State and the electronics industry.
"In 2013 several meetings took place, but some issues still need to be adjusted before the agreement can move forward," Scartezini said. The agreement includes, among other things, the best way to dispose of a TV set, how it should be transported to the processing plant and how it should be reused.
A discussion is also on the table over who pays for all this: industry or clients. In Japan, for example, it is the client's responsibility to pack the TV set and send it by mail to the nearest recycling center.
The deadline for the approval of this decision is this year. Moreover, the country expects to close all its open-air landfills by next year. Industry, represented by Eletros, is responsible for moving TV-set recycling plans forward; however, it declined to comment.