FEATURE STORY
Photographers Across the World Share Stories on Inequality
January 29, 2013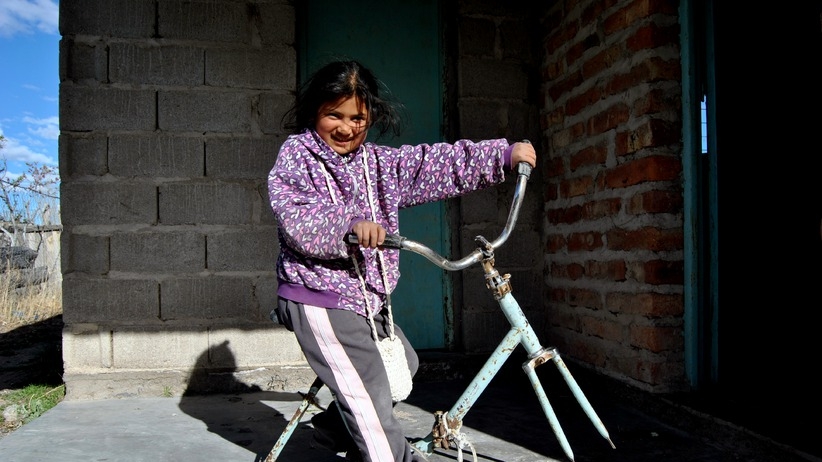 STORY HIGHLIGHTS
More than 750 photos were submitted to the "Picture Inequality" photo contest.
Eleven photographers from 10 countries will be awarded for their images and statements.
Each winner receives a digital camera valued at USD $500.
Born and raised in Russia, Maria Zhelikhovskaya of Moscow is convinced the world will never be completely equal. But she believes in her heart that the inequality and lack of opportunity she's witnessed in many developing countries can and should be addressed.
Zhelikhovskaya, a professional writer who focuses on travel and tourism, is one of 11 winners in the World Bank's "Picture Inequality" photo contest. Her photo, titled "Vietnam 2," shows a young child sleeping on a blanket by a busy street in Ho Chi Minh City. The photo spoke to the public, which voted for the image online, and also to the panel of photographers who selected winners from the finalists the public picked.
The other winners in the contest were Cléopâtre Di Benedetto, France; Robert John Cabagnot, Philippines; Maureen Shelly Dabbagh, United States; Marc Ellison, Canada; Abigail Generalia, Philippines; Niraj Prasad Koirala, Nepal; Reis Oluwatosin Oladunni, Nigeria; Sayanthan Thiviyaraj, Sri Lanka; Juan Sebastian Lozano Velásquez, Colombia; and Juan Cruz Zorzoli, Argentina.
Sometimes this inequality makes me feel ill at ease. That's why I decided to take part in the contest.
Maria Zhelikhovskaya
Russian travel writer and contest winner
Zorzoli, a social communications specialist in Buenos Aires, says he joined the photo contest to show a snapshot of inequality that still exists in semi-rural and rural areas of his South American country. His photo shows a girl playing with a bike without wheels, which for Zorzoli symbolizes a life without social mobility.
Another winner, software developer Robert John Cabagnot in Rizal, Philippines, said he became a hobby photographer by chance when his mother won a camera as a raffle prize and loaned it to him. Cabagnot now spends his weekends taking pictures, sometimes accompanying relief and humanitarian organizations in his country.
Cabagnot says the "Picture Inequality" photo contest gave him an opportunity to show photos of the people he runs into during these excursions. "I can…help spread their stories, their struggles and triumphs amidst great adversities, and hopefully gain the attention and support they need from the government and other organizations," he said.
Maureen Shelly Dabbagh of the United States, who won for her photo of a street child in Egypt, said she was interested in joining a dialogue about human needs. "Perhaps my picture could capture someone's attention long enough to ask, 'Why?'" she said. "Dialogue is the beginning of change."
Children and their lack of opportunity were present in many, if not most, of the photos submitted to the contest, and in those that won.
The winner from Sri Lanka, 17-year-old Sayanthan Thiviyaraj, submitted a photo showing a boy selling coconuts along a road. The image shows inequality, Thiviyaraj says, because unlike himself, the boy in the photo cannot go to school and one day get a good job.
Thiviyaraj and the other winners will each receive a digital camera valued at $500 and an opportunity to show their images to the world. Many of the strong photos that were entered into the contest, but didn't win, will also be showcased in World Bank online and print channels.