FEATURE STORY
Latin America: putting disaster preparedness on the radar screen
October 9, 2012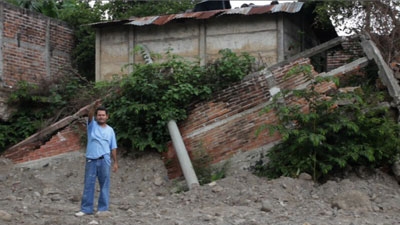 WASHINGTON DC, October 9, 2012 – As the Sendai dialogues get into full swing, Latin America and the Caribbean, and the world for that matter, is slowly realizing that the "best" natural disaster is the one that doesn't happen.

In a cruel twist, natural disasters could do to Latin America what the global crisis couldn't: drag down development and threaten many of the region's social and economic gains.

With an expected price tag of over US$2 billion annually –equivalent to one third of Nicaragua's GDP- natural disasters are becoming costly propositions for a region that has, so far, boasted the world's fastest growth in jobs and economic opportunities.

Partly because Latin America naturally sits on a territory prone to hazards, but also because, as yet, not enough preventative measures have been embraced, nine of the world's top 20 countries most exposed to disaster-led economic impacts are in the region. At the same time, the region's decision makers are increasingly trying to nip disasters in the bud, with many Latin American countries have placing hazard mitigation and prevention high on their agendas, according to experts.
Five countries --Ecuador, Brazil, Costa Rica, Cuba, Mexico- have made the most progress in risk reduction over the past six years according to the 2005 Hyogo Framework national progress reports.

"We have seen an important shift from emergency response to prevention," said Anna Wellenstein, Sector manager for the World Bank Latin America Disaster Prevention Unit.

Reducing vulnerability is central to these efforts in a region which has seen its share of disasters increase over the years, partly as a result of changes in weather patterns. Exposure to cyclones and earthquakes will double for Latin American populations, from 680 million people this year to 1.5 billion people by 2050, according to according to the Natural Hazards, Unnatural Disasters report.

We have seen an important shift from emergency response to prevention

Anna Wellenstein
Sector manager for the World Bank Latin America Disaster Prevention Unit
Biggers cties, increased risk

Since over 80 percent of the region's population lives in cities, urban projects are of the essence. Recent regional actions focus on:

Improving urban planning, infrastructure and building safety
Reinforcing drainage systems to reduce flooding, storm and health threats
Installing early warning systems, conducting public preparedness drills
Adopting measures to adapt to the increasing impact of climate change
Determining the likelihood of a disaster plays a crucial role in any preventive measures. This is why Latin American countries are doubling up on efforts to better assess such risks.

Counting the cost

Colombia, which has been plagued by natural disasters with both high economic and human costs, has placed a high premium on reducing the risk for the most vulnerable: children and the sick. With that in mind, Colombian authorities have just completed a vulnerability reduction program for schools and hospitals in Bogota. The recently released Sendai report notes that risk from adverse natural events is Colombia's second largest liability. It also points out that that a "one-in-250 year earthquake could cause losses to public assets and housing totaling more than US$35 billion, or 8% of the country's GDP.'

In many Central American countries the emphasis has been placed on open–source prediction models. Such is the purpose of the Central American Probabilistic Risk Assessment Initiative or CAPRA --a public risk modeling platform to help decision makers estimate impacts of future disasters and develop risk mitigation strategies. Launched in 2008, CAPRA is currently being used in all six Central American countries and in many others within South America. The program's success has taken it as far as South Asia, with India, Pakistan and Bangladesh adopting the model.
Many other economies are taking lines of credit specifically designed to be activated in case of a catastrophe-prompted state of emergency. Colombia, El Salvador, Guatemala and more recently Costa Rica have drawn on these funds –so-called CAT DDO- to deal with several emergencies including Costa Rica's earthquake on January 2009 and El Salvador's flooding of in 2011.

In a similar vein, Mexico has become the first country to issue catastrophe bonds to provide cover for hurricanes and earthquakes over three years.

Shifting gears from emergency response to long-term preparedness, Haiti has been training first responders and the general population to deal with its own share of natural disasters. A case in point is the scant damage from hurricane Isaac following a prompt evacuation of the thousands of people in the direct path of the storm.

Governments and experts are increasingly relying on the power of global crowd-sourced knowledge to reduce the risk of disasters.

An example of this is the Random Hacks of Kindness movement --a virtual community bringing developers and risk experts together to work on software solutions to disaster management problems. It played a central role in the emergency response to earthquakes in Haiti and Chile.

Since 2004 the Bank's disaster risk management program in Latin America has grown from 10 emergency response projects to a portfolio of 25 investment and policy operations, including more than 40 trust funds. Most of these projects focus on reducing vulnerability and integrating climate change adaptation.