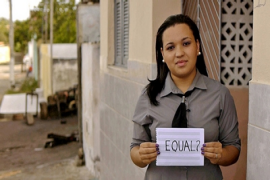 Regional Contest: Initiatives to Promote Gender Equality in Latin America and the Caribbean
July 01-September 01, 2014
Washington DC
Recognizing excellence in initiatives addressing teenage pregnancy, gender-based violence and women's participation in decision-making
The Initiatives to Promote Gender Equality contest invites practitioners from the Latin America and the Caribbean region to submit profiles of experiences on innovative and effective approaches, processes, policies or programs that have led to improved outcomes in the target areas of:
Teenage pregnancy
Gender-based violence, or
Women's participation in decision-making processes.
The contest proposes to discover, document and share innovative, effective and sustainable initiatives that address these key gender challenges within the region. The contest aims to foster cooperation, sharing of information, and learning; and aims to strengthen networks of individuals, groups and organizations who work to improve gender equality in Latin America and the Caribbean.
UPDATE - October, 23, 2014
By the September 1, 2014 deadline, we received 153 submissions from 16 countries. Based on a rigorous evaluation and verification process, we are pleased to announce the following winners:
Teenage Pregnancy
Winner: "Yo decido" - Asociación Paz Joven Guatemala
Honorable Mention: "Pregúntale al experto" - Think Action Development, Mexico
Gender-based Violence
Winner: "Programa Bem me Quer" - Assesoria Especial para Assuntos Internacionais, Casa Civil, Goberno do Estado de Sao Paulo, Brazil
Honorable Mention: "Equidad: el respeto es la ruta" – Cauce Cuidadano A.C., Mexico
Female Participation in Decision-Making
Winner: "Colchas de Amor" – Fundación Acesco, Colombia
Honorable Mention: "Presupuesto Participativo para la Igualdad de Oportunidades" – Municipalidad de Lima, Peru
The Awards Ceremony, with the presentation of the initiatives and a knowledge fair, will be held at World Bank Headquarters in Washington, D.C. on Thursday, December 4, 2014.
We are working to make the results and lessons learned accessible virtually and will keep you updated on this process, hoping that it will enable learning and knowledge exchange among those who are working throughout Latin America and the Caribbean to promote gender equality.
Contest submissions should focus on what has worked and on the lessons learned from efforts to overcome these gender equality challenges. Initiatives are those that include, but are not limited to:
Promotion of change of social norms and practices that perpetuate gender inequalities
Engagement of men and boys to provide long-term solutions
Utilization of Internet and Communications Technologies (ICTs)
Public awareness campaigns and/or generation of new data
Promotion of national policies and legislation to address gender equalities in target areas
The winners of this contest will be selected by a multi-sectoral committee of World Bank experts, applying the following criteria:
Impact: Submissions must provide evidence of progress or change within their target populations – be they be women, men or children. Some initiatives will have proven success at a small, local scale, while others on much larger, national scale.
Innovation: Applications must present a systematic and innovative approach to address one of the target areas of the contest. Entries should describe how and why the initiative's strategy and activities alleviate or solve the identified problem. Applications should present a unique model of change, set apart from other existing initiatives.
Partnerships: Entries should demonstrate how they have built partnerships and support networks to address ongoing needs and, potentially, to expand programs. Special attention will be paid to those that have a multi-sectoral focus.
Replicability: Entries should articulate both positive and negative lessons learned in the design and implementation of the initiative. Applications must identify the key factors that produced desired outcomes in target area and enabled the initiative to overcome challenges. Special attention will be paid to those that have potential to be scalable and/or replicable in other Latin American or Caribbean contexts.
The contest is open to any local, national or regional stakeholder in a World Bank member country within Latin America and the Caribbean region. Stakeholders can submit application(s) for one or more initiatives that are currently ongoing or finalized after December 31, 2012. Public entities, non-governmental organizations, research organizations, private companies, community-based and civil society organizations may participate. Initiatives funded by the World Bank are not eligible to submit an application. Entries considered for the award must:
Reflect the theme of the contest "Initiatives to Promote Gender Equality." Entries must address one of the following thematic areas: 1) adolescent pregnancy, 2) sexual or gender-based violence, or 3) women's active participation in decision-making.
Submit a complete application form before the contest deadline.
Submit an application in English, Spanish, Portuguese or French.
All required fields within the Application Form must be completed. Word limits are listed for various fields within the Application form; evaluators will not read or consider any information that surpasses the specified word limits.
Participants must submit their application by emailing a complete Application Form to LACgendercontest@worldbank.org.
Applications are due by 11:59 p.m. Eastern Standard Time (EST) September 1, 2014.
A Selection Committee will review all complete applications and choose the initiatives that demonstrate the highest level of 1) impact, 2) innovation, 3) partnerships, and 3) replicability. Applicants may be contacted for further information and/or references.
Questions regarding the application or evaluation process can be directed to: LACgendercontest@worldbank.org.
Important dates
Launch of Competition for Submissions: July 1, 2014
Submissions accepted until: September 1, 2014
Winners announced: October 1, 2014
World Bank Conference: early November 2014
At least one initiative from each target area will be selected as a winner. A representative from each of the winning initiatives will be recognized at an awards ceremony at World Bank headquarters in Washington, D.C, proposed for November 2014. While in DC, winners will have the opportunity for collaborative exchange with both World Bank and non-World Bank teams researching and implementing projects within the target areas. Winning teams will receive technical and financial support for the development of informational materials for their initiatives.
All submissions complying with basic criteria will be included in an inventory of regional best practices. Some may be highlighted in printed and online materials, and through World Bank social media engagement. Participation in the competition offers not only for South-South knowledge sharing and learning, but also the opportunity to increase the visibility of the institutions and their activities.
Why an Award for Initiatives to Promote Gender Equality?
Gender equality matters intrinsically as a basic human right, and is also instrumental for human development. Gender equality is "smart economics," and can contribute to key development goals, such as the reduction of extreme poverty and inequality. Gender equality ensures equal access to goods, services and resources for both men and women; and their equal enjoyment of opportunities and rewards.
The World Development Report on Gender and Development (2012) outlined three main pillars of gender equality – economic opportunity, endowments and agency. These three components, working together, improve gender equality outcomes. Agency, understood as an individual's ability to make effective choices and transform those choices into desired outcomes, plays a catalytic role in the other pillars of gender equality. Without agency, individuals are unable to take full advantage of economic opportunities or endowments to realize their life plans (WDR 2012). In Latin America, significant advancements have been made in the areas of endowments (access to health and education) and economic opportunities, but persistent challenges remain in the realm of agency. Manifestations of women's lack of agency in Latin America and the Caribbean include: persistent adolescent pregnancy rates, high levels of sexual and gender-based violence, and barriers to women's active participation in decision-making.
The Umbrella Facility for Gender Equality (UFGE) is a World Bank trust fund that aims to strengthen awareness, knowledge and capacity for gender-informed policy making. It achieves this goal through supporting World Bank initiatives that fill key knowledge gaps on gender equality and are catalytic for innovation and investment to address persistent gaps in gender equality.
In the LAC region, UFGE aims to advance knowledge and evidence on agency. Specifically, UFGE aims to understand how agency-enhancing interventions can improve development outcomes in order to provide policy makers and development practitioners concrete recommendations. LAC UFGE focuses on operationalizing agency: bridging the gap between analytical work and operations to ensure that expanded knowledge on agency is used to improve policy design and operations.
To contribute to UFGE goals to identify, strengthen and expand key gender actions that improve gender equality in LAC, the World Bank will launch a regional contest INITIATIVES TO PROMOTE GENDER EQUALITY. The contest will aim to identify and showcase initiatives that have utilized key gender actions to improve outcomes in areas of adolescent pregnancy, gender-based violence and female participation in decision-making.