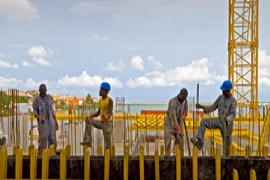 LIVE EVENT: Reducing the Perceived Risk of Investing in Africa's Infrastructure
May 20, 2014
Kigali, Rwanda
Watch Recording
Is the risk to investors, or the perception of risk, hampering Africa's infrastructure needs? Join World Bank Vice President Makhtar Diop and African Development Bank President Donald Kaberuka as they lead a live discussion to help find answers to this question.
Details
Download:

Flyer

Date:

May 20, 2014

Time:

2:00 - 4:00 CAT (Central Africa Time Zone)

Venue:

Kigali-Serena Annual Meetings Village
Room: Serena II
Kigali, Rwanda

Watch Recording:

On Youtube

Follow the discussion:

On Twitter #AfDBAM2014

CONTACT:

For more information

africappps@worldbank.org
Infrastructure needs in sub-Saharan Africa are estimated at $100 billion annually. While private investment has been robust, with the heaviest concentration of funds going to South Africa and focused largely on telecommunications, the funding gap remains at $31 billion. Analysis points to a high perception of risk as one of the major challenges for investment.
Is the risk real? What does the data tell us? Who are Africa's emerging investors and what are the challenges facing foreign investors? Join a distinguished gathering of project developers, bankers, investors, policy makers and development partners as they discuss whether the risk to investing in Africa's infrastructure is real or perceived.
Invited Participants
Co-Chairs:
Moderator:
Panelists: