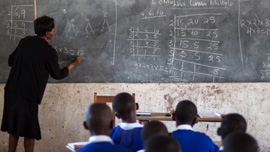 July 12, 2013
Nairobi, Kenya
Join us for the live-streamed launch of the Service Delivery Indicators (SDI) for Kenya. SDI is a bold Africa-wide initiative that tracks performance and quality of service delivery in primary schools and at health facilities across countries and over time.
Event details
Event type:

Live-streamed event

Date:

July 12, 2013:
9:30 a.m [Nairobi time]
2:30 a.m [Washington time]

Discuss:

#KenyaSDI
@WorldBankAfrica
@BM_Afrique

Contact:

sdi@worldbank.org
Listen to a discussion between ministers, government officials, thought leaders from non-government entities, research organizations and the media and ask your questions online as we launch the Service Delivery Indicators (SDI) findings for Kenya.
Kenya is the first country where the SDI has been implemented, following pilot surveys in Tanzania and Senegal. The Kenya SDI results come at an important time in Kenya's history—a new government and a new constitution. Education and health spending account for a third of government spending. How Kenya manages the performance in these two sectors is not only important for effectiveness of public spending, but will also determine whether future prosperity will be widely shared to lift Kenyans out of poverty.
The indicators fill an important gap in the development data architecture and are uniquely suited to inform discussions on accountability for public spending. The initiative is a partnership of the World Bank, the African Economic Research Consortium, and the African Development Bank. The World Bank is the implementing partner for the first five years.