Public Expenditures in Georgia: Strategic Issues and Reform Agenda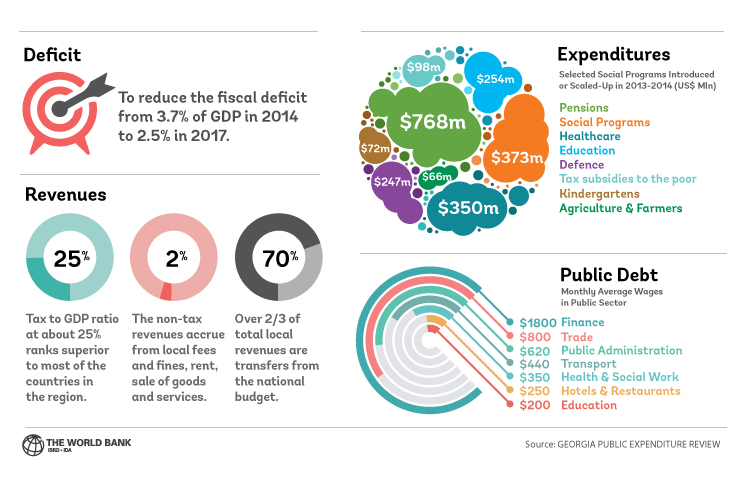 This report is a Public Expenditure Review (PER), which summarizes work directed at identifying policy options to manage fiscal consolidation in Georgia, with the programmatic fiscal analysis being conducted jointly by The World Bank and Georgia's experts and officials.
Media Contact
In Tbilisi, Georgia
In Washington, DC
Volume 1: Public expenditure review - Strategic issues and reform agenda
Volume 2: Public expenditure review - Background notes
Report Outline

To keep government finances on a sustainable path along with sustainable growth and job creation, this public expenditure review offers reform options in the areas of macro-fiscal policy, social protection and health, education, the state owned enterprise sector and inter-governmental fiscal relations.
Macro-fiscal Challenges
Generating growth and creating jobs within a sustainable fiscal framework is Georgia's biggest macroeconomic challenge.
The change in government in 2012 marked a shift in fiscal policy with prioritization of recurrent social expenditures over capital spending.
Spending on pensions has been the largest component of social expenditures putting pressure on the government's fiscal position.
As a result of introducing the universal health care (UHC) in February 2014, health spending is projected to double in nominal terms.
Public finances in Georgia are likely to come under pressure over the short- to medium-term in the context of large increase in recurrent expenditures and the limited scope to raise revenues.
The prospect of reduced capital expenditures going forward has increased the urgency of instituting a sound public investment management system.
Education Expenditures
Government spending on education in Georgia is low – compared to countries with similar per-capita incomes and relative to both the shortage of human capital and the country's ambitions.
The per-capita financing system in the education sector is transparent and leads to an efficient allocation of resources.
An efficient distribution of resources cannot offset substantial sector inefficiencies, such as poor teacher quality, and excess number of teachers from the pre-school through the secondary level.
The vocational education and training program has been completely overhauled but only a fourth of the VET graduates are able to find jobs in their mainstream education disciplines.
State Owned Enterprises
According to business survey statistics, the state owned enterprise sector in Georgia is relatively small and its contribution to GDP amounted to 7 percent in 2012 and accounted for about 10 percent of total formal employment.
The five largest SOEs in Georgia comprise 80-90 percent of the total assets of SOEs and are grouped under the extra budgetary Partnership Fund. Establishing an inventory of SOEs to get a consolidated picture of fiscal position is essential.
The government undertakes significant quasi-fiscal operations through these large SOEs, and mainstreaming them into the budget will increase the transparency and accountability
Intergovernmental Fiscal Relations
The current administrative structure in Georgia, with just one layer of sub-national government, is in line with international practices.
Despite limited expenditure responsibilities, SNG spending in Georgia is reaching levels similar to those in countries where subnational governments are responsible for more resource intensive services.
The low level of revenue autonomy at the local level acts as a disincentive for effective fiscal management.
Last Updated: Aug 11, 2014