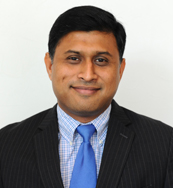 Deepak Mishra
Lead Economist, The World Bank Vietnam, East Asia and Pacific
Deepak Mishra is the World Bank's Lead Economist for Vietnam in the Poverty Reduction and Economic Management Network in the East Asia and Pacific Region, where he oversees much of the Bank's economic research and annual budget support operations for Vietnam. He is an expert in economic growth, fiscal policy and debt management, currency crisis and balance of payment issues, international trade, foreign investment and sectoral transformation.

Mishra, an Indian national, joined the World Bank in February 1999 as an Economist in Washington D.C., where his main responsibilities included providing policy advice on fiscal and debt management issues, designing country monitoring systems, contributing and reviewing Bank reports and coordinating the 'managing volatility' thematic group.

In January 2001 Mishra was named the Economist, and in 2003 the Senior Economist, for South Asia Region— initially based in New Delhi and later in Washington D.C. —where he worked on country strategy development and adjustment lending programs in India and Pakistan.

In December 2007 he became the Lead Economist for Africa Region and was based in the field office for a period two and half years, overseeing much of the Bank's economic analysis in Ethiopia and Sudan.

Mishra holds a Ph.D. in Economics from the University of Maryland, College Park, USA. Prior to joining the World Bank, Deepak taught macroeconomics and international finance as an adjunct lecturer and teaching assistant at the University of Maryland (USA) and worked as a research analyst for Tata Motors (India). He also worked as an intern at the U.S. Federal Reserve Board of Governors in Washington, D.C in 1997.