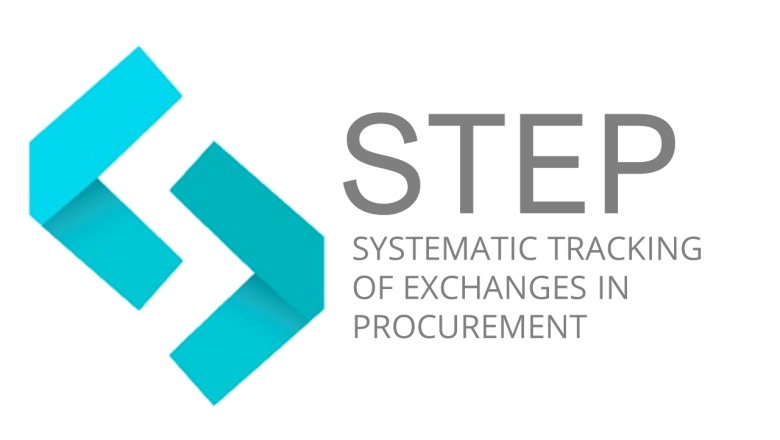 Introdução:
Reconhecendo que o gerenciamento eficaz de contratos é essencial para alcançar os objetivos de aquisição e os resultados pretendidos do projeto, o Banco Mundial atualizou o STEP com um Módulo de Gerenciamento de Contratos que está disponível para os Mutuários a partir de 3 de outubro de 2022. O STEP é um sistema on-line usado pelos mutuários para planejar, registrar e acompanhar os principais estágios do processo de aquisição no financiamento de projetos de investimento (FPI).
Objetivos e benefícios:
O novo Módulo de Gerenciamento de Contratos foi desenvolvido para ajudar os mutuários a gerenciar melhor os contratos e, assim, melhorar a implementação geral do contrato e do projeto. O sistema irá equipar melhor os mutuários para rastrear contratos, principais entregas, indicadores-chave de desempenho (KPIs) e pagamentos, acelerando assim a implementação do projeto e minimizando custos e atrasos.
Perguntas e Respostas (pdf)
Data Efetiva:
Os mutuários serão obrigados a usar o sistema para rastrear a gestão de novos contratos assinados em ou após 3 de outubro de 2022. Os mutuários também podem usar o sistema para rastrear contratos existentes assinados antes dessa data. A implementação do sistema está sendo faseada com funcionalidades adicionais a serem introduzidas no segundo trimestre do ano fiscal 2022/23.
Principais características:
Cobrir o ciclo de implementação do contrato de ponta a ponta, desde a assinatura até a conclusão do contrato, e consolida os registros de gerenciamento do contrato
Exigir a atribuição de um gerente de contrato para cada contrato
Apoiar os mutuários a desenvolver um Plano de Gestão de Contratos para acompanhar o progresso durante a implementação, incluindo o seguinte:

principais entregas do contrato e suas datas esperadas,
pagamentos planejados e suas datas de vencimento,
KPIs (indicadores chave de desempenho) quando aplicável, e
datas planejadas para os principais marcos e progresso em relação a eles.

Disponibilizar alertas/lembretes automatizados aos mutuários e equipes de gestão no Banco sobre marcos futuros ou atrasados
Apoiar um melhor rastreamento de variações contratuais, reclamações e resolução de conflitos
Disponibilizar painéis e relatórios de monitoramento por projeto bem como o andamento da implementação do contrato
O Sistema permite que os mutuários registrem e rastreiem os detalhes da implementação do contrato em quatro estágios da implementação contratual: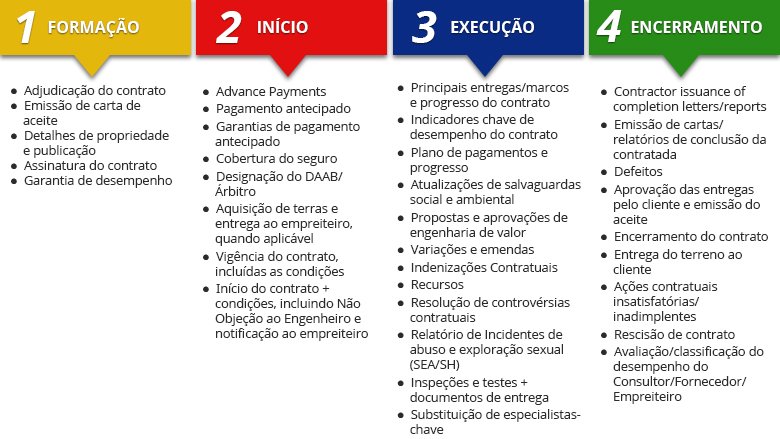 O que você precisa fazer:
Participar das sessões de orientação
As sessões de orientação que apresentarão o novo sistema aos usuários acontecerão por região e país e os convites serão encaminhados separadamente.
Visitar os tutoriais online e guias de usuários disponíveis
Os tutoriais online fornecerão uma visão do novo sistema e as instruções de como utilizá-lo. O guia de usuário [disponíveis em breve] fornecerá mais material de referência.

Tutoriais disponíveis (em inglês):
- Processing a contract that is ready to be signed
- Recording planned dates for key stages of the contract
- Completing the Contract Management Plan, Part 1: Recording actual key contract milestones in the roadmap
- Completing the Contract Management Plan, Part 2: Recording planned Key Performance Indicators (KPIs)
- Completing the Contract Management Plan, Part 3: Recording planned Contract Deliverables
- Completing the Contract management plan, Part 4: Recording planned Contract Payments and finalizing the plan
Esta lista será atualizada à medida que mais recursos estiverem disponíveis.
Em caso de dúvidas, por favor entre em contato com o Especialista de Aquisições do Banco, designado ao seu projeto.
Para maiores orientações sobre gerenciamento de contrato, consulte: (Em inglês)