National DeMPA
The Debt Management Performance Assessment (DeMPA) offers a comprehensive and thorough diagnostic of government debt management practices and institutions in a country. The DeMPA highlights strengths and weaknesses in government DeM practices in each country and facilitate the design of reform plans to strengthen debt management capacity, processes and institutions. DeMPAS provide a way to monitor progress toward international sound practices over time.
DeMPA Methodology: English | French | Spanish | Russian (PDF)
Scope and Coverage of the Framework
The scope of the DeMPA is central government debt management activities and closely related functions such as issuance of loan guarantees, on-lending, and cash flow forecasting and cash balance management. The DeMPA uses 14 debt management performance indicators, listed below: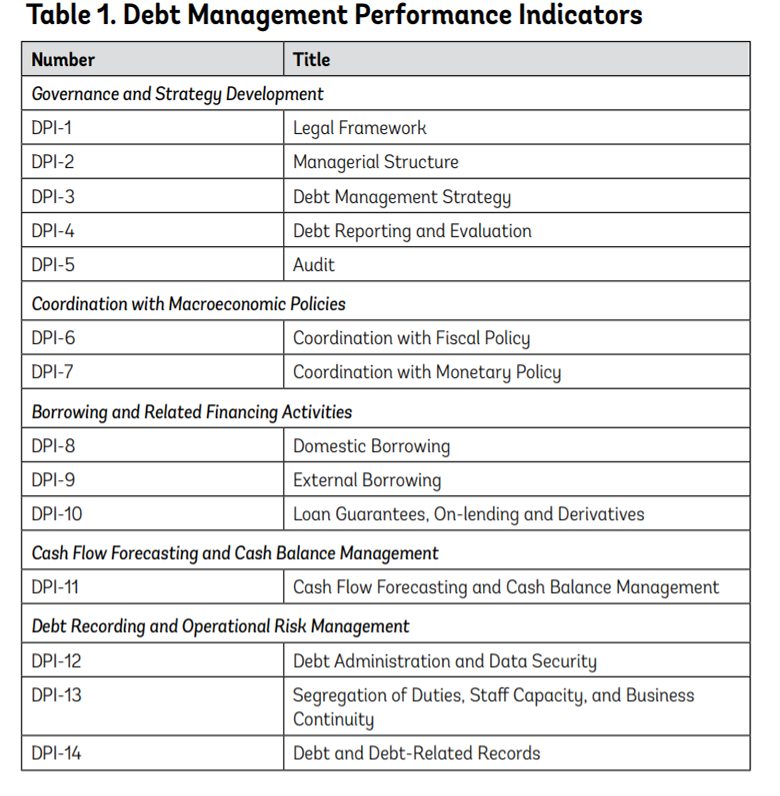 Scoring Methodology
The DeMPA assigns a score of A, B, C or D, depending on the criteria listed, to each of the Debt Management Performance Indicators:
A: reflects sound practice for that particular dimension of the indicator.
B: lies between the minimum requirements and sound practice for that aspect.
C: indicates that a minimum requirement for that dimension has been met. A minimum requirement is considered the necessary condition for effective performance under the dimension being measured.
D: indicates that the minimum requirement has not been achieved, signals a deficiency in performance, normally requiring priority corrective action.