Challenge
From 2008 to 2016, Honduras had the highest homicide rate in the world. Its national homicide rate hovered around 80 to 85 per 100,000 inhabitants, more than 13 times the global average (6.2) and nearly three times the average for the Latin America region (28.5). San Pedro Sula, a city in northwestern Honduras, was ranked the most violent metropolitan area in the world, with a peak homicide rate of 187 per 100,000 inhabitants in 2014. Children and youth were recruited by gangs, and the value of disability-adjusted life years lost to crime and violence was estimated at 1.3 percent of GDP. In 2013, poverty and extreme poverty levels soared (reaching 65 percent and 43 percent, respectively), and the economic costs of violent crime were estimated to be about US$ 900 million (about 10 percent of the country's GDP). Gender inequality — manifested in lower female economic participation (34 percent) relative to other countries in the region and high levels of femicide — indicated a high prevalence of gender-based violence.
Approach
The Safer Municipalities Project (SMP), the first standalone Bank-financed operation globally with the specific objective of violence prevention, acknowledged that Honduras's crime and violence was a national-level problem that tended to manifest locally in pockets of urban violence. Since the incidence and drivers of crime and violence differ substantially across municipalities and communities, the program called for a differentiated response at the local level. Building on national and international good practice, the program was based on the belief that municipal governments and communities are best equipped to develop customized responses to the specific risk factors for crime and violence present at the municipal and community levels. It further aimed to strengthen the capacity of municipal governments to plan and manage citizen security in an integrated manner using evidence-informed practices. Managed by the Sub-Secretariat of Prevention, the program sought to serve as an "umbrella" to guide, coordinate, promote, oversee, and learn from integrated approaches to citizen security at the municipal level. The project pioneered community involvement in building infrastructure, which both provided short-term jobs for communities facing high rates of unemployment and conferred a sense of ownership, fostering the willingness to maintain resulting infrastructure in good condition.
SMP built on lessons learned from the Bank-financed Honduras Barrio-Ciudad Project (2005–13), which incorporated a Crime Prevention Through Environmental Design (CPTED) approach, while also adding several new features. First, SMP strengthened the capacity of the national government to coordinate violence prevention activities across ministries and with local governments. Second, it strengthened the capacity of local governments by having them include a violence prevention component in their Municipal Coexistence and Citizen Security Plans, basing decisions on high-quality and geo-referenced data as well as multi-stakeholder governance structures. Third, it strengthened the menu of subprojects available for funding by adding social development interventions that either were not included in or were carried out in a more ad hoc manner under the Barrio Ciudad Project. Examples include small-scale development projects such as street lighting and municipal roads. "Safety walks" helped officials identify insecure areas and crime patterns to determine the infrastructure and social interventions needed. Because building social capital was a crosscutting theme for this project, with a strong focus on gender and social inclusion, the project structure was heavily weighted toward local teams. In all targeted communities, psychosocial support, school-based violence prevention, family support, situational violence prevention, and community-based interventions were implemented.
The focus on engaging women as active and effective change agents and leaders in SMP was important to creating space for several of the social interventions, including the Strong Families/Familias Fuertes program, addressing family power dynamics, and the adaption of SASA!; both efforts address the drivers and behavioral manifestations of gender-based violence.
Results
The project benefited more than 30,000 people in nine communities, reducing crime rates, improving safety in schools, and building trust within communities. Project investments in integrated urban upgrades, social development, and access to justice were aimed at reducing individual, family, school, and community risk factors for violence. A significant reduction in crime rates, including homicides, robbery, theft, sexual assaults, and drug trafficking, was observed during the project implementation of March 2013 to December 2018. Other key results included:
The Ruta Segura (Safe Passage) now connects three beneficiary neighborhoods in Choloma, the third largest city in Honduras. It is a rare example of large infrastructure that intentionally facilitated collective action and social contact, which positively affected residents' perceptions regarding safety. Before the ruta segura was paved, people did not travel between the three communities: outsiders were regarded with suspicion and risked violent assault, taxis would not enter, and travel at dusk or night was impossible.
Overall, 37 small infrastructure projects were carried out, and more than 22,000 people participated in social prevention programs. As the local teams gained more trust locally, they were able to address topics that would otherwise have been deemed too sensitive, such as gender relationships and masculinity.
In selected communities, 300 at-risk youth reported improved self-esteem after receiving temporary jobs and psychosocial support.
A perception study in the three beneficiary communities reported that between 89 and 98 percent of residents felt the project had helped improve security. Satisfaction with infrastructure improvements was high; on a scale of 1 (totally unsatisfied) to 10 (very satisfied), ratings ranged from 8.7 to 9.7. Students in the fourth to ninth grades at the targeted schools reporting an improved school climate increased from 42.5 percent at the baseline in 2015 to 76.6 percent in 2018, significantly surpassing the target of 51 percent.
Bank Group Contribution
The World Bank, through the International Development Association, provided a US$ 15 million loan to finance this project. The government's 2014 decision to limit its public debt by establishing budget ceilings for externally financed projects significantly affected the capacity to commit and disburse the full amount. (The final amount disbursed was US$ 9.77 million.)
Partners
As responsibility for violence prevention does not sit exclusively with one ministry, it was necessary to coordinate across different institutions with varying mandates. Honduras's Ministry of Finance, Ministry of Security (Instituto de Desarollo Comunitario, Agua y Saneamiento – Fondo Hondureño de Inversión Social, IDECOAS-FHIS) which had gained valuable experience and established strong relationships during the previous Barrio-Ciudad project, was chosen as project's implementing agency. The Secretariat of Security (Secretaría de Seguridad, SEDS) oversaw coordination at the national level. External partners also stepped in to support the planning and prioritization processes put in place by SMP. In El Progreso, for example, World Vision supported participatory planning that now feeds into the annual budgeting process for the municipality. As an entry point for promoting violence prevention, the SMP task team also partnered with the Honduran Ministry of Education. This collaboration further expanded to German Development Cooperation for school renovations and teacher educations.
Beneficiaries
In the beneficiary community Choloma, youth leader Bryan Argueto said his community, 11 de Abril, used to be a no-go zone:
Our neighborhood was a very violent place. We had a homicide rate in the 90s here, and with the prevention projects it has gone down a lot. So many of us were in the gangs, living off of extortion or even as assassins. You would see people using drugs, or mistreating their children, out in the open. They [SMP] worked a lot with us on our attitudes, especially the Strong Families program. Now our community has a much better image. Before, we were a remote, abandoned place. Now people from other neighborhoods want to know how we achieved what we did here.
Palermo community leader Sandra Bardales underscored how involving some of the more excluded groups — older residents, disengaged youth, and people with disabilities — in small works made them feel part of the community in a way they hadn't experienced before:
You could see that the señoras [and] people with disabilities were so happy to be working. They felt so good. There is a boy who doesn't have any arms and he worked a whole month. He got paid and is so content that he did that.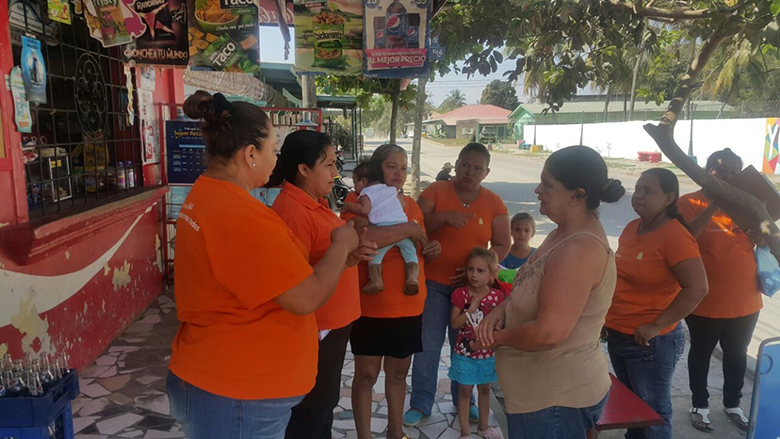 Moving Forward
The leaders of the communities in El Progreso continue to mobilize partnerships with donors and with the municipality. Leaders who worked with SMP are now seen as points of reference in their neighborhoods and continue to advocate on their behalf. World Vision has begun supporting participatory processes to prepare ten-year community development plans that can orient municipal investments, and it is providing training in microenterprise development and parenting classes through local churches. The municipality has also institutionalized the SASA! program that uses community activism to change the harmful social norms associated with violence against women and girls. SASA! now sits under the national Department of Social Development and will soon be active in all neighborhoods in El Progreso.