Challenge
Chimborazo is a rural, mountainous region of Ecuador with a large indigenous population. More than 53 percent of households live in poverty, access to nutritious foods is severely limited, and clean water, bathrooms, and latrines are in short supply. Children eat a diet heavy in potatoes and salt and low in fruits and vegetables and often suffer from malnutrition.
In 2012, 49 percent of children in Chimborazo under the age of 5 were stunted, a manifestation of chronic malnutrition in which a child's height for age is more than two standard deviations below the median of the World Health Organization Child Growth Standards. That was the worst stunting rate in Latin America and comparable to the Sub-Saharan African countries of Botswana, Ghana, and South Africa.  Stunting and other forms of under-nutrition lead to higher risks of infections and impair cognitive and motor development, learning capacity, and school performance. They are responsible for nearly half of all child deaths globally.
In Chimborazo, high in the Andes mountains, small indigenous communities are separated from each other by miles of poorly constructed, unpaved roads. Taking children to health checkups often requires traversing long distances to health centers far from home. Residents treat their water infrequently and handwashing is uncommon. About 20 percent of the population lacks access to any type of bathroom or latrine. Mothers often lack basic knowledge of when to integrate solid foods into their children's diet alongside breast milk. While the government has repeatedly promoted the use of vitamins and other supplements in the region, it has not had great success.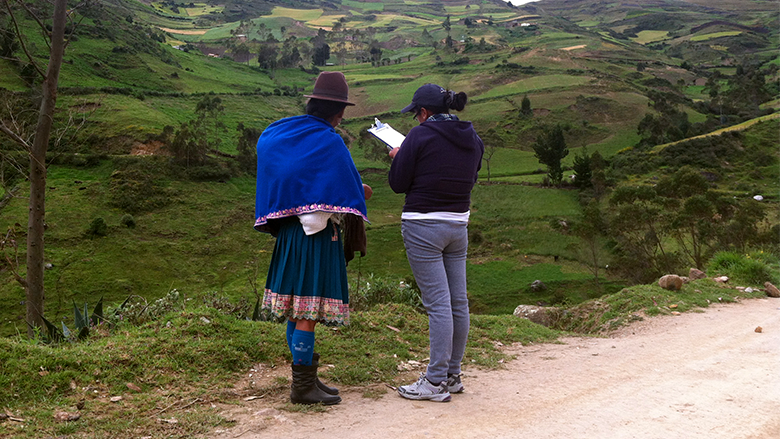 Approach
Technical assistance projects in Chimborazo financed by the Japanese Social Development Fund created a strong network of relationships with regional health clinics, doctors, nurses, and other service providers. World Bank researchers fanned out in the area starting in 2013 and found that most children under 3 in rural areas of Chimborazo rarely attended health checkups. Working with staff in public day care centers and rural health centers, World Bank researchers reached out to 3,000 families to participate in the text messaging study.
For 14 months starting in January 2015, 2,000 families received regular text messages — as many as two a week. Another 1,000 families studied received no text messages.
The text messages encouraged mothers and other caregivers to take their children for regular checkups, give them iron supplements and other micronutrients provided by the government, boil their water to make it potable, wash their hands regularly, and improve their food preparation and general hygiene. Parents with young infants were encouraged to breast-feed their children and sent texts on how to resolve breast-feeding challenges.
All caregivers in the study were already enrolled in nutrition and monitoring programs offered through local health clinics. But researchers recognized that when participants went home, they often did not follow advice they had been given. Enter the text messages, personalized to each participant and their children and signed by representatives of the regional government. Sent twice a week with some breaks, they were designed to be encouraging, positive, and non-judgmental.
One of the World Bank researchers involved in the project, Megan Rounseville, recounted her experience with one mother, who juggled multiple jobs with caring for her animals and her five children, alone for months at a time while her husband was away at work. At the end of her long days, having just arrived up a steep, sinuous mountain road and with another trek still needed out to the fields to collect her cows, she told Rounseville that boiling water and giving her children vitamins often seemed impossible. Getting encouraging text messages helped, she told Rounseville, even though she, like many others, had spotty or no cell phone service at home. She was able to check her texts just once a week on her trips to the local market, rather than on the days they were intended by the researchers to be received.