Challenge
Uzbekistan embarked late on the path to market-oriented economic reforms compared to other post-Soviet states. Until recently, the country remained a closed, centrally-planned economy, with growth largely driven by commodity export revenues that financed import-substitution industrialization. This was achieved through import barriers and restrictions to capital outflows, significant directed lending, as well as on- and off-budget subsidies, which supported a wide network of state-owned enterprises (SOEs) and a few private-sector participants.
The economy was sustained by the commodities super-cycle, but with a deteriorating external environment, it became increasingly evident that the economic growth was not accompanied by productivity growth or sufficient high-quality job creation, leading to substantial outward labor migration. Following the commodity price shock in 2014, the lack of price flexibility (in exchange rates and domestic prices) led to the widening relative price distortions, and it became evident that existing economic policies were incapable of providing sustained productivity growth and good job creation to meet the needs of a growing and young population.
In 2017, the country launched an ambitious program of market-oriented reforms that are unprecedented in its modern history. With the drivers of the old growth model exhausted, the new leadership embarked on a strong program of market reforms. Going forward, the Government of Uzbekistan still needs to address a number of key challenges to achieve sustainable development and growth.
The current challenges include removing market distortions that undermine allocative efficiency and competition; eliminating regulatory barriers to business operations; promoting the reallocation of land toward more productive uses; mitigating geographic inequities in access to social services; promoting the sustainable use and management of natural resources; making public administration more transparent and accountable; widening access to preprimary and tertiary education and improving the quality of these services; ensuring access to quality health care; and addressing the inefficiencies in social protection programs.
Approach
Since 2017 the Government's reform program has grown in scope and ambition by significantly increasing demand for the WBG financing and global knowledge services. The WBG program realigned in June 2018 now responds to the Government's broadened reform agenda by focusing on projects and activities that support private sector growth and the creation of markets, promote institution and capacity building to support the reform process, and enable the economic and social transformation.
The World Bank program is shifting from pure bricks-and-mortar infrastructure projects to policy support and market institution building, horticulture development, social protection, early childhood development, regional development, and connectivity. Current and future infrastructure investments supported by the World Bank financing will help pave the way for sector reforms. Development Policy Operations will be used to support the Government's efforts to develop a solid foundation for a market economy by first identifying and then building its key components.
Results
As of April 2019, the Bank funded 51 projects focusing on infrastructure investments in the agriculture, water, energy, transport, health, and education sectors and sponsored more than 50 technical assistance programs by providing the required linkage between policy and investment.
Recent results achieved in 2016-2018 under selected Bank-supported and administered projects include:
In the horticulture sector, farmers and agri-businesses across the country received over 380 subloans totaling US$282 million to finance the launch of cold storage facilities, greenhouses, vegetable production, orchards, and vineyards; the packaging and processing of agricultural products; and the purchase of agriculture machinery and laboratory equipment.
In the preschool system, over 55,000 children aged 3–6 were enrolled in half-day groups in preschools across the country; more than 70,000 children are benefiting from better equipped preschools; more than 500,000 children aged 3–6 not in preschool are benefiting from an early reading program; more than 4,000 preschool teachers were trained to run the half-day classes; and more than 2,400 rural preschools were equipped with high-quality furniture, indoor and outdoor recreation equipment, teaching and learning materials, and libraries.
IDA results
Between 2012 and 2018, with IDA support:
In rural settlements across the Syrdarya region, 180,000 residents received 24-hour access to safe and reliable water supply services.
In the health sector, over 500 medical facilities were supplied with modern equipment; medical service quality was improved through 22 new treatment standards for noncommunicable diseases; and over 3,000 doctors, 11,600 general practitioners, and 28,500 nurses received training as part of their continuing professional development.
In Karakalpakstan, agriculture productivity increased by 10–12 percent in degraded lands due to rehabilitated drainage and irrigation systems that improved water resource management; 27 water users associations were established in the pilot area covering 65,000 hectares to improve management of inter-farm irrigation systems; roughly 2,250 hectares of sustainable wetlands were developed along rehabilitated drain collectors, also providing a habitat for birds and wildlife; and about 700 local farmers were trained on new agronomic and water savings technologies.
Over 30 large industrial enterprises improved their energy efficiency thanks to investments in energy-efficient technologies and equipment. Energy savings reached 360 million kilowatt hours (kWh), enough to satisfy the electricity needs of over 176,000 households annually.
In the Bukhara, Navoi, and Khorezm regions and Karakalpakstan, around 6,000 farmers, entrepreneurs, and local officials received training on climate adaptation and mitigation, with tools and techniques disseminated under the Climate Adaptation and Mitigation Program for Aral Sea Basin Project.
World Bank Group Contribution
As of March 2019, the World Bank portfolio in Uzbekistan consisted of 19 investment projects with net commitments totaling US$3.32 billion (including IBRD commitments of US$1.14 billion, IDA commitments of US$2.18 billion, and a Global Partnership for Education grant of US$49.9 million) designed to support macroeconomic reforms, regional development, and improvements in agriculture, water supply, transport, energy, education, and health services.
The active Trust Fund portfolio has 36 activities, including 32 Bank-executed and four recipient-executed tasks totaling US$93.17 million. Most are funded from Multi-Donor Trust Funds (the major ones are financed by the European Union, Switzerland, the United States, Korea, Japan, and the Russian Federation) in support of an analytical and technical assistance program, the preparation of new lending operations, and complementary financing to ongoing projects.
The Bank's analytical and technical assistance program consists of 24 tasks in different areas and includes the first-ever Reimbursable Advisory Services (RAS) agreement, signed by the Bank and the Government in August 2018, to support civil aviation reform in Uzbekistan.
The International Finance Corporation (IFC) is currently managing a US$61 million investment portfolio in Uzbekistan, including projects in the financial and textile sectors. IFC's advisory services provided investments under seven projects that are designed to assist in privatizing SOEs, transforming the cotton sector, developing and diversifying the financial market, and piloting public-private partnerships in the renewable energy and health sectors.
Partners
The WBG is closely coordinating its country program with other multilateral and bilateral development institutions operating in Uzbekistan and has established close partnerships with the Asian Development Bank, European Union, Islamic Development Bank, European Bank for Reconstruction and Development, and the governments of Switzerland, Korea, Japan, the United States, the United Kingdom, and Hungary.
Work is being carried out through coordinated technical assistance and joint or parallel financing of investment operations in agriculture, energy, transport, water supply and sanitation, and water resource management. Namely, the European Union co-financing exceeds €45 million and supports the Bank's interventions in agriculture and irrigation.
In addition, the WBG closely collaborates with the European Union, the United States, and Switzerland through the Multi-Donor Trust Fund to support activities related to the prevention of forced labor in Uzbekistan. The Bank is exploring opportunities to engage with new partners, such as the Asian Infrastructure Investment Bank and the European Investment Bank.
The Bank also coordinates its activities with the United Nations through the UN Country Team, on which the Bank participates. The Uzbek Government and UN agencies recently signed a UN Development Assistance Framework for 2016–2020 that has the WBG leading several key thematic groups.
Moving Forward
The World Bank will continue to support Uzbekistan in the implementation of its ambitious, comprehensive, and fully homegrown reform program to transform the country into a competitive market-oriented economy. In January 2019, the Government adopted a 2019–2021 "Reform Roadmap," developed with WBG support, that clarifies how Uzbekistan will achieve its economic development strategy in the medium-term period.
The Roadmap's objective is to further implement—and accelerate progress on—the strategic plans outlined in the 2017–2021 Development Strategy of Uzbekistan. The Government intends to achieve these goals through a comprehensive program of reforms, supported by the World Bank and other development partners, covering five focus areas: (i) maintaining macroeconomic stability; (ii) accelerating the transition to a market economy; (iii) strengthening social protection and citizen services; (iv) transforming the Government's role in the market economy; and (v) preserving environmental sustainability.
The Roadmap also includes measures to strengthen human capital, increase the participation of women in the economy, conserve environmental and natural resources, and improve the effectiveness and efficiency of the social safety net system. The World Bank will respond to Uzbekistan's emerging needs by maintaining the breadth and scope of its current investment and technical assistance program in the country.
The WBG is discussing a potential RAS to help improve the business and investment climate and a follow-up RAS in the civil aviation sector to assist in ongoing sector restructuring.
Beneficiaries
Investing in the Development of Uzbekistan's Preschool System

Over 55,000 children aged 3–6 were enrolled in a half-day program in preschools across the country under the Improving Pre-Primary and General Secondary Education Project.
"Many parents, especially from low-income families, choose half-day groups in kindergartens because of their affordability," says Mavluda Nishanova, an official from the Ministry of Public Education. "A monthly fee per child in a rural area is around UZS15,000 (less than US$2). In fact, it just covers the cost of daily breakfast, while children receive all services and educational supplies free of charge. The four-hour schedule is also convenient for parents working part-time and women dealing with housekeeping."
Helping Uzbek Farmers Sell More of "the Best Fruits and Vegetables in the World"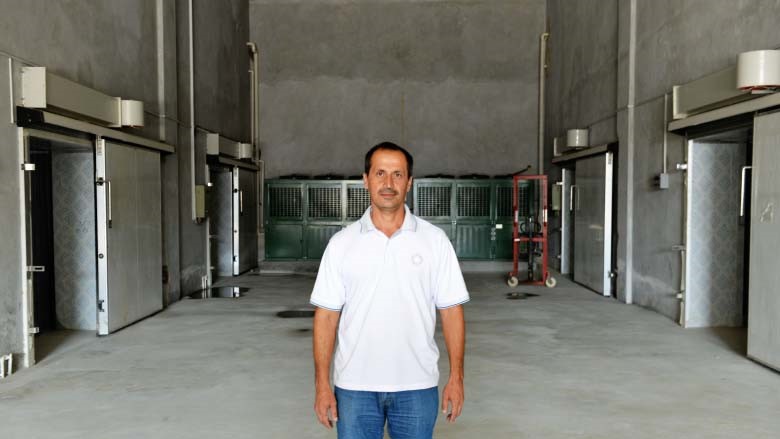 Thanks to a Horticulture Development Project (HDP), a farmer in the Samarkand region received a loan to complete construction of a cold storage facility that can accommodate up to 1,700 tons of horticultural products. Ten permanent jobs were created after the facility became operational.
"In this facility, we will be able to save our own fruits, vegetables, and grapes, as well as crops produced by local farmers," says Vohid Abdushukurov, a manager of the cold storage facility. "Nowadays, this service is in high demand among local farmers and agro-firms as their export capacity is rapidly growing. Our potential clients are interested in preserving the quality of their products before they reach foreign customers. And we are happy to respond to their needs."