Conceptual Framework, Stylized Facts, and the Role of Policy

Download this chapter
(pdf).
KEY MESSAGES
International banks operate in foreign countries through local affiliates and cross-border lending.
How the International Banking System Works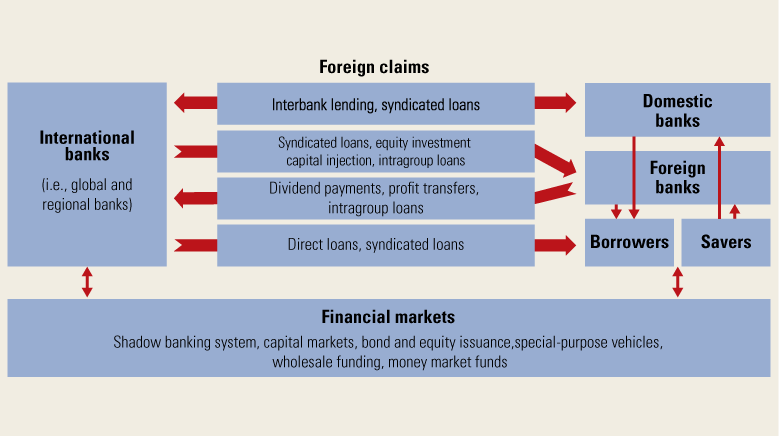 They offer:


Opportunities to promote economic development because they bring with them capital, liquidity, expertise, and new technologies, which can lead to more investment, greater competition, and better resource allocation.
Better risk-sharing that is, they can help host countries stabilize their credit supply during a local downturn, and they can shift resources back to the home country when conditions at home worsen.

However, there are also reasons for caution:

Borrowing from abroad involves risks such as foreign exchange exposures and other mismatches.
Risk sharing can also expose host countries to systemic risks from time to time
Global finance tends to be more procyclical than domestic finance, this factor could more easily lead to boom-bust cycles in poor institutional environments.

The cost-benefit balance depends on whether the institutional environment is developed and the right policies are adopted. Thus, the challenge for policy makers is to provide an environment that will maximize the benefits from internationalization while minimizing the costs. The key to addressing this challenge is to devise policies acknowledging that benefits and costs vary, depending on bank characteristics and home and host country conditions.

The presence of international banks, as measured by their foreign claims, quadrupled in the decade leading up to the global financial crisis in 2007–09, but it has since dropped and stagnated.
Foreign Claims Reported to BIS by Counterparty Income Level, 2000–15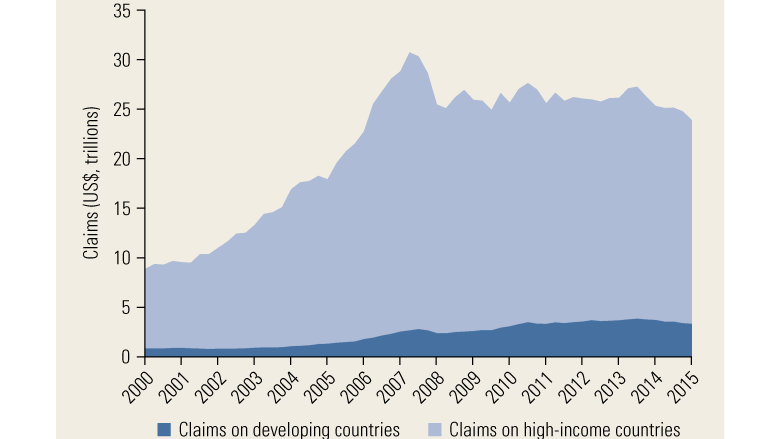 The number of foreign banks exiting markets remained more or less the same, there was much less entry after the crisis, and net entry became negative for the first time since 1995.

Number of Entries and Exits of Foreign Banks, 1995–2013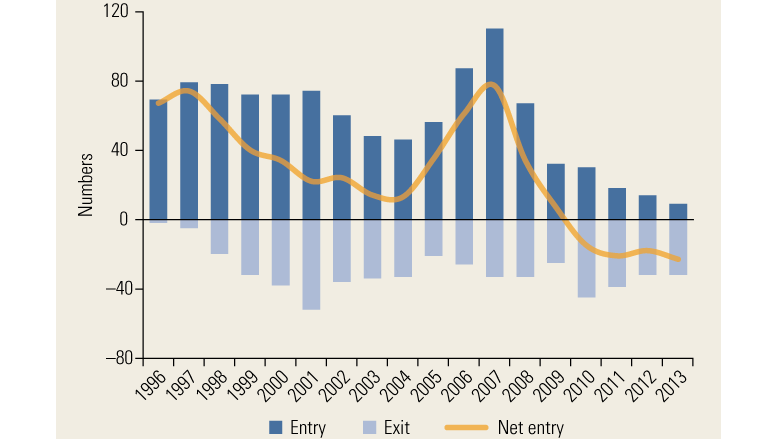 Despite this decline, lending by international banks remains an important source of finance for private and public sectors across the world.

Lending by International Banks: Foreign Claims on Counterparty Nonbank Private Sector (Country-Level Average by Region)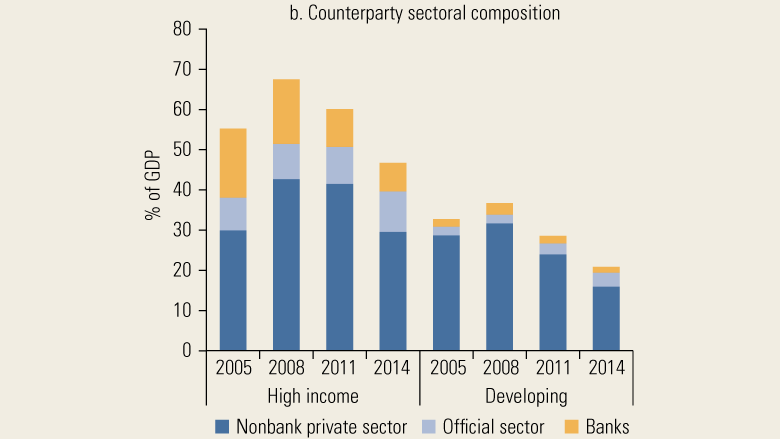 The volume of foreign bank claims via local lending now exceeds that of cross-border lending because lending by brick and mortar banks has proven to be more resilient in response to financial distress.

Cross-Border Bank Flows: Cross-Border Claims on Counterparty Regions and Foreign Claims on Counterparty Economies by Position Type and Income Level, 2005–15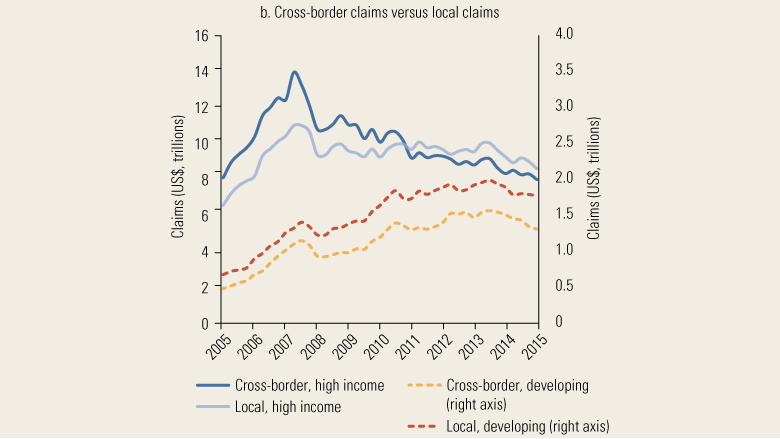 The participation of foreign banks through branches and subsidiaries was rising in all regions until recent years when the major global banks began to retrench their international operations. Although banks from high-income countries drove exits, developing countries continued their foreign bank expansion, accounting for close to 60 percent of new entries.

Foreign Bank Presence through Subsidiaries: Share of Foreign Banks of Total Banks (Country-Level Average by Region, 1997–2013)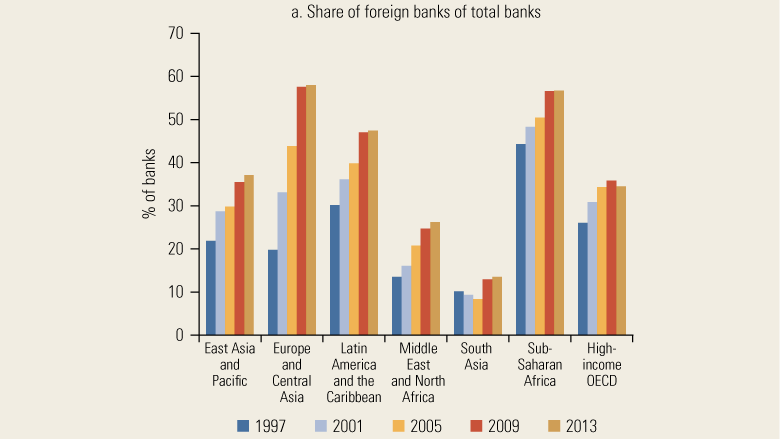 Two important trends have emerged:

South-South banking and regionalization. By 2013, banks from high-income countries still represented 89 percent of foreign bank assets globally, but this share was 6 percentage points lower than before the crisis, representing a greater diversity of foreign bank ownership.

Nationality of Majority Ownership of Banks in Developing Countries (1995–2013)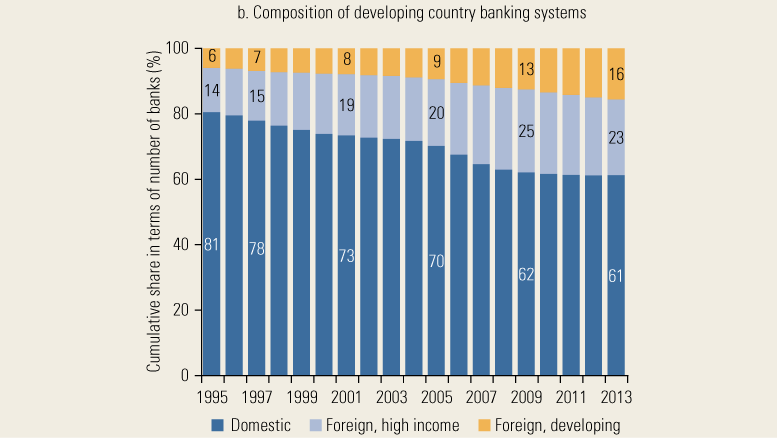 Foreign bank presence also became more regionally concentrated, with the average intraregional share increasing by 4 percentage points, largely reflecting developing country banks expanding into space opened up by the retrenchment of global banks.
Share of Regional Foreign Banks among Foreign Banks, Country-Level Averages, 1997–2013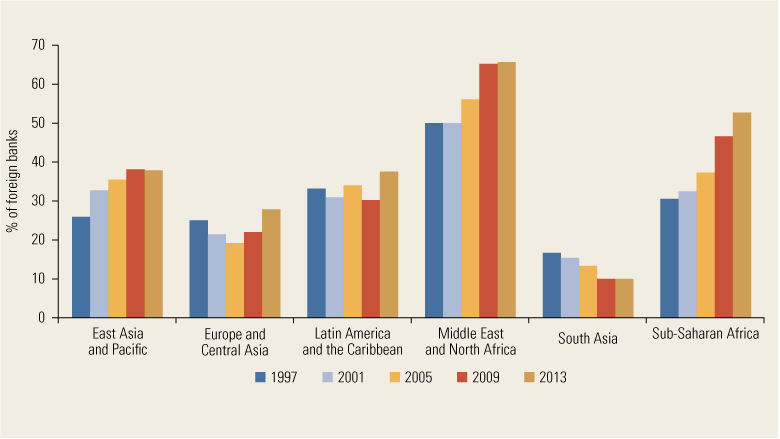 The largest banks are growing further despite regulatory efforts after the global financial crisis to address too-big-to-fail issues. Bank size has not shrunk in either absolute terms or relative to gross domestic product (GDP). In many developing countries, foreign banks are also systemically large.

Size of Assets in Relation to National Economies (Combined Assets of Top Five Banks, Country-Level Average by Region), 2005–14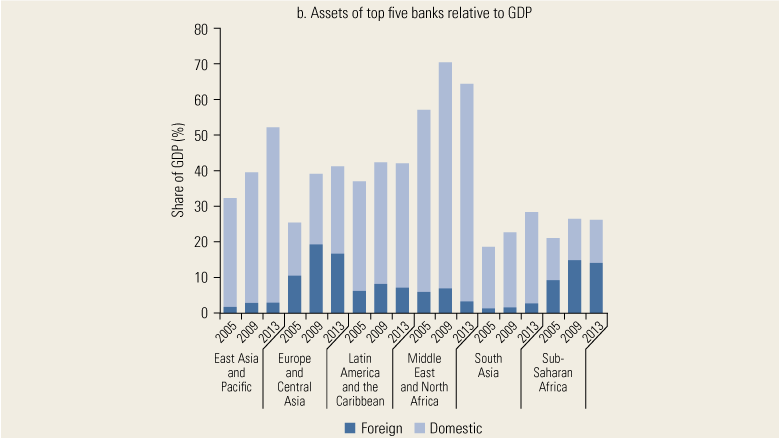 Restrictions on international banking activities increased after the global financial crisis.

Regulatory Restrictions on Foreign Bank Entry and Ownership (Country-Level Average), 2000–11
Share of Host Countries That Tightened Macroprudential Policies, 2005–13

Download this chapter
(pdf).