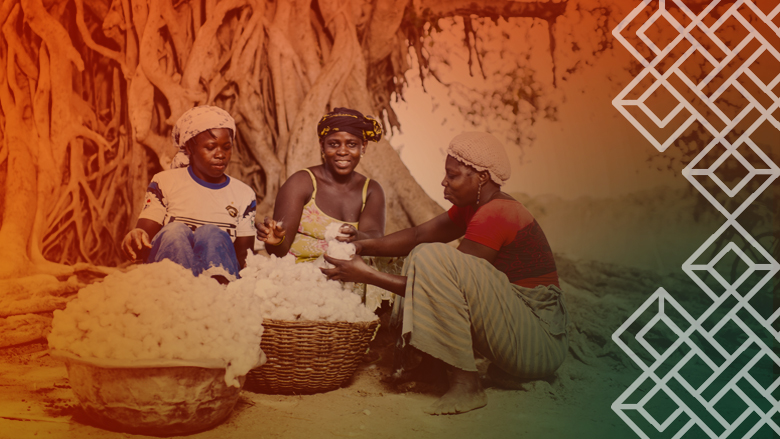 Building evidence on productive inclusion and women's empowerment programs
This thematic area aims to inform the design and implementation of new waves of economic inclusion interventions in the Sahel focused on building household and community resilience to the impacts of climate change, with an eye on women's empowerment. In addition to supporting household consumption and food security and facilitating investment in human capital, adaptive social protection (ASP) programs can also facilitate investment in income-generating activities carried out by social safety net beneficiary households. Productive inclusion interventions can complement safety nets in supporting poor households' livelihoods and strengthening their resilience. These types of interventions are aimed not only at increasing productivity and incomes but also at supporting income smoothing and diversification and helping households cope with risks and climatic shocks. Moreover, these interventions can facilitate women's empowerment, especially when women are the recipient of the cash transfer on the household's behalf and are the primary beneficiary of productive inclusion activities—which is often the case in the Sahel.
Social safety net programs in the Sahel were augmented with an integrated set of productive inclusion measures based on a rigorous assessment of the key constraints facing poor and vulnerable households.
And then, the effectiveness of the measures was assessed. The SASPP supported a rigorous, multi-country impact evaluation project to help determine the effectiveness of the added productive inclusion measures. Evaluation results indicated considerable increases in consumption, food security, business revenues, and improvements in various measures of well-being.
In addition to the regular safety net cash transfers, more than 50,000 beneficiaries-over 90% of whom are women- have benefited from the productive inclusion measures.
Examples of productive inclusion measures

• Coaching. Trusted community members, knowledgeable about local economic opportunities, played the role of mentors to individuals and small groups of 15 to 25 people. They prepared and followed up on each measure and helped tie the program together.
• Facilitation of community savings and loans groups. The groups met weekly, saved together, and granted loans to their members. They fostered peer learning and built positive social dynamics.
• A community sensitization session. A video showing the story of a couple that overcame shocks and grew their economic activities—thanks to strong support from their communities—was shown in each local community. After the screening, a community discussion was organized to build support for beneficiaries, 90% of whom are women.
• Life-skills trainings. This group-level training lasted between 3 to 7 half-days and included sessions on communication skills, confidence-building, innovation, and gender relationships.
• Micro-entrepreneurship training. This group-level training lasted about 7 half-days and covered fundamental management skills like bookkeeping, best practices for selecting suppliers, and determining prices.
• Access to markets. Well-trained coaches facilitated group discussions on topics such as how to improve market access, where to buy inputs for agricultural activities, how to choose suppliers, or where to sell their goods. At times, coaches also acted as intermediaries to help women access inputs or potential buyers.
• A cash grant. The program provided grants between $150 and $250 to enable beneficiaries to invest in their economic opportunities..
How are productive inclusion measures delivered?
To the greatest extent possible, governments leveraged existing systems for identification, targeting, and payment to deliver productive measures at a large scale. Delivering these measures through a current government safety net system is cost-effective and easier to scale faster. Depending on capacity and context, governments adapted delivery and used, e.g., community volunteers, NGOs, or private firms.
Monitoring and Evaluation data showed the high quality of delivery. Activities were delivered on time and at the desired frequency as defined in operational manuals. The data also indicated a 90-95% attendance rate for all training sessions..

Testing Effectiveness: A Multi-Country Impact Evaluation
To assess the effectiveness of these measures in promoting economic inclusion and resilience among the poor across the Sahel, a multi-country randomized control trial (RCT) was set up across Burkina Faso, Mauritania, Niger, and Senegal. Cash transfer beneficiaries were randomized into four groups:
Control group: Received regular cash transfers;
Treatment group 1 (Full package): Received cash transfers and coaching, village savings and loan association (VSLA) access, community sensitization, life skills and entrepreneurship training, and an additional cash grant.
Treatment group 2 (Capital package): Received cash transfers, and a package of measures related to capital, and an additional cash grant.
Treatment group 3 (Social package): Received cash transfers and a package of measures related to social behaviors.
Findings of the Impact Evaluation
The productive inclusion measures helped enhance both community and individual well-being, while the cash transfers helped alleviate specific constraints faced by female beneficiaries ( ~ 90%).
In Niger, the measures helped households diversify their economic activities.
Investments in off-farm income-generating activities led to strong revenue growth, while helping women build climate-shock resilience.
At the individual level, beneficiaries reported increased food security, improved mental health, a stronger sense of social worth, and higher levels of trust in their community.
At the community level the program improved gender attitudes and perceptions of women's economic participation. Women also reported higher levels of decision-making power over their resources.