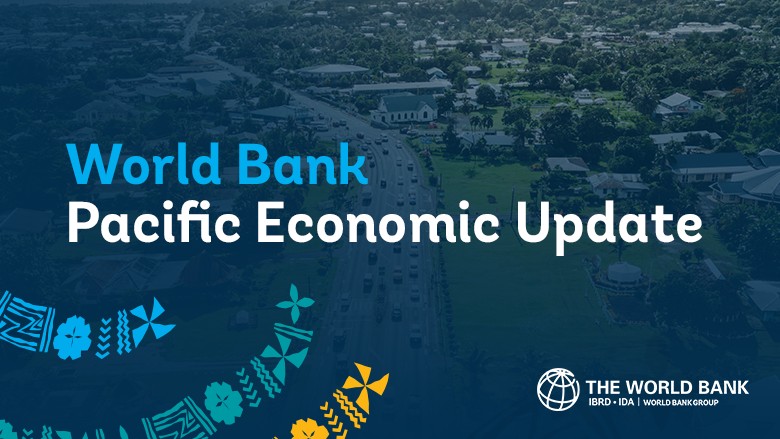 As growth returns to the Pacific, debt and inflation remain concerns
New World Bank report series provides economic deep dive into Pacific economies
SUVA, February 28, 2023 – After nearly three years of economic contraction, Pacific economies can anticipate a return to growth this calendar year despite ongoing challenges, according to the World Bank. While the recovery is expected to continue, fiscal balances, debt sustainability, and inflation will remain a concern. Pacific nations will need to consider reforms and policies to boost equitable growth and sustainable investments, while striking a careful balance between supporting livelihoods and reducing future public debt risks.
The outlook is detailed in the World Bank's inaugural Pacific Economic Update, a comprehensive assessment and forward-projection of 11 Pacific Island country economies, launched today in Suva, Fiji.
While all Pacific countries are forecast to grow through 2023, some countries, such as Palau, will see larger rebounds of around 18 per cent growth in GDP on the back of a resurgent tourism industry. Others, such as Solomon Islands, are expected to grow more slowly with an increase of around 2.3 percent.
Economic impacts from the COVID-19 Pandemic persist
The new report comes at a critical juncture for Pacific Island countries. Closure of borders from 2020-22 during the pandemic have eased after dealing a severe blow to the tourism-dependent economies of Fiji, Vanuatu, Samoa, Tonga, and Palau. However, the region is now being buffeted by inflation and global economic uncertainty. In 2022, costs of shipping and imports rose to their highest levels in over 20 years. Although prices have eased modestly in recent months, the shocks are still being felt by the Pacific as global uncertainty has increased.
"After being severely hit by COVID-19, and tepid signs of recovery in 2022, economies across the Pacific can expect growth in 2023, but for many people it will not feel like a return to pre-COVD-19 times," said the World Bank's Lead Economist for the Pacific, David Gould. "After three years of economic contraction in Fiji, for example, growth in 2022 is estimated to have climbed to 15 per cent, yet output is expected to remain below 2019 levels until 2024."
Pacific not immune from fallout of the war on Ukraine
The report notes that the high global economic fallout associated with the war on Ukraine led to a downward revision in growth forecasts for Pacific economies.
"Pacific Island countries have not been immune from the economic impacts of the war on Ukraine," said David Gould. "Just as the Pacific was set to begin its post-pandemic recovery, it has been dealt another shock. Rising global energy and food prices have strained Pacific budgets, added to inflation, and ultimately increased the cost of living for families across the region."
The report projects that inflationary pressures will peak in the first half of 2023, with consumer prices projected to fall in every Pacific Island country except Samoa, where inflation may reach as high as 12 per cent in the second half of the year, before falling in 2024.
Policymakers urged to boost sustainable growth; minimize debt and fiscal vulnerabilities
The report provides an in-depth look at the challenges of fiscal and debt vulnerabilities faced by Pacific Island countries and how these were made worse during the pandemic. It offers several recommendations that Pacific governments could consider to accelerate their recovery, enhance debt and fiscal sustainability, and further improve living standards across the region.
"COVID-mitigation measures led Pacific governments to expand spending. To reduce the likelihood of falling into a problematic debt situation, Pacific governments should now consider ways to sensibly reduce costs, and begin to responsibly unwind pandemic-era support," said Gould.
"After three difficult years, the Pacific's economic prospects are clearly improving. While challenges remain, the Pacific is well placed to accelerate its post-COVID economic recovery throughout 2023 and beyond," said Stephen Ndegwa, World Bank Country Director for Papua New Guinea and the Pacific.
The World Bank works in partnership with 12 countries across the Pacific, supporting more than 95 projects totalling US$3 billion in commitments in sectors including agriculture, aviation and transport, climate resilience and adaptation, economic policy, education and employment, energy, fisheries, health, macroeconomic management, rural development, telecommunications, and tourism.
Last Updated: Feb 28, 2023
PRESS RELEASE NO:
2023/046/EAP
Contacts
Suva
Vika Waradi
+679 9403498

Washington DC
Kym Smithies