Male', August 20, 2019 – The World Bank is providing support to the Government of Maldives to strengthen the country's sustainability of public finances while minimizing impacts of natural hazards. Two complementary agreements – one to enhance budget credibility and reduce fiscal pressures, and the other to help the government support reforms for increased resilience and take immediate action during an emergency – were signed to that effect.
The first agreement, a $20 million Development Policy Financing (DPF), will focus on improving the policy framework for enhancing sustainability of public finances and strengthening the policy framework to increase budget credibility. The second agreement is a $10 million Catastrophe Deferred Drawdown Option, (Cat DDO), with an associated Pandemic Emergency Financing Facility (PEF). The Cat DDO will help enhance the Maldives' financial capacity to effectively manage the human, physical and fiscal impact of climate change, natural disasters and diseases.
The suite of instruments are quick disbursing sources of financing that will support the government to take immediate response, relief and recovery activities following a disaster or an emergency, including health.
The agreements were signed today at the Ministry of Finance by Minister of Finance, Hon. Ibrahim Ameer and the World Bank Country Director for Maldives, Nepal and Sri Lanka, Dr. Idah Pswarayi-Riddihough.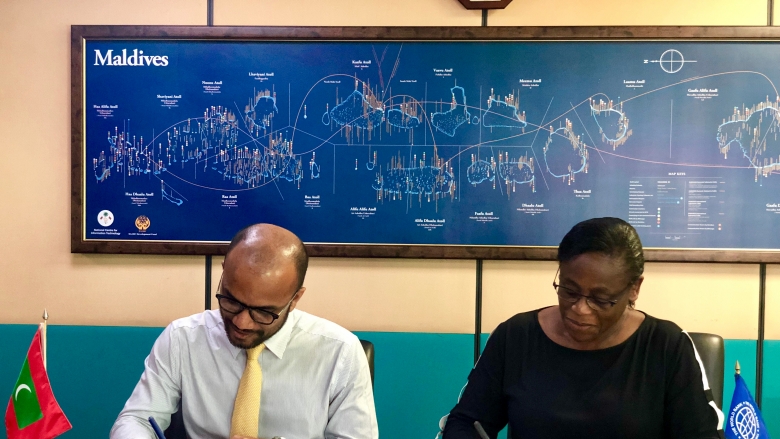 "The agreements are part of integrated risk management options to improve the country's resilience to shocks and safeguard macroeconomic sustainability," stated Idah Pswarayi-Riddihough, World Bank Country Director for Maldives, Nepal and Sri Lanka. "In addition, it is for the first time that a country in South Asia has prepared a Cat DDO that is linked with this new pandemic emergency financing. This is a kind of insurance for the future."
Maldives has made considerable progress in its macroeconomic and human capital indicators. However, due to its unique geographical placement, vulnerability remains high, and Maldives can increase its resilience by strengthening its fiscal management and preparedness for shocks. The country also continues to be vulnerable to natural hazards and extreme climatic events with considerable economic consequences.
The co-task team leaders of the projects, Fernando Im and Armando Guzman, commended the Maldivian government on their vision, and commitment in achieving a remarkable and innovative milestone. This is particularly important given that Maldives is a small island state.
Last Updated: Aug 20, 2019