WASHINGTON D.C., December 15, 2017 – The Republic of the Marshall Islands will be closer to its goals of greener, more efficient and more reliable energy, following the approval by the World Bank's Board of Executive Directors of US$34 million for the Sustainable Energy Development Project.
"The Marshallese government is working hard with development partners to meet our targets of 20 percent renewable energy by 2020, and 100 percent renewable energy by 2050," said Marshall Islands Minister of Finance, Hon. Brenson S. Wase. "We are excited by this new World Bank-supported project, which will significantly boost access to reliable, efficient and ultimately more affordable renewable energy for residents and businesses across Majuro and Ebeye."
"The Republic of the Marshall Islands is committed to reducing greenhouse gas emissions and addressing the threat of climate change."
The new project will deliver three components:
Assistance towards the design, supply, installation, and operational support for solar power generation, battery energy storage, and grid management equipment in the capital Majuro, as well the replacement of existing generators to ensure lower emissions and improve operation efficiency in Majuro and Ebeye, until renewable solutions can be deployed.
Technical and operational assistance to reduce energy demand, by improving the efficiency for both the use and supply of electricity from the country's two public sector utilities KAJUR and MEC, and by encouraging more energy efficiency through public information campaigns overseen by the Ministry of Resources and Development's Energy Planning Division.
Training and workshops focused on improving energy policies across the Ministry of Finance, Banking and Postal Services, and public sector utilities, in addition to support of studies that will identify further assistance and investments needed in Ebeye and the outer islands of Wotje, Jaluit, Rongrong, and Santo.
"The World Bank stands as a committed development partner of the Marshallese government, for the long-term. Together we will address the challenge of providing affordable and clean energy to the country's population and of ensuring more efficient energy use across the country," said World Bank Country Director for Papua New Guinea and the Pacific Islands, Michel Kerf.
The Sustainable Energy Development Project is funded through a US$34 million grant from the International Development Association (IDA), the World Bank's fund for the most in-need countries.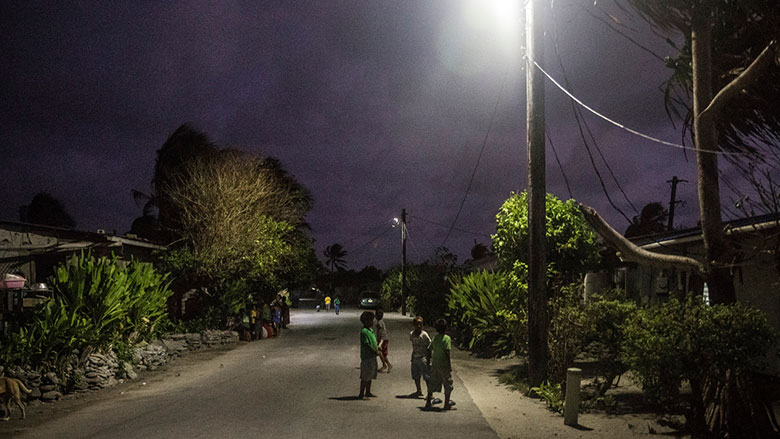 The World Bank is investing US$34m in sustainable, renewable energy for Marshall Islands. (Vlad Sokhin / World Bank)