New Delhi, December 13, 2017 – The Government of India and the World Bank today signed a $250 million loan agreement to support India's efforts to better equip its young workforce with employable skills so that youth who enter the labor market every year can contribute to India's economic growth and prosperity.

Around 12 million young people (age group 15–29 years) are moving into the labor force every year with various levels of educational qualifications. The Skill India Mission Operation (SIMO) will focus on providing skills training opportunities for adult workers between the ages 15 to 59 (underemployed or unemployed), who are either illiterate or who have completed primary education or less. The Program will also increase the market relevance of short-term skill development programs (3-12 months or up to 600 hours) at the national and state level. A special focus of the program will be to provide placement and entrepreneurship opportunities to women and increase their exposure to skills training.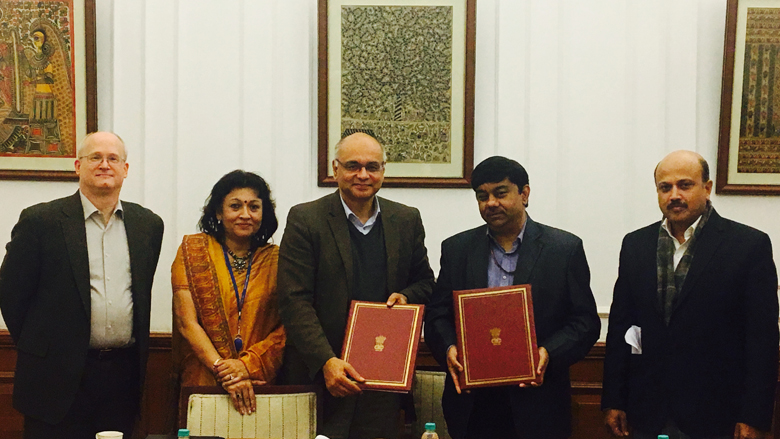 "Skills and knowledge are the driving forces of economic growth and social development for any country," said Sameer Kumar Khare, Joint Secretary, Department of Economic Affairs, Ministry of Finance. "The Government of India's skills gap analysis shows that by 2022, there will be an additional requirement of 109 million skilled workers in 24 key sectors of the economy. The Skill India Program through financial incentives and partnerships with industries will encourage market relevant training programs to meet the demands of employers and drive economic growth."

The agreement for the project was signed by Sameer Kumar Khare, Joint Secretary, Department of Economic Affairs, Ministry of Finance, on behalf of the Government of India; and Junaid Ahmad, Country Director, World Bank India, on behalf of the World Bank.
SIMO which is a six-year program in support of the Government of India's skill development strategy as outlined in the National Policy for Skill Development and Entrepreneurship (2017–2023), will be implemented through the National Skill Development Mission (NSDM) and specifically target labor market entrants. The program will support the national implementing bodies like the National Skills Development Agency and the National Skills Development Corporation in improving the quality and relevance of the existing skill development programs.

"As the Indian economy continues in its path of structural change, higher-skilled labor force can potentially serve as a catalyst in transforming India into a competitive middle income country," said Junaid Ahmad, World Bank Country Director in India. "This program will support the government's vision of investing in the human capital of India's youth, enable greater off-farm employment, and increase women's participation in the labor market," he added.

It is estimated that, by the end of the program, the skills development capacity of the system would have increased so that at least 8.8 million youth would have received market relevant training, improving their employment opportunities and raising their earnings prospects. The program will benefit approximately 15,000 trainers and 3,000 assessors.
Public-private partnerships will be forged for preparing teaching and learning resources. Services such as provision of childcare and flexible working hours will be encouraged to make sure that girls and women are encouraged to join the labor force, especially in growing urban India. Skills vouchers and direct benefit transfer mechanisms will also be actively encouraged under the program.

A robust monitoring and evaluation (M&E) system will be created through a national Labor Market Information System for capturing labor market information and data at the national and state levels for both public and private skills training programs.

To encourage the private sector become an active partner in India's skills mission, the program will set up a Corporate Social Responsibility (CSR) Skills Fund that will serve as the vehicle that seeds funds and pools resources to make CSR investments. The Fund will act as a hub to educate, inform, engage, and build capacity to implement effective skills programs. Under this arrangement, companies willing to provide CSR funds for skilling activities will benefit from matching grants. They will also get support to undertake joint programs, help identify trainers or set up training centers. This will help them follow closely the use and outcomes of the Fund.
"The Government of India's target of training about 400 million people by 2022 cannot be reached with only public financing and will require joint efforts by the government, employers, and individual workers. This program will actively engage the industry in improving the quality and content of training so that placement rates for those receiving formal skills training goes up significantly," said Shabnam Sinha, Lead Education Specialist and World Bank's Task Team Leader for this Program. "We expect the CSR Skills Fund to incentivize employers to invest in training, which will go a long way in improving skills and productivity of workers."
The $250 million loan from the International Bank for Reconstruction and Development (IBRD), has a 5-year grace period, and a maturity of 19 years.