New 360° VR project to target global decision-makers at next week's COP23 in Bonn
SUVA, November 1, 2017 – Fiji is set to use 360° Virtual Reality (VR) as a key part of its global push for stronger action on climate change at next week's COP23 Climate Change conference.
As part of its Presidency of COP23 in Bonn, Germany, the Fijian Government will launch an immersive VR experience that aims to transport delegates, decision-makers and the global community to Fiji to experience the current and future impacts of climate change on the Pacific.
Featured in this program is Our Home, Our People, which was produced by the World Bank. The video takes viewers to communities across Fiji to experience the stories of four people whose lives have already been fundamentally changed by climate change, including through last year's devastating Category Five Tropical Cyclone Winston. The VR experience includes the story of Vunisavisavi, a remote coastal community which has already seen significant relocation due to the impacts of rising sea levels.
Our Home, Our People is launching alongside the Fijian Government's Climate Vulnerability Assessment 2017, a significant new report which sets out, in significant detail, the climate impacts already felt by Fiji, and identifies possible strategies and costs to make Fiji more climate resilient.
The Fijian Government's High-Level Climate Champion, Hon. Inia Seruiratu, said that VR provides a powerful medium for helping decision-makers and members of the public more deeply understand the impacts climate change is already having on Fiji and Fijians.
"Working with partners such as the World Bank, the Fijian COP23 Presidency is supporting a number of virtual reality projects as a way to share stories about climate change. We believe in VR's power to give audiences – both decision-makers at COP23 in Bonn, and people across the world – the chance to see and experience the impacts of climate change in far-away vulnerable countries and isolated communities like in the Pacific, in order to better understand our call for stronger action to reduce greenhouse gas emissions, and increased investment in climate adaptation. I hope through VR the urgency to act will be highlighted." he said.
Michel Kerf, World Bank Country Director Papua New Guinea and the Pacific Islands said Our Home, Our People is about delving into the stories behind the numbers and projections of how climate change will – and is – impacting Fiji and the Pacific.
"VR is extraordinarily effective at taking audiences to another place, into other people's lives," said Kerf. "Our Home, Our People transports audiences – including decision makers who can take action to change the course of climate change – to the true heart of the issue in the Pacific."
The Our Home, Our People project is produced by the Fijian Government, COP23 Secretariat and the World Bank, in partnership with the Global Facility for Disaster Reduction and Recovery (GFDRR) and VR specialists, S1T2.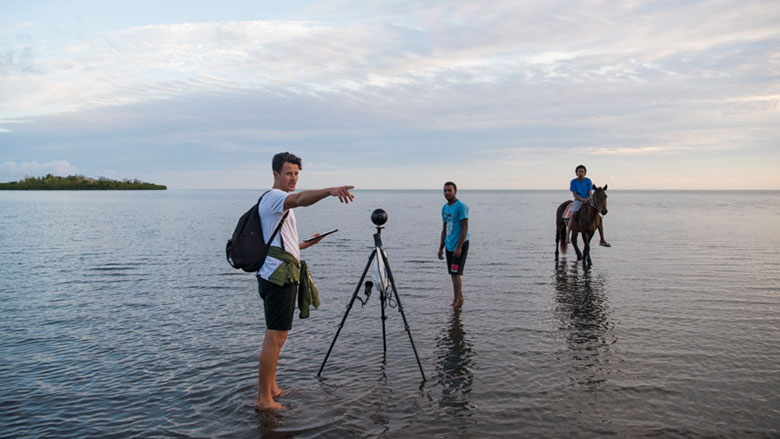 VR production Our Home, Our People filming in 360 degrees in Vunisavisavi, Vanua Levu, Fiji.