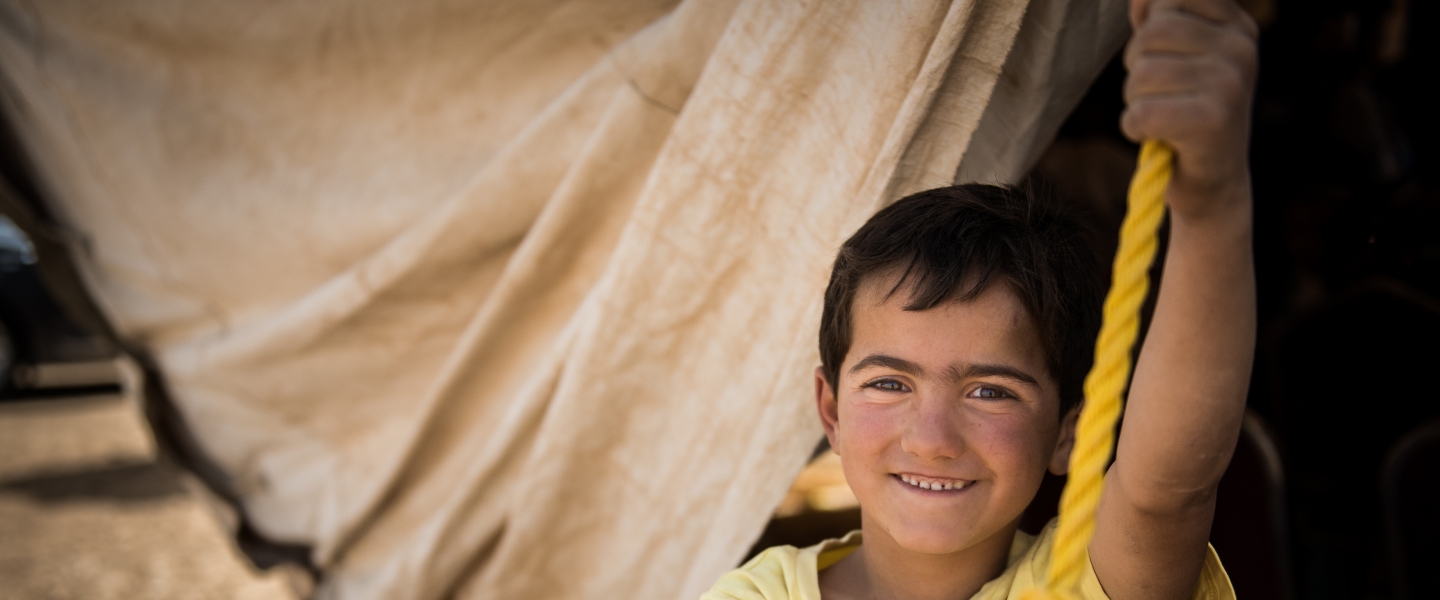 How financial innovation can help refugees and host communities
"Why are you not in school?" I ask the little boy, knowing for a fact that there are schools in the camp. He laughs and says, "No, no, no. I didn't go. But just today." He is scrawny, with a huge smile and twinkling eyes. He points out to a shop on the "Champs Elysee" and says, "I work in that shop." It is a butcher shop. Hassan is just seven years old. He doesn't even know how to count, but his family needs the income.
The "Champs Elysee" is in the main street in Camp Zaatari, today Jordan's fourth biggest city. The camp hosts 80,000 people, mostly Syrian refugees. It is run by the United Nations High Commissioner for Refugees (UNHCR) and the second most populated camp in the world. The butcher shop where Hassan works is made from corrugated metal containers.
Jordan hosts the second highest number of refugees in the world: more than 650,000 men[1], women, and children, approximately 80 percent of whom are living under the poverty line [2]. As a host country, Jordan spends an estimated $870 million a year to support Syrian refugees
Lebanon faces similar challenges—up to 1.5 million Syrians, equivalent to about a quarter of the Lebanese population, have taken refuge in Lebanon since March 2011."[3] Lebanon alone needs more than $2 billion to cover the cost of projects from waste water management to health and energy for Syrian refugees according to the Regional Refugee and Resilience Plan (3RP). This puts a serious strain on their economy.
Jordan and Lebanon clearly needed financial support to help manage the cost of hosting refugees. The needs are urgent, even as they are offering a public good while putting their own populations and budgets under pressure.
The challenge was that as middle-income countries, Jordan and Lebanon are not able to access funding from international financial institutions at concessional terms despite the global public good they are providing. We needed to find other solutions to help—and this where our work at World Bank Treasury comes in. Our mandate is to find financial solutions to address development challenges. Together with teams across the World Bank, we looked for a way to create a financial solution that would allow Jordan and Lebanon to get financing at a lower cost.
The solution we arrived at was to set up a facility that provides financing at lower cost for specific projects that support host communities and refugees. But how would we achieve this? A large team involving recipient countries, Jordan and Lebanon, other development banks, European Bank for Reconstruction and Development (EBRD), European Investment Bank (EIB), Islamic Development Bank (IsDB) and donor countries, Canada, Denmark, European Commission, Germany, Japan, Norway, Netherlands, Sweden, United Kingdom, and USA, set off to work immediately during summer 2015.
Even within the World Bank, we had a S.E.A.L team spanning all the diverse groups that work on these issues—from treasury and legal to partnerships and the region. It was many days brainstorming and designing and redesigning ideas and concepts around the clock, presenting proposals, receiving feedback and finetuning. What drove us all was the certainty that if we were successful, if we could make it work, this would make a real difference for millions of people.
After nine months of intense work, we were finally ready: in July 2016 , our initiative, the Middle East and North Africa (MENA) Concessional Financing Facility (CFF) announced the first financing to support refugees and host communities in Jordan and Lebanon. International Supporting Agencies (ISAs) including the World Bank, IsDB, EBRD and EIB would disburse the funding and get involved in the implementation of the projects. Donor countries would finance the difference between the regular ISA lending rates and the most concessional IDA [4]rates The Facility (including all stakeholders) would select the eligible projects for consideration and approval.
In September 2016, the Facility was renamed to the Global Concessional Financing Facility (GCFF). It is now global and provides rapid support to help middle-income countries address refugee crises wherever they occur.
As of May 30, 2018, pledges to the GCFF Trust Fund totaled the equivalent of $ 513.28 million. As the Facility leverages donor resources, each dollar in donor grant unlocks $4 in concessional loans; this has resulted in investments of more than $1 billion for Lebanon and Jordan. So far GCFF has funded nine projects in those countries, ranging from Roads and Employment, to Water and Emergency Health ones.
I have worked on many projects in my career, but this was a very special experience. It is not often that one has the chance to be directly involved in such a profoundly important project. I feel honored to be a part of the team that brought it to life. But most of all, I feel privileged to have visited Camp Zaatari, to be a first-hand witness to human resilience and to be able to learn from Hassan and his group of friends.
Authored by Concepcion Aisa
[1] As of Nov 30, 2017, UNHCR data
[2] World Banks defines poverty line as $1.90 per day.
[3] World Bank Lebanon - Country Overview
[4] IDA (International Development Association) under the World Bank Group has the most concessional lending terms of the World Bank Group, and is recognized as an international reference rate for lending in the most challenging parts of the world