GWSP reflects on its work over the past fiscal year and its role in raising the profile of water as the world commits to renewed effort to tackle the global water crisis
Water is at the center of today's climate and development challenges: there is either too much or too little, or it is too polluted. The consequences are dire. Risks of water-induced conflicts are escalating. And if we continue on our present course, by 2030, 700 million people could face the threat of displacement due to drought.
2023 was a pivotal year in which the world took note of the urgent need to tackle the global water crisis and put us back on track to achieving Sustainable Development Goal (SDG) 6—clean water and sanitation for all—by 2030. The World Bank's Global Water Security and Sanitation Partnership (GWSP) is committed to accelerating support to countries as they work toward a water-secure world.
GWSP is a platform for collaboration and support of the water-related SDGs. It drives policy changes, builds capacity, and enables the delivery of results at scale. In the 2023 fiscal year, GWSP had an active portfolio of 216 activities across the globe. Its work informed new World Bank projects worth $13.5 billion and supported projects that provided access to water or sanitation to nearly 30 million people.
In its latest annual report, GWSP reflects on its work to address key water issues. While GWSP is making significant progress, much more needs to be done.
Addressing a renewed urgency for universal access to water and sanitation
The world is not on track to achieve the water-related SDGs by 2030. As of 2022, 2.2 billion people still lacked safely managed drinking water, 3.5 billion people still lacked safely managed sanitation, and 2 billion people still lacked basic hand hygiene facilities.
GWSP helps World Bank water and sanitation projects achieve results by providing tools, technical assistance, and policy advice. In FY23, GWSP funding helped inform several innovative design elements of a $1.25 billion program to dramatically boost water and sanitation services in the Democratic Republic of Congo. For example, based on a GWSP-funded study on financial incentives for buying latrines, the program will provide peri-urban households with an e-voucher, via a mobile app, to buy a quality latrine at a reduced cost. The first phase of the program aims to provide 2.9 million people with basic drinking water services and 2 million people with basic sanitation in four underserved provinces.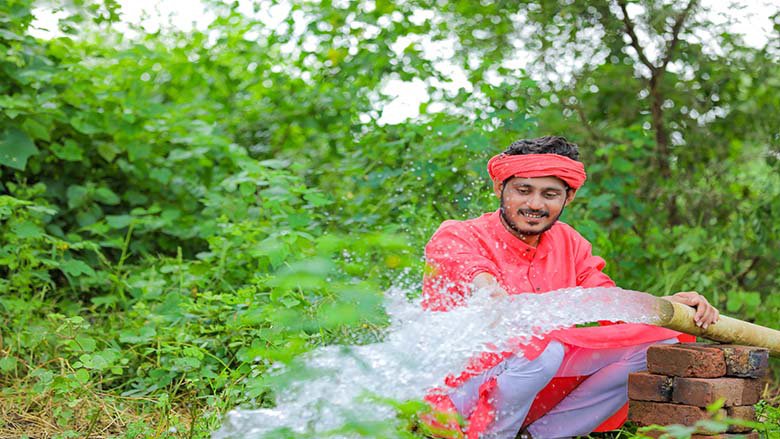 Connecting water, climate, and the economy
A warmer climate disrupts hydrological systems and intensifies extreme weather, leading to increased water scarcity, unpredictability, and pollution. GWSP leads global efforts to increase awareness and understanding of the centrality of water in climate and economic development dialogues.
In FY23, GWSP continued to produce cutting-edge research and analytics that shape policies, support decision-making, and inform World Bank projects. For example, The Hidden Wealth of Nations: The Economics of Groundwater in Times of Climate Change shows how groundwater serves as nature's multi-risk assurance and is key to poverty reduction, resilience, and climate adaptation.
Another report, What the Future Has in Store: A New Paradigm for Water Storage, highlights the importance of water storage for adapting to climate change and presents an integrated, multisectoral approach to developing water storage solutions. Since the launch, the report findings have been incorporated into more than 30 World Bank projects.
Encouraging stronger private sector participation in the water sector
To meet SDG 6, investment must increase sixfold from current levels by 2030. Maximizing finance will require making public sector water service providers financially sustainable and creditworthy and bringing in private lenders and investors to increase the total pool of financing and transfer knowledge.
In FY23, GWSP supported the World Bank, the largest investor in water in emerging markets, in its efforts to illustrate how the private sector can and must invest in water. In Tunisia, for example, GWSP trained staff of the national wastewater utility on establishing public-private partnerships for two wastewater collection and treatment systems. The World Bank project aims to support the national wastewater utility in delivering improved services to more than 2 million beneficiaries by 2030 through these partnerships.
To improve the efficiency of water utilities, GWSP launched an online Water Utility Creditworthiness course with the Private Infrastructure Development Group in FY23. Efforts are being made to align the course rollout with existing reform processes in Ethiopia, Ghana, Indonesia, Kenya, Vietnam, and Zambia.
Setting the stage for the Global Facility for Transboundary Waters Cooperation
Given that almost half the world's rivers span national boundaries, transboundary cooperation is critical to building resilience to climate risks, improving water security, and achieving peace and stability. In FY23, GWSP established the Global Facility for Transboundary Waters Cooperation, bringing together key partners and institutions to help countries understand transboundary issues, identify solutions, promote agreements, and catalyze investment in support of water security. The facility also provides a platform for partners to share global expertise, identify gaps and opportunities where more support is needed, and learn from one another.
The 2023 GWSP annual report is available for download here.