Oleksandr Yevpak is a blueberry farmer in the Makariv district of Ukraine's Kyiv region. This area was briefly occupied by the Russian army in early 2022.
One missile landed near the farm, but didn't explode. The missile case, now demined, still lays in the field where the surrounding farmland is full of metal fragments from exploded shells.
"More than 100 fragments were found in the field. If we didn't remove them, it would be dangerous both for people and for the equipment and machinery that we use," says Yevpak, manager of "Victoria's Sense" farm.
Despite the war and a shortage of workers, Yevpak harvested his first blueberry crop in the summer of 2022.
Yevpak is relatively new to farming. He decided to grow blueberries in 2020 after studying agri-education and horticulture, and realizing that horticulture has a lot of potential in Ukraine. In addition to managing the farm, he's started a Ph.D. at Kyiv's National University of Life and Environmental Sciences of Ukraine.
"This berry is very rich with polyphenols - compounds that enable the human body to neutralize reactive forms of oxygen; the oxygen that is formed in the body during stressful situations. The consumption of berries gives the body an opportunity to improve its wellbeing. So, it is very useful. And this was the decisive factor [in deciding to plant] blueberries - because they are very useful and very tasty," says Yevpak.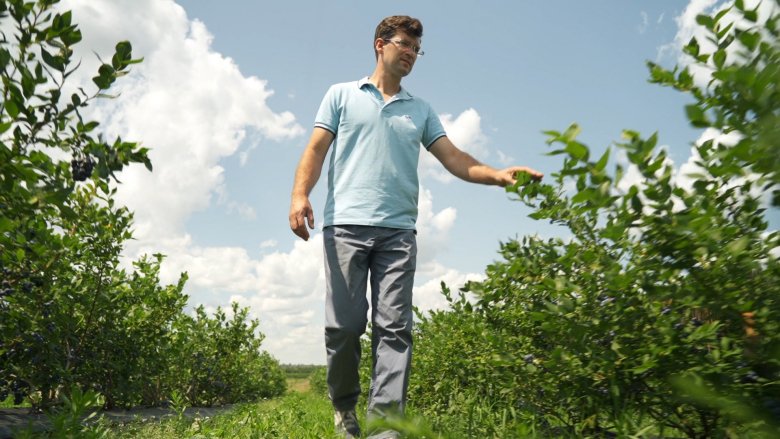 Over the last 15 years, Ukraine established itself as a top exporter of wheat, corn, barley, maize, and sunflower products – the traditional type of agribusiness, suitable for big and medium-sized farms.
But since Russia's invasion, Ukraine's agriculture has faced two main challenges – access to affordable finance and low profitability of grain and oilseed production due to export constraints. These challenges have been especially acute for smaller farms.

"Victoria's Sense" farm is a new type of agribusiness in Ukraine, operating in a value-added niche.
The farm benefited from a government grant program for small farms geared toward diversifying agricultural production through horticulture and viticulture development. This program was supported through $132 million in World Bank financing under the Accelerating Private Investments in Agriculture Program for Results.

Farmers growing berries or cultivating gardens of up to 25 hectares were eligible to apply for grants which they had to match with their own investment.
More than 150 small- and medium-sized greenhouses and orchards, like "Victoria's Sense," have benefited since the program started.

To simplify farmers' access to finance, the Ministry of Agrarian Policy and Food digitized the application process by using a government app for smartphones called "Diya" (Action), which is widely used in Ukraine to obtain different certificates and legal documents without having to visit government offices.
"In July 2022, we applied for a grant – "Garden Grant" – through Diya, a mobile app. It was very convenient and practical. We received funding for a total area of 8.8 hectares. We are very satisfied with this. Because of the conditions in our country and our economy, this is the type of support that allows us to develop and expand our opportunities," says Yevpak.

Creating jobs in agriculture was the main requirement to receive a grant.